According to the UN convention on Right To Accessibility, information over the internet is also a right for all persons with disabilities. And If you are developing a website that reaches all without any boundaries then why exclude any part of the society?
Hence, we have come up with a collection of the 11 best Accessible WordPress Themes available on Themeforest for your professional site so that it includes visitors with different abilities and makes a goodwill environment all over the community.
But before diving deep, let's have a quick word on:
What does Accessibility-ready Mean?
Accessibility-ready means a site that can be accessible to the widest audience, such as visitors from different languages, physical disabilities, cognitive, or learning disabilities. In simple words, it is a "ramp for disables" that every website should have.
These accessibility ready themes for WordPress have to pass the WCAG level AA compliance test, or ADA compliant WordPress themes test, or have to reach the benchmark standards that the theme review team has set.
Why Use an Accessible WordPress Theme?
It is just unfair to exclude a group of people when we have the technology and all the means to reach every person and create a stronger and inclusive society. Using an accessible WordPress theme for your site not only makes people's life easier but also creates a sense of togetherness and harmony in the colony.
And also business-wise, it lets you reach a greater audience which is the primary objective of any website in the first place. Right?
What Features Make an Accessibility-ready Theme?
Some features add flexibility, some add simplicity, and similarly, there are specific features that add to the accessibility of the WordPress themes. This set of accessibility requirements are as per the recommendations by the WordPress theme review team's handbook to pass the accessibility audit.
The following is a list of features for better accessibility.
Keyboard Navigation
Readability
Translation Ready
Responsive Design
Retina Ready
Semantic Code Structure
Custom Color Contrast Ratio
Now that we know what, why, and how, let's look at the 11 best WordPress themes with an accessibility-ready tag for professional sites.
Best Accessible WordPress Themes (Active Installations, Rating, and Unique Features)
NAME
DETAILS

Accessible Business Portfolio

Icelander

Active installations: 600+
Rating: 5/5
Unique features: 2 Portfolio & 3 blog styles, 100% Woocommerce Compatible, Shop Pages Design

Download

Accessible Bookstore WP theme

Angelica

Active installations: 20+
Rating: N/A
Unique features: GDPR compliant, Readability Optimized, WordPress Customizer, Speed Optimized Code

Download

Medical Accessible WP Theme

Polyclinic

Active installations: 300+
Rating: 5/5
Unique features: Live preview, RTL Compatible, WebMan Amplifier Plugin, GPL Licensed

Download

Accessible WooCommerce Theme

Monument Valley

Active installations: 300+
Rating: 4.8/5
Unique features: WooCommerce Integration, Elementor Compatible, WPML Ready With RTL Support

Download

Municipality WordPress Theme

TownPress

Active installations: 2600+
Rating: 4.8/5
Unique features: Gutenberg Support, Mobile-Friendly Design, Clean Code, Custom Color Schemes

Download

City Government Theme

CityGov

Active installations: 700+
Rating: 5/5
Unique features: Elementor page builder, Valid and Clean Source Code, Font Awesome, Translation Ready

Download

Engineering & Industrial WP Theme

Billio 2.0

Active installations: 1900+
Rating: 4.3/5
Unique features: Bloat free, RLT Support, Enhanced Mobile Experience, Premium Image Slider

Download

Cleaning Service WP Theme

Cleanco 3.0

Active installations: 3000+
Rating: 3.9/5
Unique features: 252 Page Templates, Cross-Browser Compatibility, Image Slider Animation, Widget Ready

Download

Fitness WordPress Theme

Gym Edge

Active installations: 1900+
Rating: 4.9/5
Unique features: SEO Friendly, Premium Slider, Dynamic Page Header, Powerful Admin Panel by Redux

Download

Learning Management Theme

Academy

Active installations: 6300+
Rating: 4.6/5
Unique features: Extended User Profiles, Parallax & Boxed Slider, Shortcodes Editor, Contact Form Builder

Download

Media Streaming & Membership

Vayvo

Active installations: 1000+
Rating: 4.8/5
Unique features: Premium Slider, Pay Per Post Ability, Responsive Layout, Unlimited Colors, Retina Support

Download
11 Best Accessible WordPress Themes to Choose From
#1 Icelander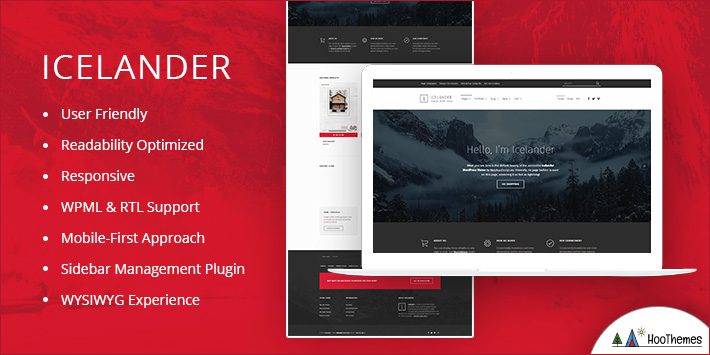 Source: Themeforest
Icelander is one of the best accessible WordPress themes for your business portfolios and WooCommerce website with a modern style and a slick look.
It provides the best brand portfolio pages and shop pages for your personal project or business website that will add to the value of your content and products. Moreover, with the available three blog styles, it can also work as a blog theme if that is your priority.
For the best accessibility and inclusivity, it satisfies the WCAG 2.1 level AA and Section 508 accessibility standards. So that you do not exclude any groups of people with different abilities in any way. All the best accessibility features make this theme a 100% GPL licensed theme.
Furthermore, controlling the display of any sidebar is made simple with the sidebar management system. The users can easily find what they want with the updated navigation accessibility. The 'recent posts' element makes it even easy for visitors to find the latest posts.
And if they want to contact you, the gravity forms let them get you via email or any other platform that you prefer.
Thus, if you want to expand the reach of your site, show your work and products with the grace of the Icelander theme.
Core Features
Screen Reader-Friendly
User Friendly
Readability Optimized
Responsive
WPML & RTL Compliant
Gravity Forms
Mobile-First Approach
Sidebar Management Plugin
WYSIWYG Experience
One-click Demo Installation
Beaver Builder Page Builder
100% Woocommerce Compatible
Shop Pages Design
Pros & Cons:
Pros
Cons

WYSIWYG Experience
2 Portfolio & 3 Blog Styles
Active installations: 600+
Rating: 5/5
---
#2 Angelica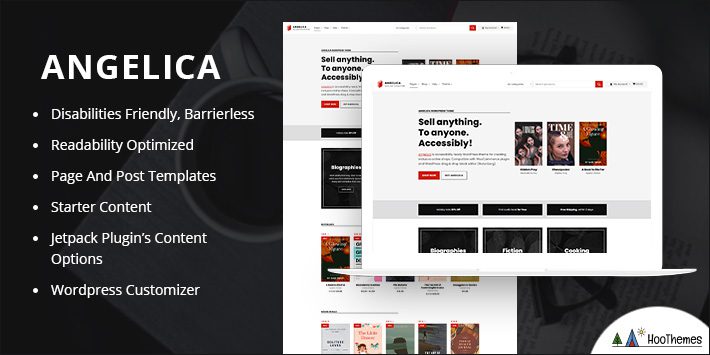 Source: Themeforest
As they say, books are for everyone. And so should be your bookstore website. The Angelica WordPress theme is specifically crafted for your bookstore's needs.
This accessibility-ready WordPress theme by the renowned theme author on Themeforest- 'Webman Design', has plenty of easy customization options for shop and blog pages with the assistance of Gutenberg drag and drop editor. This means you can now add, remove, or edit any elements of the website and get the look of your choice.
This WordPress theme supports several plugins which will make your e-commerce website ready for all yet unique.
And to ensure the best user experience, it is speed optimized. It is fully responsive and has a mobile-first approach for a seamless user interface that will meet your goals.
So, avail this best theme right now and get ahead of the rest of the competition.
Other relevant features:
Disabilities Friendly, Barrierless
Readability Optimized
Page And Post Templates
Starter Content
Jetpack Plugin's Content Options
WordPress Customizer
Polylang And Wpml Plugins
Full WooCommerce Compatibility
Plugin-Friendly
Free Theme Updates
No Lock-in Effect
Speed Optimized Code
Pros & Cons:
Pros
Cons

GDPR Compliant Theme
100% GPL Licensed
Active installations: 20+
N/A
---
#3 Polyclinic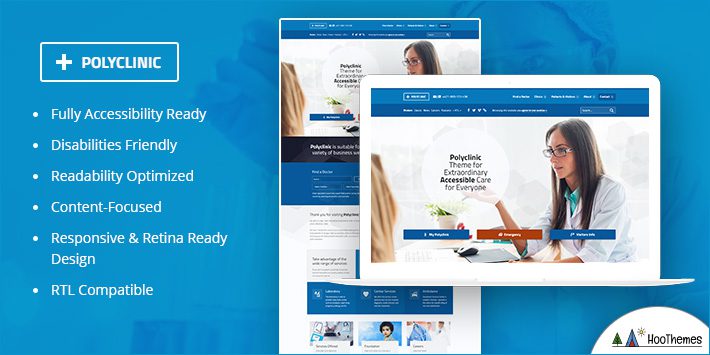 Source: Themeforest
If not all, websites for medical purposes must use the best accessibility-ready WordPress theme. Polyclinic is one medical accessible WordPress theme that all people with different abilities can access.
This accessible theme has an out of the box feature which is "Find a Doctor" to make it simple for all the patients in need. And as any hospital website should, it is optimized for speed.
Other than that, it has lots of functionality, features, and elements with easy access to create outstanding designs with a modern look. It comes with lots of customization options such as a mega menu, sticky header, full width or boxed layouts, custom header image with alt text, and specs that make it a perfect accessibility-ready theme for medical WordPress websites.
Other relevant features:
Fully Accessibility Ready
Passes WCAG 2.1 Level AA and Section 508 Accessibility Requirements
Disabilities Friendly
Readability Optimized
Content-Focused
Responsive & Retina Ready Design
RTL Compatible
Post Editor Styles
Child Theme Friendly
Excerpts Display
ARIA Landmark Roles
WebMan Amplifier Plugin
GPL Licensed
Pros & Cons:
Active installations: 300+
Rating: 5/5
---
#4 Monument Valley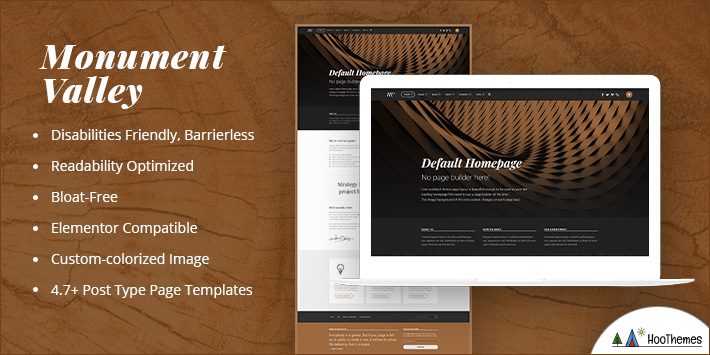 Source: Themeforest
If you are looking for an accessible WordPress theme for your business website, look no further. The Monument Valley is a masterpiece ready to serve you. This is a 100% GPL licensed accessible WordPress theme designed by the popular team of developers- WebMandesign.
Download Monument Valley Theme
This WordPress theme is future proof with all the latest features and functions such as proper heading structure with Beaver Themer, Drag and Drop row templates, custom posts, sidebar options, custom layouts, widget areas, and page parallax.
This outstanding accessible WordPress theme is fully compatible with the WooCommerce integration which allows users to sell their products to a wide range of customers. And with no lock-in function, the visitors will also enjoy the website.
Hence, if you want to set an example, try this theme now!
Core Functions
Disabilities Friendly, Barrierless
Readability Optimized
Bloat-Free
Elementor Compatible
Custom-colorized Images
4.7+ Post Type Page Templates
Conversion Rate Optimized
730+ Pre-packed Icons
Search Engine Optimized
WPML Ready With RTL Support
Child Theme Generator
5-Star Timely Customer-care
Pros & Cons:
Pros
Cons

Use Any Page Builder Plugin
WooCommerce Integration
Active installations: 300+
Rating: 4.8/5
---
#5 TownPress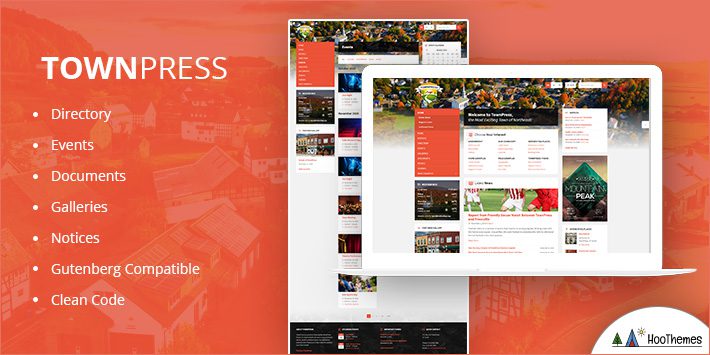 Source: Themeforest
When it comes to a website for a modern municipality, it must be the best accessibility-ready WordPress website. And the TownPress WordPress accessible theme is the apt solution for it.
The theme has the advantage of the latest block editor Gutenberg optimization that takes all the efforts out of designing a WordPress site. Along with that, it has tons of niche-specific features, including local weather, forums, town documents, and an upcoming event planner. In fact, to display more information, you can use a sidebar on both sides at the same time.
Moreover, features like distinct color contrast for text, translation ready, RTL text support, and fully responsive design make it accessible on all the devices.
Thus, TownPress is one of the most popular accessible WordPress themes for a municipality.
Core Functions
News
Directory
Events
Documents
Galleries
Notices
Google Maps, Mapbox, and Open Street Map Support
Gutenberg Compatible
Clean Code
Modular Post Types
bbPress Plugin Support
Mobile-Friendly Design
Demo Content Included
Child Theme Included
Custom Color Schemes
Translation Files Included
RTL Support
Slovak Translation Included
Pros & Cons:
Pros
Cons

Gutenberg
bbPress Plugin Compatible
Active installations: 2600+
Rating: 4.8/5
---
#6 CityGov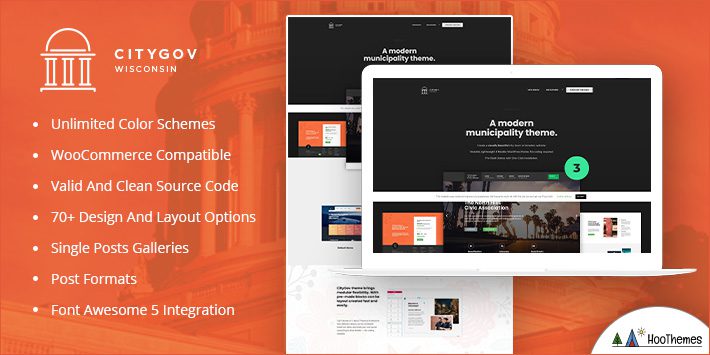 Source: Themeforest
The city government or municipality websites must have accessible designed themes so that every taxpayer can visit with ease and gather the necessary information. Many of the citizens might have physical disabilities or have cognitive and learning difficulties, so CityGov is designed with keeping all the special needs and requirements in mind.
This accessibility-ready WordPress theme has an advanced admin panel, unlimited color schemes, and native layouts along with accessible features such as single posts galleries. This WordPress theme has many ways to tweak with the Elementor theme customizer compatibility. And you do not need any prior coding knowledge at all.
It gives various customization options to have more than 70 design and layout possibilities. You can easily customize hovers, headings, borders, colors, and texts.
And one more good thing, compatibility with the GiveWP plugin donation and charity fundraising function for the communities in need is just a click away. CityGov can design a website as beautiful as your city.
Thus CitiGov could be the best platform for any government site.
Core Functions
Unlimited Color Schemes
WooCommerce Plugin Compatible
Valid And Clean Source Code
70+ Design And Layout Options
Single Posts Galleries
Post Formats
Font Awesome 5 Integration
Custom Footer
Custom Menu Options – With Icons
Translation Ready
Pros & Cons:
Pros
Cons

Admin Panel
Elementor Page Builder
Active installations: 700+
Rating: 5/5
---
#7 Billio 2.0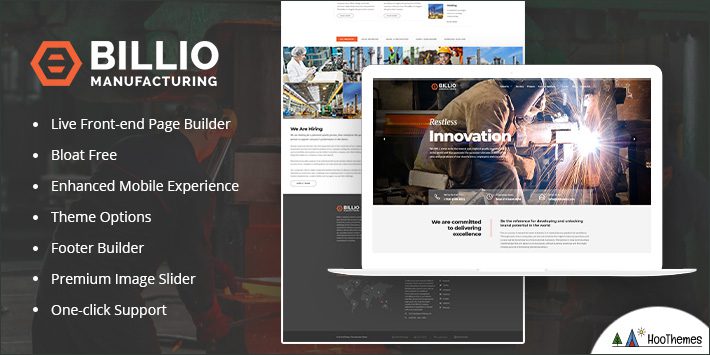 Source: Themeforest
Billio 2.0 is not just a new version with a few additional features, but an accessible WordPress theme with all new framework and features to make your web development easier and faster.
Its fully responsive & mobile-friendly design and cross-browser compatibility make it one of the best accessible WordPress themes for top quality Engineering and Industrial business websites for all devices. If you want to sell a product or service of yours, the WooCommerce extension lets you do that easily.
This easy to use WordPress theme comes with instant WordPress Kickstarter templates, a recruitment page, and all the necessary web pages required by an industrial agency. And the best part is that it also includes an option of a blogging platform to share affiliate links and earn money through your blogs.
Moreover, the search engine optimized code takes care of increasing organic traffic. And with contact form 7, you can get your customer's feedback with their details like name, email address, and phone number.
Thus it is a perfect WordPress accessibility-ready theme for your site.
Core Functions
Live Front-end Page Builder
Bloat Free
Enhanced Mobile Experience
Theme Options
Footer Builder
Premium Image Slider
One-click Support
WooCommerce Compatible
RLT Support
4+ Columns
Widget Ready
Pros & Cons:
Pros
Cons

Drag And Drop Page Builder
Sliding Images
Active installations: 1900+
Rating: 4.3/5
---
#8 Cleanco 3.0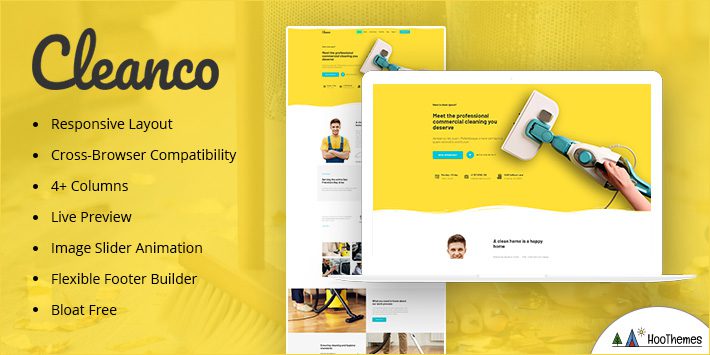 Source: Themeforest
Cleanco 3.0 is one of the best accessibility ready WordPress themes for cleaning service company websites. This theme has perfect cross-browser compatibility and a fully responsive accessible WordPress theme design.
Other than accessibility, this WordPress theme has many kinds of features that come in handy when designing a website in a hurry. Variety of ready-to-use pre-made templates, and elementor site builder that provides users with an option to make their page design from scratch with simple drag and drop functionality.
This WordPress theme also comes with the WooCommerce plugin and Online appointment booking support which is crucial to any business site to sell their product and service.
With its incomparable flexibility, it can take any shape of your choice in a very less amount of time. Thus, don't wait any further. Pick this best theme up and take your brand to the top.
Core Functions
Booking Feature
Anchor Link
Cross-Browser Compatibility
4+ Columns
252 Ready To Use Page Templates
Live Preview
Image Slider Animation
Flexible Footer Builder
Mobile-Friendly
Intuitive WP Customizer Options
Widget Ready
Pros & Cons:
Pros
Cons

252 Page Templates
Responsive Layout

No Lead Generation Feature
Active installations: 3000+
Rating: 3.9/5
---
#9 Gym Edge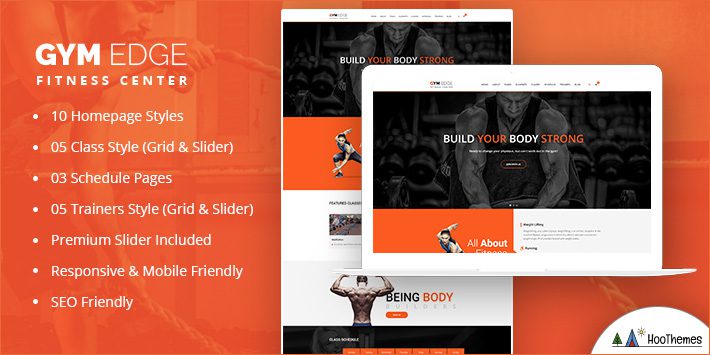 Source: Themeforest
If you are looking for a magnificent WordPress theme for gyms, yoga centers, fitness centers, or any similar business sites, the Gym Edge is one of the most popular accessible WordPress themes on the internet for you. It also works seamlessly on all devices such as smartphones, tablets, laptops, and desktops.
This theme has got all the niche-specific features with utmost customizability like responsive and mobile-friendly, 10 homepage design specially designed for your business, a BMI calculator, different class schedules, custom addons, and premium plugins for free.
Gym Edge comes with an unlimited color selection so that anyone can easily create the color contrast which adds to the accessibility. And the dynamic page header makes the headings engaging and interesting. Moreover, the Search engine friendly & quality code helps search engines to find the fitness magazine blog easily. Additionally, it also brings organic traffic to your brand website.
And the best part is that in addition to documentation, you can import demos anytime with just a single click.
Thus in many ways, this theme is a piece of art.
Core Functions
10 Homepage Styles
05 Class Style (Grid & Slider)
03 Schedule Pages
05 Trainers Style (Grid & Slider)
VC Buttons
Responsive & Mobile Friendly
SEO Friendly
Unlimited Color Combinations
Powerful Admin Panel by Redux
Dynamic Page Header
One-Click Demo Importer
Child Theme Included
WPML Translation Ready
Google Web Font
Pros & Cons:
Pros
Cons

Multiple Page options
SEO Friendly
Active installations: 1900+
Rating: 4.9/5
---
#10 Academy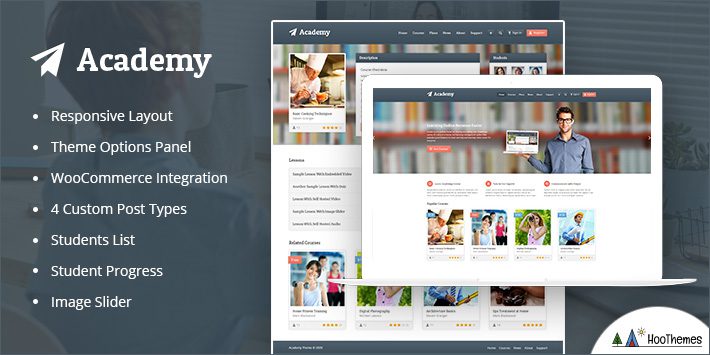 Source: Themeforest
Academy is one of the most popular accessibility ready themes for knowledge sharing and schooling institutions all over the world. If you have this theme, you have a learning management system for your site.
This theme enables your teachers and students to connect online with others better than ever with specifically designed features like extended user profile, rating system, question system, and course progress tracking. Other than that, it also has the option of social media links for easy access.
Moreover, developers have designed a powerful yet easy to use admin panel that gives an option to any beginner developer for tweaking the elements such as font, font size, typography, background images, layouts, and contact form of the site effortlessly without touching a single line of code.
Thus, use this theme and rest assured that your website will be able to handle huge traffic.
Core Functions
4 Custom Post Categories
Students List
Student Progress
Image Slider
Testimonials
Extended User Profiles
Custom Avatar
Parallax & Boxed Slider
2 Built-in Widgets
Blog Authors
Twitter Feed
Shortcodes Editor
Contact Form Builder
Share Buttons
Google Analytics Integration
Pros & Cons:
Pros
Cons

Responsive Layout
Extended User Profiles
Active installations: 6300
Rating: 4.6/5
---
#11 Vayvo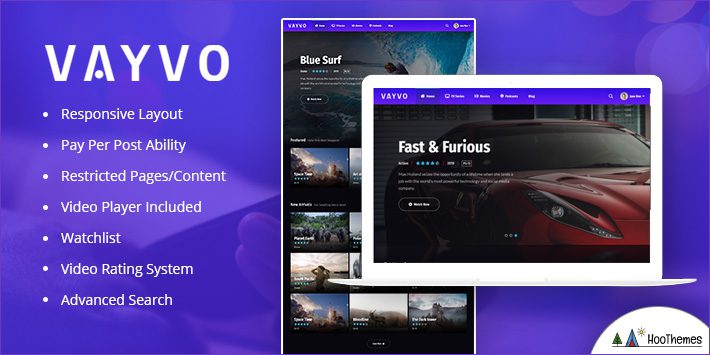 Source: Themeforest
Audio and Video streaming themes are the genres in which the Vayvo WordPress theme has been named amongst the top-quality themes. Retina support, translation ready, mobile-friendly, and cross-browser compatibility make it an accessibility-ready theme for WordPress.
This theme comes with all the standard plugins, premium sliders, pricing plans, and some other exciting features that can take your site to new levels. With an easy to use drag and drop page builder, it will not take any efforts to customize different parts like the background, font, layout, and custom color contrast ratio.
And it can solve any confusion with the extended documentation, and as a bonus, demos are just a click away.
This theme has the option of pay per post to encourage sales without committing to a membership. Furthermore, to make it convenient for your users, it has the carousel navigation and social media login/connects options too. This way, it becomes the best theme for music and video streaming and membership websites.
The Vayo can achieve your design goals without touching a single line of code. Hence, Hurry! Grab it now!
Core Functions
Responsive Mobile-Ready Layout
Pay Per Post Ability
Restricted Pages/Content
Video Player Included
Watchlist
Video Rating System
Advanced Search
Unlimited Colors
Font Adjusting
Translation Ready
Pros & Cons:
Pros
Cons

Premium Slider
Advanced Search
Active installations: 1000+
Rating: 4.8/5
---
If you are already excited to get your hands on, please keep reading to know about the things to consider while doing so.
Things to Consider While Developing an Accessible Website
Before selecting the right theme for full web accessibility, make sure to check the following things with utmost attention for the best outcome.
#1 Web Content Accessibility
The top priority should be to make your content accessible and easy to focus on by adding the proper elements like background, typography, and fonts to the text; subtitles to the videos; text readability functions, and translation plugins. And never skip the image optimization. Large images should be compressed to not be a hassle in loading the web page.
#2 Navigation
Make sure the site menus for different categories are fully responsive in design and consistent so that it can adjust on any screen size. Moreover, the themes that can be navigated with the keyboard will add next level accessibility to your site.
#3 Full Accessibility
It is not only about the layout and content, the framework of the website also needs your attention to meet the coding standards and the hierarchy. Additionally, it helps in getting a better rank than others at the search results of all the search engines.
If you keep the above-mentioned things in mind, we are sure that you will find the perfect theme for your website.
Now for further simplification of the process, let's quickly cover some of the FAQs in and around the Accessible WordPress themes.
FAQs
1. How do I make my WordPress site accessible?
You can easily design one with any of the above-mentioned list of top WordPress themes. Accessibility tag can be achieved with various features and functionalities that these themes offer.
Other than these, there are a number of free WordPress themes also available. But we did not focus on them, the reason being limited features and functionalities.
---
2. Is WordPress WCAG compliant?
Yes, Since February 15th, 2016, every theme developer has to meet the WordPress Accessibility Coding Standards. Hence, making the core WCAG compliant.
---
3. What if my website is not ADA compliant?
If a website is not ADA compliant, visitors can file a lawsuit against the website owner and they could have to face the following consequences.
Legal fees
Pay Settlement
Loss of public trust
Cost of Rebuilding the website.
Therefore it is highly advisable to use one from the list of WordPress themes and have nothing to worry about all the back steps in your business.
Conclusion
We hope this blog has helped you in finding the right accessible WordPress theme for your business and answered all your questions in and around the accessible themes for WordPress.
If you enjoyed reading this and want to know more about such WordPress themes, kindly visit our other blogs such as as the collection of 15 Best Free Fully Customizable WordPress Themes and 11 Best Free WordPress Themes for Portfolios.
If you want to add something to this blog or have any accessibility issues, feel free to reach us at our email address.
Thank you for your undivided attention.