Surprisingly, there are more than 34 million videos created exclusively for TikTok on a daily basis. This means billions of viewers per day. But there are always ghosts that crave to live mysteriously! TikTok viewer tools allow you to monitor other TikTok users' activity anonymously. This article is for those Mr. Robots who want to observe TikTok in the darkness of not being recognized!
Do you know observing other content creators could be a TikTok influencer marketing skill? As an influencer, Tracking others would help you to have a clear resolution, reach out to new ideas, and know about TikTok trends sooner. So, to help you choose the best, we will take a tour of various TikTok viewers, test them out to see their features and analyze the pros and cons.
Let's dive in…
What Is a TikTok Viewer
Influencers need a tool to track their video views, shares, and even identify their top-performing videos. On the other hand, parents feel the need for better TikTok parental controls and there are many people out there that TikTok doesn't allow them to have an account, so this allows those guys to anonymously follow their favorite influencers. TikTok viewers built up when all of these demands rise.
Not only can you use these apps to manage and unfollow TikTok accounts, but they can also serve other useful purposes. Additionally, they offer features like sorting content, keeping track of followers, and providing analytics to help predict trends and optimize your content strategy.
Top 10 TikTok Viewer Tools
At Hoothemes, we've compiled a list of TikTok's online viewers, each with unique features, advantages, and disadvantages. Some of these viewers are available as websites, while others come in the form of mobile apps. Depending on your content and needs, you can choose the viewer that best matches your preferences.
1. Urlebird
If you're looking for an easy-to-use TikTok online viewer, Urlebird might be worth checking out. Urlebird is a great tool for TikTok enthusiasts who want to view and share their favorite videos on the platform. With this tool, you can easily access and share any TikTok video you want, without having to navigate the app itself.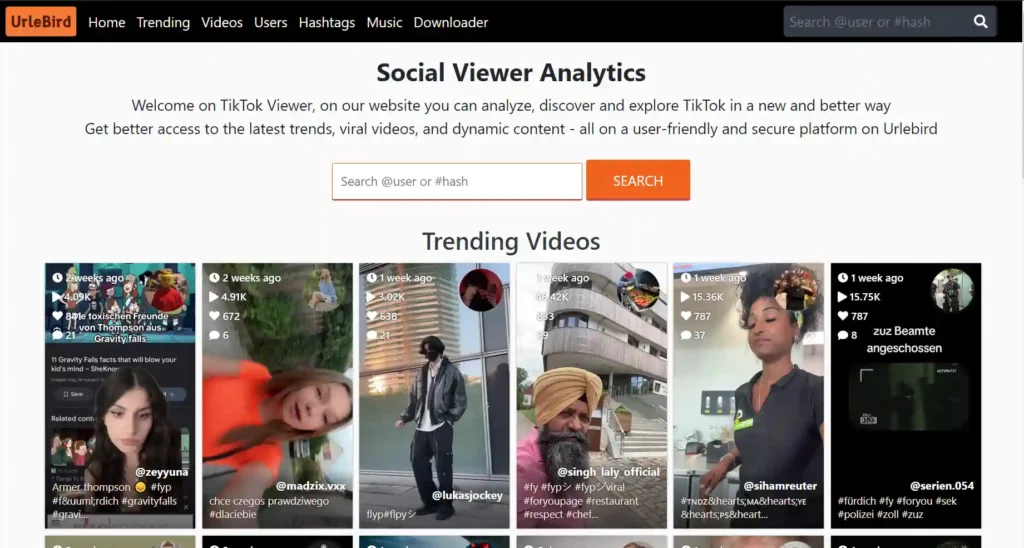 Urlebird Features
It searches music of videos,
Includes social media analytics,
Offers trending hashtags & trending users.
Urlebird Pros
It downloads TikTok videos, (which is not possible through the original TikTok app version).
Urlebird Analyzes your viewer stats with its algorithm.
Urlebird Cons
Video owners are not happy with the Urlebird website's function and its features because it publishes its videos for everyone without any permission.
There are no reviews on this TikTok anonymous viewer anywhere.
2. Brainans
This website offers features such as a TikTok profile viewer where you can analyze your profile's performance. Influencers could use this tool to increase their reach and visibility on the platform. By the way, Brainans is free to use in all options.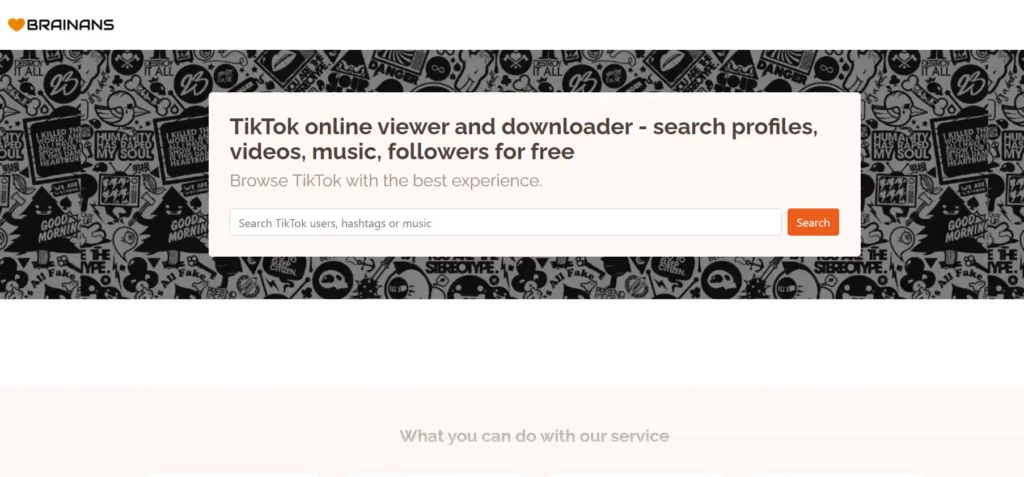 Brainans Features
It downloads content,
Browses anonymously,
Finds trending profile & trending tags.
Brainans Pros
Once you have gathered the content, Brainans can help you analyze it for better profile performance,
Brainans explores videos based on their music, hashtags, or user IDs.
Cons of Brainans
Its options are limited,
The preference of popular videos is available but it doesn't show anything.
3. uMobix
Looking for an anonymous TikTok viewer? The right match is uMobix.
This tool is designed particularly for parents to track their children's activities.
Consider the pros and cons of this TikTok private account viewer carefully before choosing it.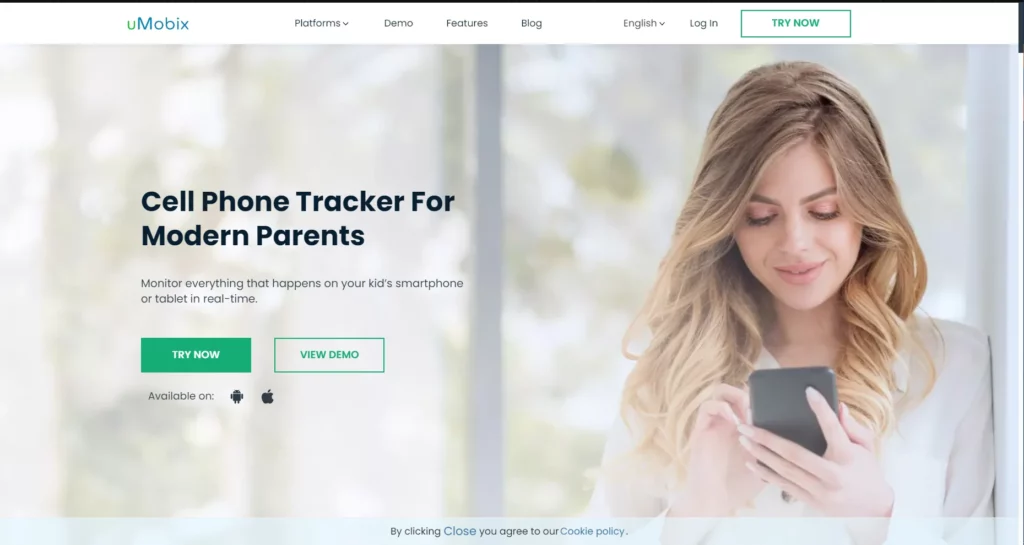 uMobix Features
This website offers a TikTok private account viewer where you can view the counters of publications and followers, as it captures screenshots of the user being online.
No registered account is needed to view TikTok.
uMobix Pros
It runs in stealth mode, which makes it impossible for kids to tamper.
uMobix has a 14-day money-back guarantee.
uMobix Cons
It's not available on the Google Store,
This TikTok anon viewer requires root access for Android users,
uMobix requires iCloud credentials for the device user you wish to monitor,
Offers neither free nor cheap plans,
Only a few features are available for iPhone users.
4. Vidnice
This is a TikTok account viewer that offers a range of features for TikTok users. Specifically their profile statistics; With Vidnice, users can answer a variety of questions about their TikTok activity, such as who is following them, whom they are following, and their posted videos and likes.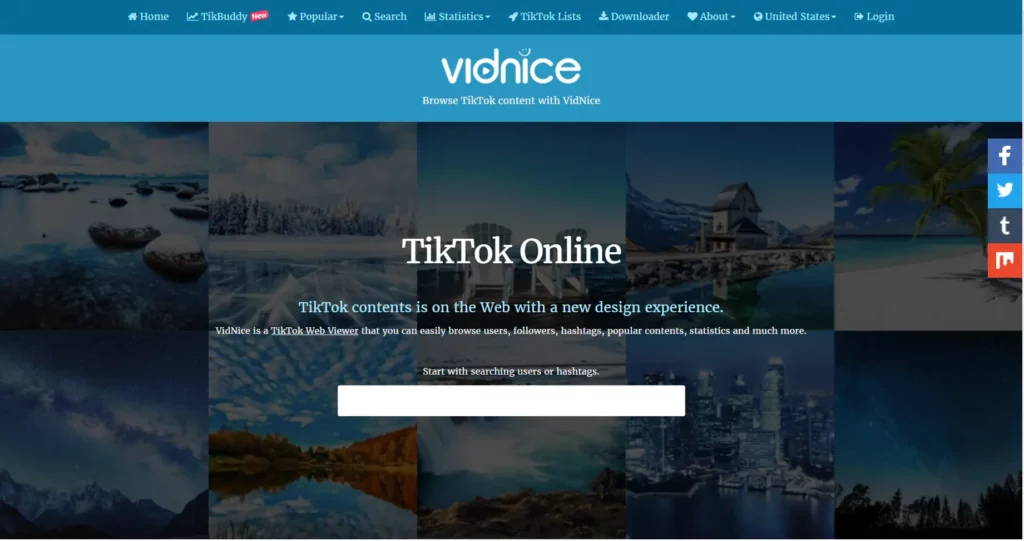 Vidnice Features
It is easy to customize. For example, selecting different countries to view analytics,
This online TikTok viewer is 100% free.
Vidnice Pros
The latest TikTok analyzer developed by Vidnice, TikBuddy, offers enhanced and comprehensive insights as a marketing tool.
It includes multiple video filters and effects.
Vidnice Cons
The website is a bit laggy, I refreshed the website more than 3 times but It didn't load completely.
5. Tiktokstalk
Saving videos on TikTok is not rocket science. But this tool made it even simpler.
This is a website to view TikTok profiles and content without having a TikTok account. Users of Tiktokstalk can conveniently browse and track public TikTok profiles, posts, music, and followers.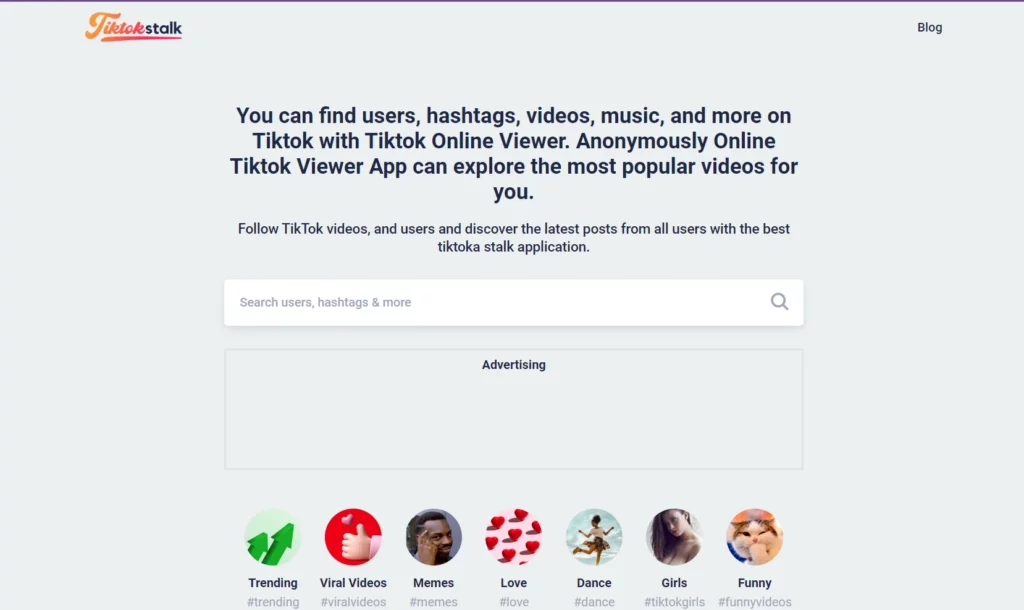 Tiktokstalk Features
It searches based on hashtags,
Shows posts related to your niche.
Tiktokstalk Pros
All of the TikTok viewer features are free to use, making them accessible to everyone.
It's totally free.
Tiktokstalk Cons
Is not available on iOS and Android,
There are no reviews on this app.
6. Xaller
In order to find the best TikTok viewer, you must know that one of the advantages of a good online TikTok viewer is to remove the watermark. However, you can easily learn to remove TikTok watermark yourself.
And yes, one of the most notable features of Xaller, the anonymous TikTok Viewer Tool, is its ability to save TikTok videos without the watermark. This feature may help influencers to use that content for other social media platforms as well.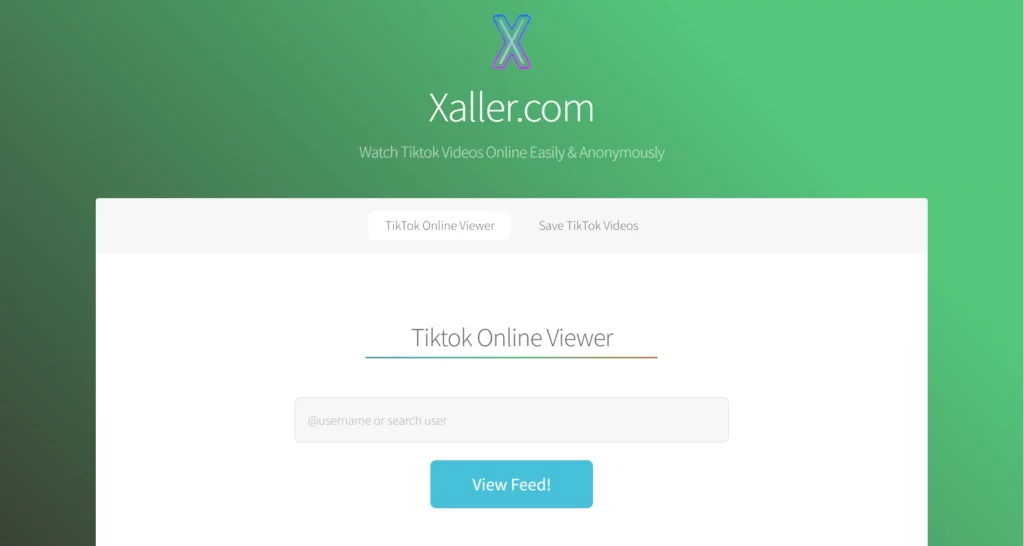 Xaller Features
The TikTok videos will be saved in the highest quality without a watermark,
No login process is needed to watch TikTok content.
Xaller Pros
It is easy to use, especially in 'Search' allowing you to browse through the different categories.
Users can watch and save TikTok videos.
Mentioning the pros of this TikTok Viewer Tool, we must say that users don't need any technical knowledge to operate it.
Xaller Cons
It seems that you can't find posts related to a specific hashtag.
Very limited options are available.
7. Instastoryviewer
There are many kinds of anonymous Instagram story viewers out there, but this tool is both a TikTok and an Instagram viewer. Like the previous tool, Instastoryviewer is designed to allow users to watch and download any TikTok video without a watermark.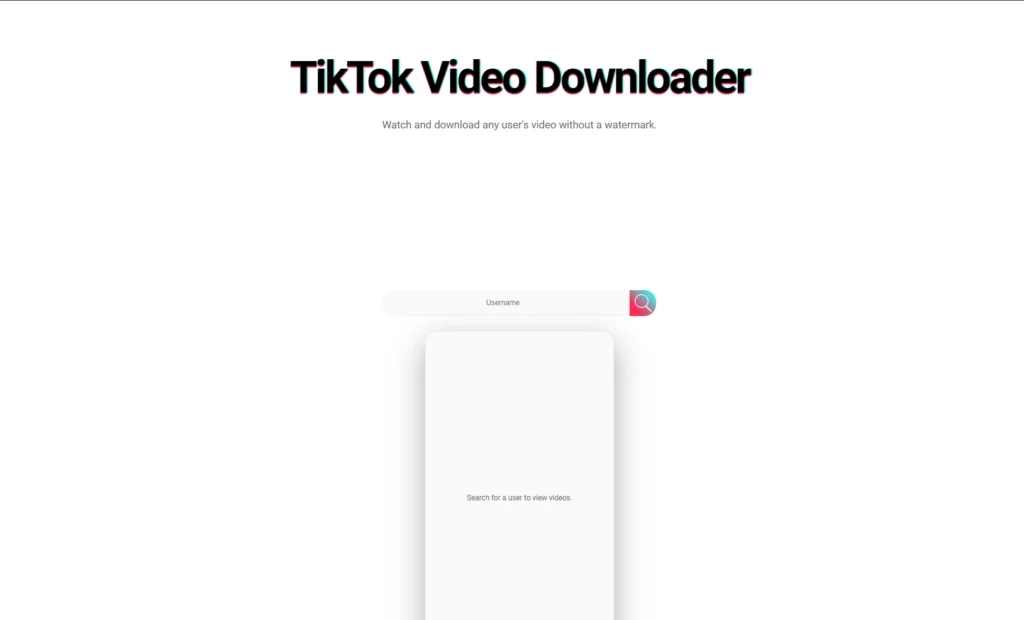 Instastoryviewer Features
Several tools to view posts and stories on Instagram, TikTok, and Snapchat. Some of these tools are:

Instagram reel downloader,
TikTok profile pic downloader,
Snapchat viewer.
Instastoryviewer Pros
Offers its features without making you log in, no authentication is required.
It has the option to save videos with high resolution anywhere you want.
Instastoryviewer Cons
Users' photos and videos may be copyrighted.
8. Snapdownloader
All an influencer needs is a reliable and versatile video downloader. SnapDownloader might just be the exact match. This tool boasts a wide range of features that make it stand out from other video downloaders on the market. Let's take a look at them: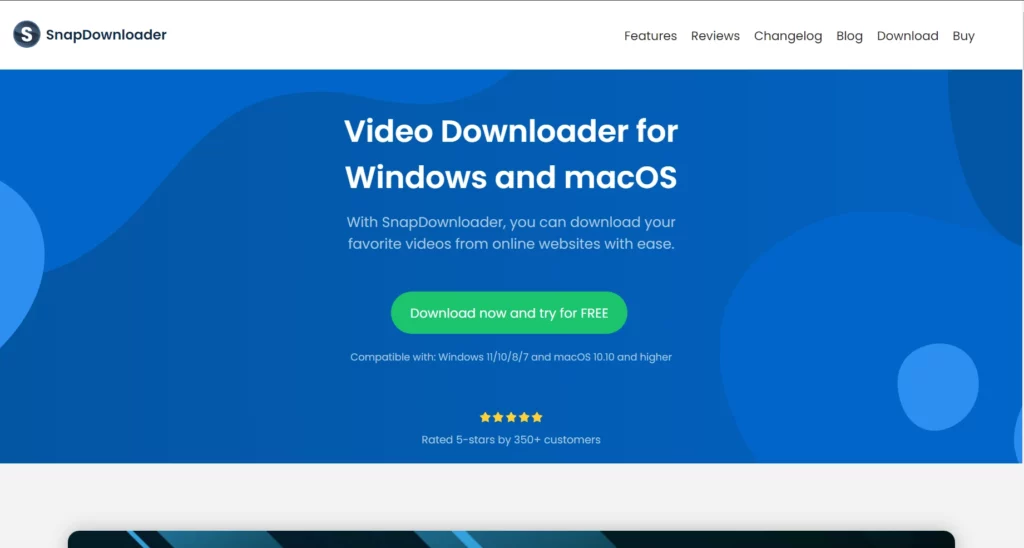 Snapdownloader Features
It supports over 900 websites, including popular video platforms like YouTube, Vimeo, and Dailymotion.
Snapdownloader allows users to download VR videos, YouTube playlists, channels, and even extract audio from videos.
It schedules and batches downloads, which is a great time-saver for those who need to download multiple videos at once.
Snapdownloader Pros
In-built Video Trimmer that allows you to easily cut and edit your downloaded videos.
It even extracts audio and music from videos.
Snapdownloader Cons
Snapdownloader suggests only 48 hours of the free trial, you'll need to purchase a license after that.
9. SaveTT
One of the notable features of SAVETT is the option that allows you to anonymously browse TikTok through the TikTok app itself. This means you don't have to worry about creating an account or revealing your identity to access TikTok content.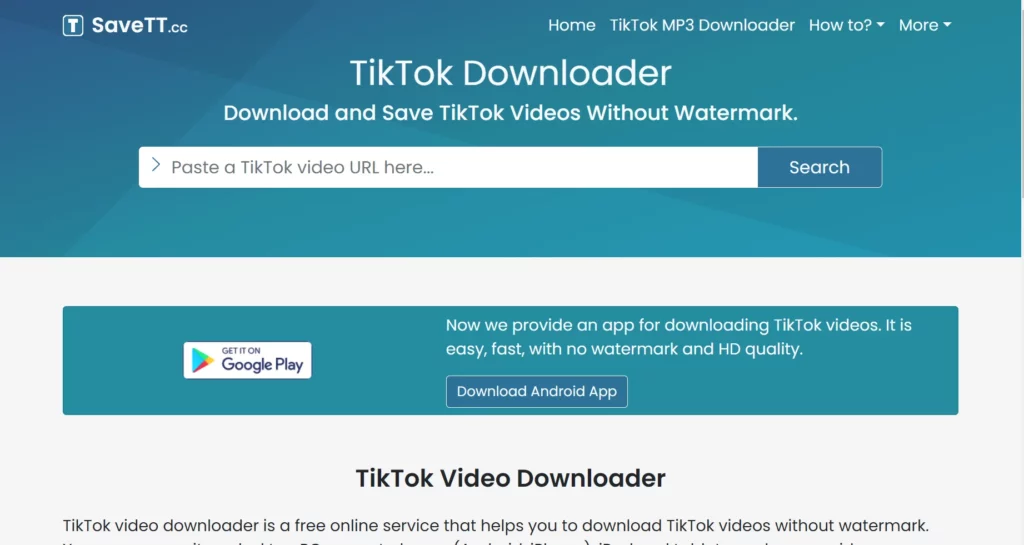 SaveTT Features
Privacy is protected, which means that you don't have to worry about any of your personal information being compromised.
It's accessible on desktop PCs, smartphones (Android, iPhone), iPads, and tablets.
SaveTT Pros
It is totally free.
It does not store or keep any videos from TikTok.
Their app is available on the Google Store.
SaveTT Cons
The quality is not high enough compared to other tools.
10. TikVid
According to user votes, TikVid is the most stable and high-quality TikTok online viewer available. Not only it's easy to use, but it also gets constantly updated to ensure that it remains relevant and effective.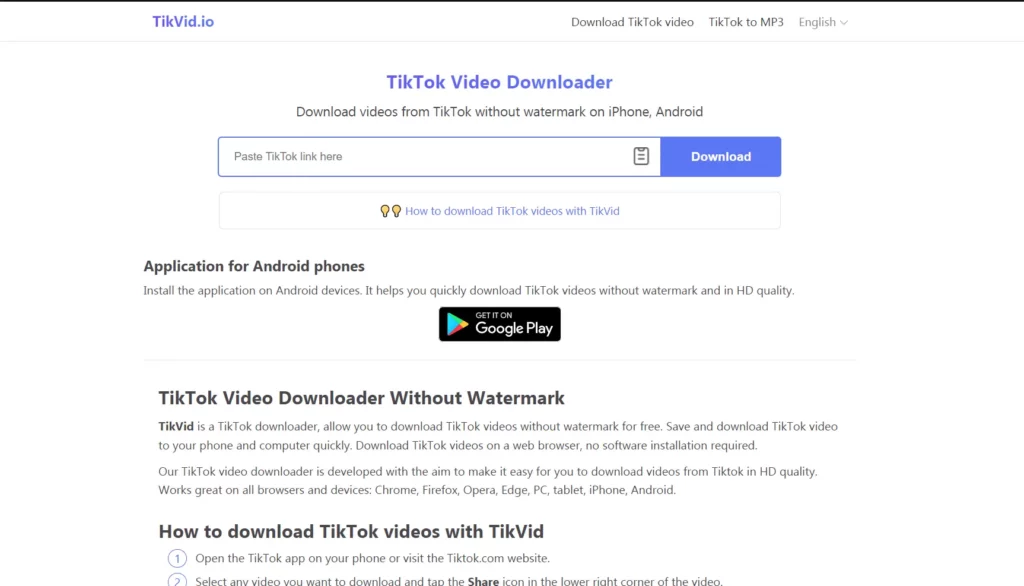 TikVid Features
It's a free download without a watermark.
TikVid is a fantastic option for anyone who wants unlimited downloading of high-quality TikTok videos.
TikVid Pros
It supports multiple languages,
TikVid offers unlimited downloads,
Downloading is easy both via Android and iOS devices,
The application is available on the Google Store.
TikVid Cons
Read Also: What is TikTok money calculator
A Word of Advice
Brands are eager to partner with top TikTok creators just like you to promote their products and services to your massive audience. On the other hand, TikTok influencers command enormous followings of passionate, loyal fans – exactly who you want to see and share a brand message.

Consequently, both brands and influencers need a trustworthy marketplace to rely on with their partnership and payment contracts.
That's where Ainfluencer rises.
Are You Looking to Make Money on TikTok?
Ainfluencer, as a DIY influencer marketplace, is here to be the bridge that connects the best match related to your needs. With its user-friendly interface and AI-driven engine, influencers can see brand campaigns relevant to their niche and make an offer to the ones they're interested in.
If you're eager to turn your TikTok fame into a fortune with TikTok, Ainfluencer will help you through the whole process. Leverage the power of Ainfluencer's platform and brand network to take your income, to the next level. Click on the button now and let's get you the best partnering plan.
FAQs
Now that you know the best TikTok viewers, Let's address any questions you may have.
1. How Can I See Private TikToks For Free?
Here are some tricky ways to see the private videos of TikTok for free: 1. Use third-party apps like Urlebird or uMobix, 2. Create fake accounts, 3. Simply search on Google.
2. Is My TikTok Account Private?
In order to check your account privacy, tap on 'Who Can View This Video' on the TikTok drafted videos section, and you will be the only person who can view it. Besides, there will be a message that tells you 'This account is private'.
3. How To See Someone's Private Liked Videos on TikTok 2023?
TikTok viewers are designed to show private videos and their details, when you want to choose the tool, pay attention to see if it has this feature. Our recommendation is to use mspy. This TikTok viewer has parental control and data protection.
To Wrap Things Up
There is an abundance of TikTok downloaders. We offered you the most popular TikTok viewers that are multifunctional. It's fantastic to watch others' works but more important is to stay creative with your content. Let us know your opinion once you use TikTok Viewer online free tools. That's why this blog has a comment section.