Do you like to find out how brands increase their reach and gain massive leads? Want to know how influencers boost their incomes? Don't move because you're in the right spot! We are here to tell you how these connect via influencer marketing agencies, examine their campaigns, and mention some of the top marketing agencies worldwide.
Each year, the digital marketing world is expanding and rapidly growing at an unbelievable pace. This accelerated development has encouraged countless brands to use influencer marketing platforms, raise their influencer marketing investments, and focus more on social media marketing.
The major shift toward social media marketing has created an excellent opportunity for content creators and influencers to begin campaigns with these companies through influencer marketing agencies.
Therefore, through these collaborations, brands increase their visibility and leads while influencers gain more followers and earnings. So, both parties are taking advantage of the cooperation. Up till now, you have understood an abstract of the influencer marketing agency.
Now, follow us in this article to analyze it deeply and provide you with some of the best influencer marketing companies globally.
What Do Influencer Marketing Agencies Do
They are organizations that help companies connect with suitable influencers for campaigns and sponsorships. These influencer marketing agencies serve as intermediaries for content creators and brands to reach a successful partnership.
Influencer marketing agencies will find influencers in your industry, considering your target audience, niche, and budget, and link you to the most appropriate one for a prosperous collaboration.
In addition, they will assist you throughout the entire process from the start of the campaign to the finish. This assistance means they provide effective strategies, handle connections, track performances, give daily reports, optimize campaigns, and manage everything.
So, you can sit and relax while passing everything to influencer marketing brands and letting them do the job for you.
Therefore, start your digital marketing career with an influencer marketing agency to benefit from the extensive features and simplify the marketing process.
However, you should know that these facilitators charge their clients 10-20% of the campaign budget or provide a fixed price for accessible services. If you think that's too pricey, you can use the free influencer marketing platforms and connect directly with content creators.
Alright, enough of what these agencies do! Let's mention some of the best influencer marketing agencies.
1. Ainfluencer: One of The Top Influencer Marketing Agencies
Among the finest agencies for influencer marketing, we should never forget about Ainfluencer. It is one of the best in the industry, with countless participants.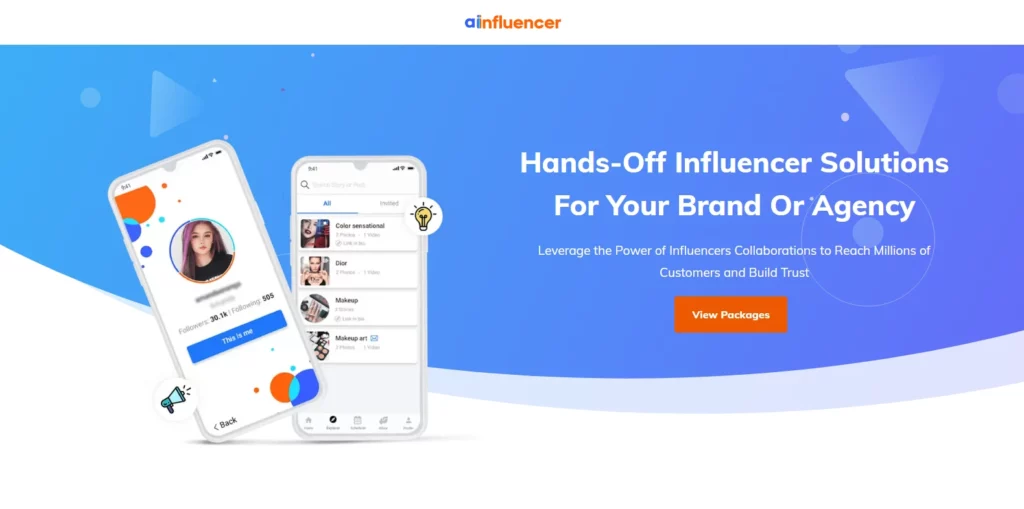 Ainfluencer is a superb influencer marketing agency with comprehensive services to help you begin a thriving collaboration. It is created to assist brands in running excellent campaigns with the right influencers.
This innovative digital agency platform has a friendly user interface with excellent customer satisfaction, top quality, and positive user experience.
Furthermore, it is free, safe, and fast with an easy-to-use system. Start your prosperous partnerships today using the button below!
Establishment: 2020
Minimum Project Price: $1999+
HQ Office: Ontario, Canada
Other Branches: N/A
2. Moburst: Influencer Marketing Agencies NYC
If you are looking for massive growth? You can trust Moburst, which seems to be a good option in the market. According to their claim, they have innovative strategies to connect you to the ideal audience and take your business to the next level.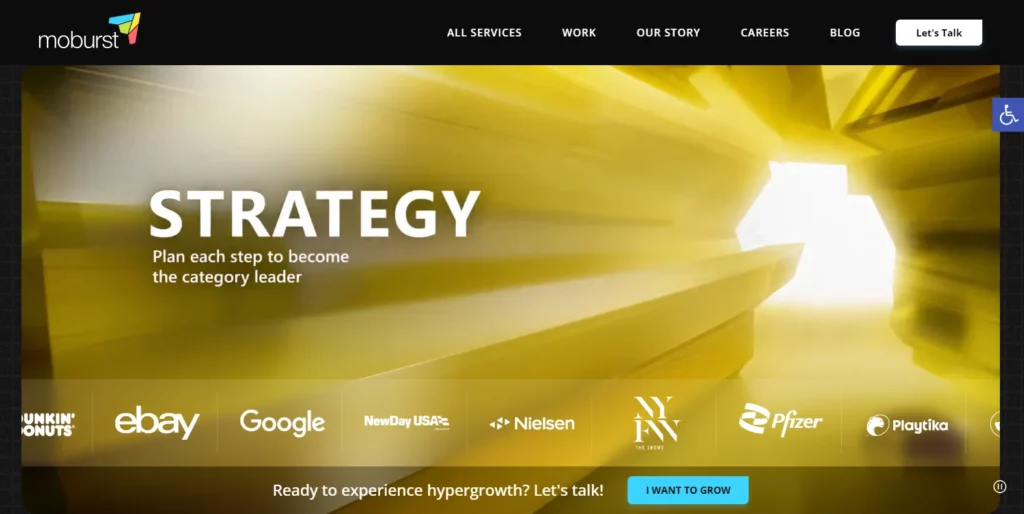 Moburst is a digital mobile-centric advertising agency that aims to direct brands to become prime in their niche. It is a full-service company including content creativity, media buying, marketing strategies, organic awareness, and product development.
In addition, they have won several prizes in marketing campaigns and claim they are the leading agency in the marketing field.
Despite being one of the biggest influencer marketing agencies with countless services, the prices are high, and you require a mass budget to start working. We highly discourage small businesses from using the services of this agency.
Establishment: 2013
Minimum Project Price: $25,000+
HQ Office: New York City, USA
Other Branches: San Francisco, Tel Aviv, London
Well-known Clients: Google, eBay, Dunkin Donuts, NewDay USA, Nielsen, Pfizer, Reddit, Samsung, Uber, Deezer
3. IMA Agency
With 20M influencers, 1000s of niches, and 100s of markets globally, IMA seems to be one of the top influencer marketing agencies offering all-inclusive services.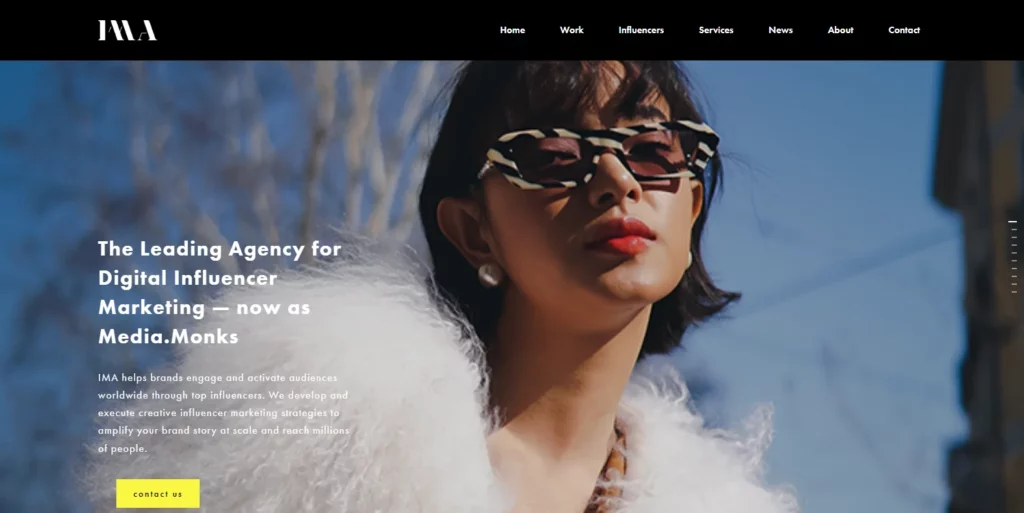 IMA digital agency believes every brand has a real touchpoint and customer interface for growth. They declare to discover that point to make a precise match and develop your brand using influencer marketing services.
Their expertise includes strategies, matchmaking, campaign management, tracking, advertising, content creation, compliance, and transaction services.
Furthermore, the prices of the IMA Agency are average. Some consider it reasonable others think it is costly.
Establishment: 2010
Minimum Project Price: $10,000+
HQ Office: Amsterdam, Netherlands
Other Branches: Los Angeles, New York, London, Singapore, São Paulo, Shanghai
Well-known Clients: Johnson & Johnson, Philips, HelloFresh, Omron, Paramount Pictures, Bally, Malibu, Diesel, TomTom, Moncler, Microsoft, Heineken, Amazon, Levi's, Swarovski, Swatch, Starbucks, Booking.com, Samsonite, HP, Under Armour
4. Station Entertainment
It is a leading influencer marketing agency with a profound concern for customer business success. As they state, they aim to have solutions for all the challenges that are obstacles to your growth in the market.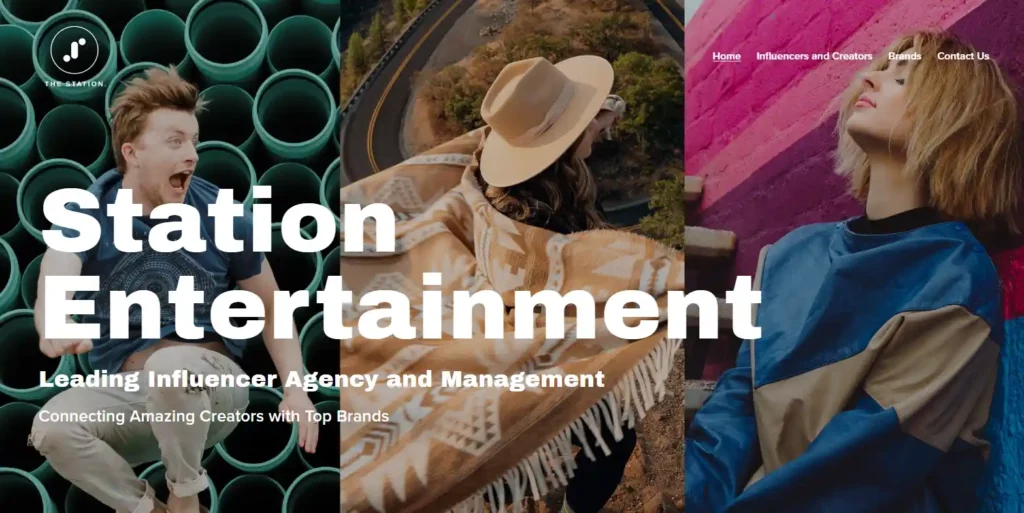 Station Entertainment is an influencer agency with full-cycle management. They lay claim to finding the most suitable social media figure and provide countless strategies and services to enhance your brand.
The company's offerings are sponsorships, strategies, negotiations, partnerships, multi-network growth, and a monetization plan.
Also, Stations Entertainment is an excellent opportunity for small enterprises with economical budgets as they begin contracts from $1,000.
Establishment: 2021
Minimum Project Price: $1,000+
HQ Office: North Carolina, USA
Other Branches: California, Mexico
Well-known Clients: Article, BetterHelp, Dur-A-Lift, Uber, HelloFresh, Jackery, Layla, NordVPN, Native, SimpliSafe, Rockler, Soundboks, SkillShare
5. Viral Nation: Among The Best Influencer Marketing Agencies
Find your talents and target audience to promote your brand and enhance its marketing techniques with this marketing company. Viral Nation claims everything is possible with their assistance.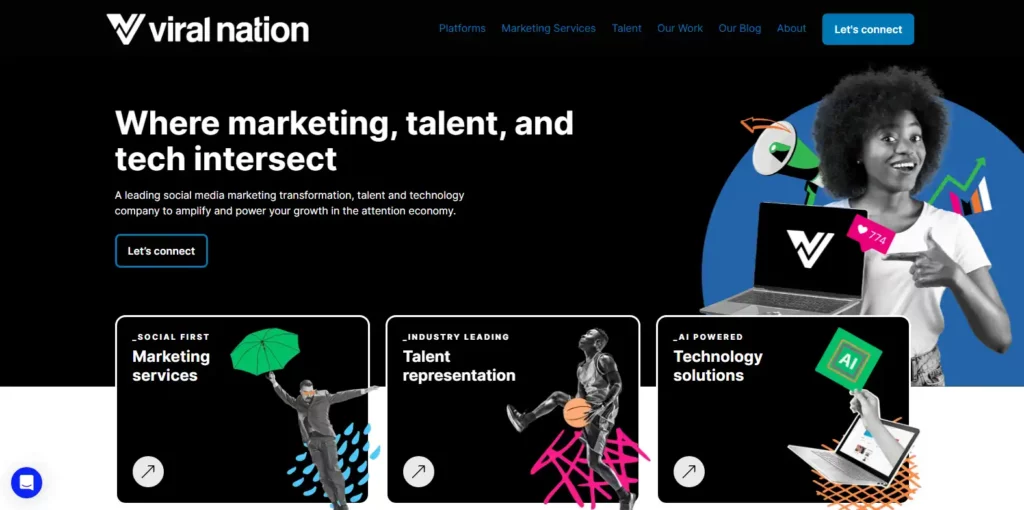 Viral Nation is a global digital marketing agency including three platforms: Viral Nation_Secure, Viral Nation_Empower, and Influsoft. Each with a different objective and purpose that users can benefit from.
This advertising agency states to run campaigns and monitors the whole process for clients to reach the enhancement level goal with various services like marketing strategies, creativity, performance tracking, and blockchains.
Furthermore, they arrange deals and partnerships and provide comprehensive content-creation techniques.
And they have won many awards as one of the finest influencer marketing agencies.
Unfortunately, the prices are unbelievable, and companies need a sizeable budget for cooperation.
Establishment: 2014
Minimum Project Price: $100,000+
HQ Office: Toronto, Canada
Other Branches: New York, Barbados
Well-known Clients: Signet, Uber, Logitech, Ubisoft, Smartwater, Chelsea Football Club, Golden Globe Awards, Urban Outfitters, Activision/Blizzard, Chegg, Meta Quest
6. Ubiquitous: Top Influencer Marketing Agencies Los Angeles
Open the doors of prosperity to your brand and let the world notice your trademark with an influencer marketing agency like Ubiquitous. It proclaims to directly connect you to the ideal content creator and run a remarkable campaign.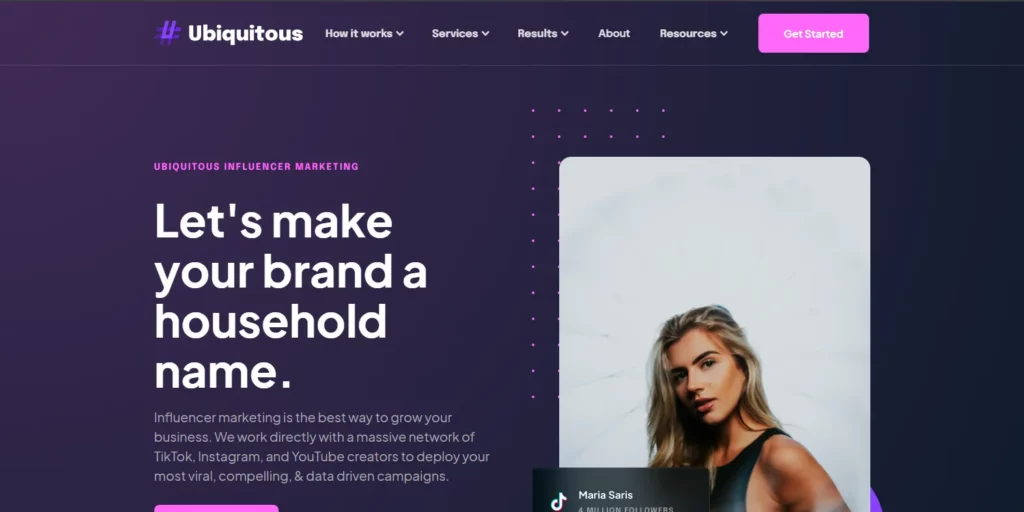 Ubiquitous is a digital influencer marketing firm that asserts to offer strong campaigns and strategies to advance your brand's advertisement. It covers three social media platforms such as Instagram, TikTok, and YouTube.
Additionally, Ubiquitous provides comprehensive data and metrics, selects goals, builds a strategy, gives results, and manages everything from start to end.
Also, this facilitator can be perfect if reasonable prices are your priority.
Establishment: 2021
Minimum Project Price: $1,000+
HQ Office: Los Angeles, USA
Other Branches: N/A
Well-known Clients: Lyft, Samsung, Netflix, Doritos, Amazon, Turbotax, Mcdonald's, Target, Casper, Cash App, Adobe, Hollister, Nerf, Shell, Subway, Steve Madden
7. The Shelf
Seemingly, this company is one of the most outstanding agencies for influencer marketing with unique strategies and development plans. From the beginning till the end, The Shelf covers every stage of your marketing and growth.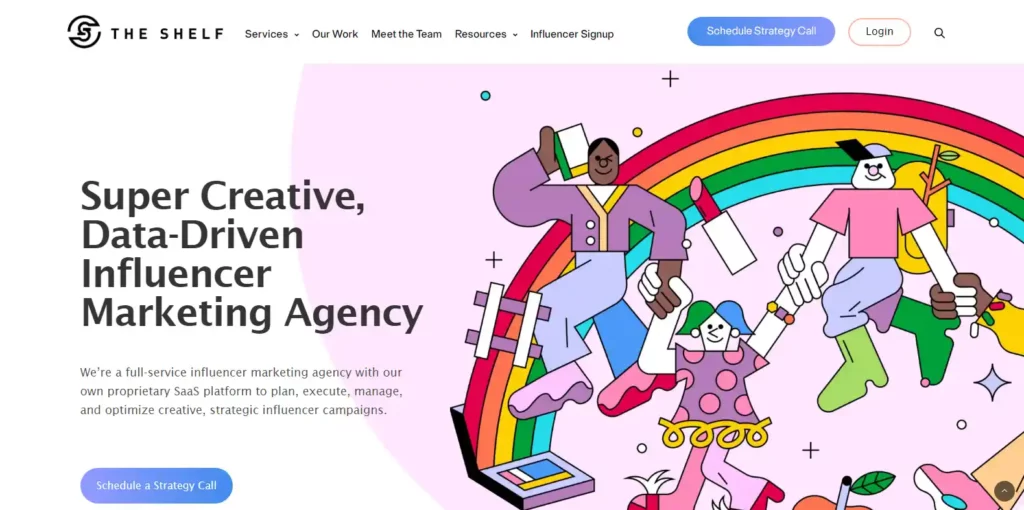 The Shelf is a full-service digital marketing agency offering a wide range of services to build your brand awareness and show it to the world. This Atlanta-based firm states to provide creators for various social media platforms to meet the customers' needs and start a thriving campaign.
Moreover, they have divided each campaign so users can find their niche and easily start collaborations. These are beauty, fashion, food, home decor, outdoor brand, parenting, and CSR campaigns.
Although, it's advisable to consider the excessive prices starting from a minimum of $100,000 per project.
Establishment: 2013
Minimum Project Price: $100,000+
HQ Office: Atlanta, USA
Other Branches: N/A
Well-known Clients: Lenox, St Pierre Bakery, The Honest Company, KISS, Blued, Moosejaw, Natori, Sweet Defeat, KIDS BOP, American Standard, Earthjustice, Essence of Australia, Greenvelope, RefrigiWear
8. The Goat Agency: Finest Influencer Marketing Agencies London
This firm is one of the world's leading social-focused and influencer marketing agencies with top results globally. Apparently, The Goat Agency is where your company gains recognition.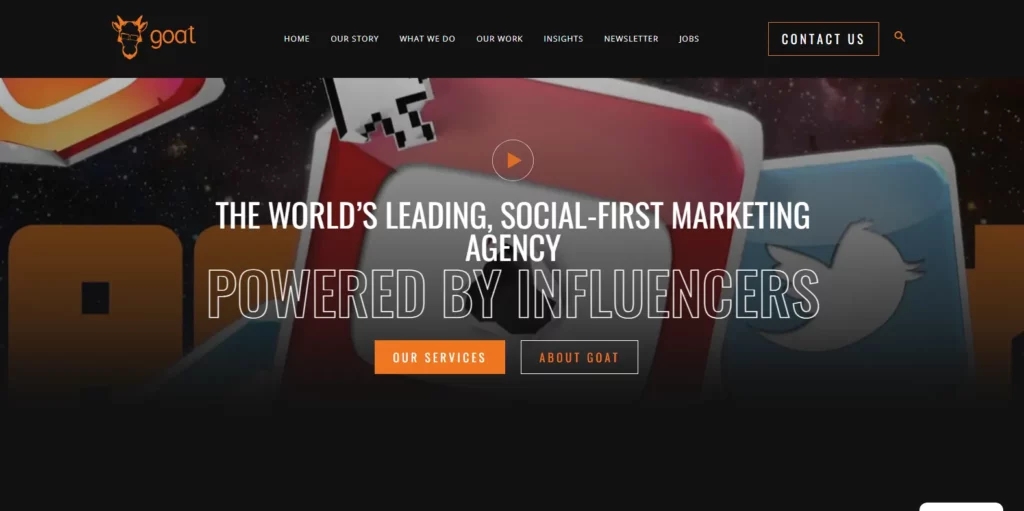 Founded in 2015, The Goat Agency declares to be one of the finest in the industry to enhance awareness, conversion, and engagement for brands through accurately planned campaigns. This UK-based company has won several awards, including Europe's Fastest Growing Agency and The Drum Social Media Agency of The Year.
Furthermore, they are considered the best advertising agencies in the United Kingdom. Customers benefit from influencer marketing, social media strategy and management, and creative content production with The Goat Agency.
However, they should also consider the project's cost, which is sort of high (mentioned below).
Establishment: 2015
Minimum Project Price: $50,000+
HQ Office: London, United Kingdom
Other Branches: New York, Los Angeles, Singapore
Well-known Clients: Nivea, Unidays, Trip, Wayfair, Dell, Saints Row, World Remit, Audi, M&M's, Superdrug, Olay, Starling Bank, UEFA, Formula E
9. Socially Powerful: Top-Quality Influencer Marketing Agencies UK
Aside from The Goat Agency, we have another influencer advertising agency with effective campaigns and marketing plans. Socially Powerful is among the most successful influencer marketing agencies worldwide.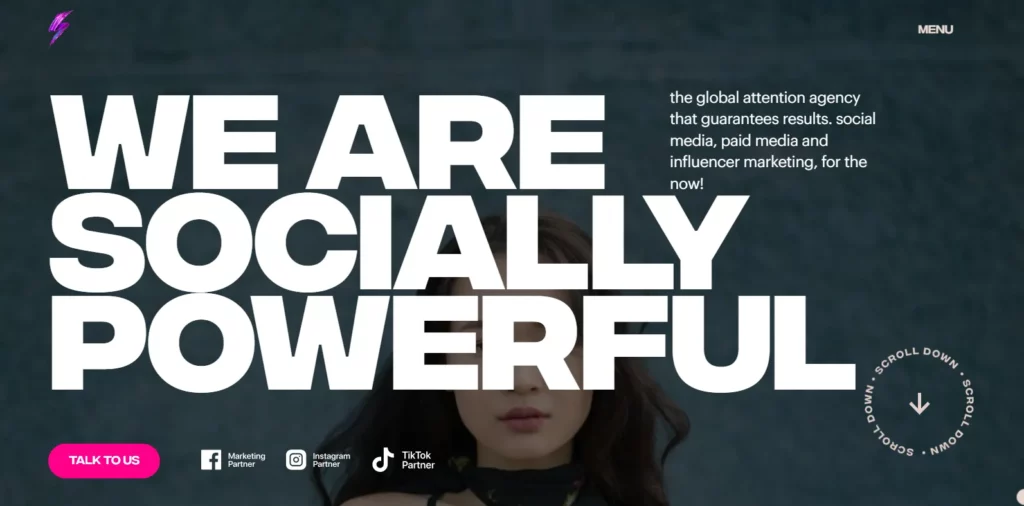 They claim to provide various services with intelligent strategies to give your brand what it deserves. Socially Powerful has a different perspective towards media and brings social first with numerous talents and content creators to find the perfect fit for your brand.
Also, they insist most of their work has had a positive impact on high conversions, engagement, and awareness. As their tradename says, they claim they are socially powerful and one of the prominent firms in the market.
Although they seem flawless, we recommend you review your budget before taking action, as the prices are costly.
Establishment: 2016
Minimum Project Price: $50,000+
HQ Office: London, United Kingdom
Other Branches: Los Angeles, Beijing, Dubai
Well-known Clients: AbInBev, Amazon, Lenovo, L'oreal, TikTok, Tefal
10. The Influencer Marketing Factory
This US-based company is among the top digital influencer marketing agencies globally. With more than five years of experience, The Influencer Marketing Factory believes to turn your company into a popular brand worldwide in the shortest period.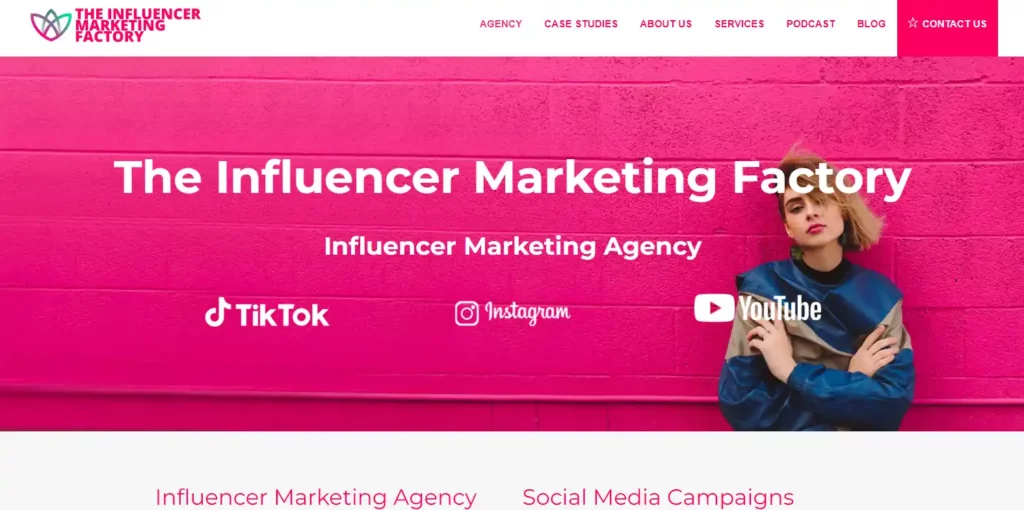 It is a full-service agency using data-driven and scalability strategies to achieve the best possible results in the shortest time and lowest cost. They run exceptional influencer marketing campaigns, including finding suitable content creators, contracting, analyzing performance, and managing content and the entire process.
So, you can rest and relax while The Influencer Marketing Factory does the job for you.
However, it is not free, and you require a high budget.
Establishment: 2018
Minimum Project Price: $10,000+
HQ Office: Miami, USA
Other Branches: New York
Well-known Clients: Google, Meta, Unilever, Amazon, Warner Music Group, Universal Music Group, Sony, Snapchat, Budlight, Hilton, Chips Ahoy!, UniCredit, Foreo, Built
Also, you might be interested to read about the best Instagram influencer marketing platforms.
How Much Do Influencer Marketing Agencies Charge
After the process, we have had till now, this a typical question that should pop up in your mind. Now, you wonder how much influencer marketing agencies charge for each project. How much budget do I need to start my influencer marketing campaign?
Although we have provided specific details on the project costs for each facilitator, the price varies for each brand applying. The marketing agencies estimate the price according to several factors such as the company's status, services, campaign difficulty, and the type of influencers working. Also, if your brand requires additional requests like more advertisements, it can change the cost of the cooperation.
But, we recommend contacting the specific advertising agency you select to inquire about the precise price from them.
FAQs
Alright, now that we're done with the article, it's time to answer some of your frequent questions.
1. Why Should I Work With Influencer Marketing Agencies?
There are certain advantages you benefit from working with these facilitators, such as saving time and letting the agencies do the job. They will manage the whole process from start to end, including finding the most suitable influencers, running campaigns, contracting, creating content, providing performance results, etc.
As a result, you will increase brand awareness, engagement, conversion, and client count. Most agencies guarantee improvement and top results. So, you make a killing with this collaboration.
However, there is a specific budget you require for this cooperation. So, be sure to have a sufficient budget!
2. How Do Influencer Marketing Agencies Find The Right Influencer For My Niche?
You should know that these companies have numerous content creators and influencers from various social media platforms registered on their websites for cooperation. These social media figures are different types of influencers, from nano and micro-influencer to macro and mega. Each has specific audiences and followers that can be perfect for your niche.
Therefore, they consider your market and target audience and connect you to the ideal match to achieve the best results.
3. Are Influencer Marketing Agencies Similar To Influencer Marketing Platforms?
Influencer Marketing Platforms are marketplaces where you can find your ideal influencer and directly connect with them for a successful collaboration. This method has no expenses and is much beneficial for you.
However, Influencer Marketing Agencies provide comprehensive services and cover everything throughout the entire process with an assured guarantee. This strategy requires a considerable amount of investment, and you need a budget for cooperation.
In addition, you should know that some influencer marketing platforms like Ainfluencer offer full-service agency packages similar to what marketing agencies do but much more profitable.
4. What If My Brand Does Not Get Engagement and I Don't Reach My Goals?
Don't worry about this! Typically, you will enhance engagement, awareness, and conversion, driving your marketing to another level.
But, if you achieve negative results, you can get a refund from most of these companies (check the financial regulations!), or they will offer another strategy and services to help you reach your goal.
5. Can I Start A Collaboration With These Agencies With A Low Budget?
As previously mentioned, some companies have a minimum project rate of $1,000, and you can start cooperating with one of these if your budget meets the requirements.
And if your budget is less than this, we recommend finding an agency that can work with your financial plan.
Conclusion
As a result, investing in influencer marketing agencies can have excellent outcomes for your brand. You can enhance your marketing, boost brand awareness and visibility, increase conversions, and improve engagement rates leading to your targets and goals.
Therefore, several of these full-service influencer marketing agencies are available in this article to select the appropriate one according to your budget and niche. With this selection, you can start your dream journey.