Are you looking for influencers on Instagram to collaborate with for promoting your brand? Our exclusive list of LGBTQ social media Influencers is carefully chosen based not only on their large followers but also their strong engagement and impact in the LGBTQ community.
Gay influencers are incredibly creative and inspiring, showcasing fashion, travel, fitness, beauty, and LGBTQ activism to captivate their audiences. The increasing variety of LGBTQ people appearing on different platforms shows that the social media influencer marketing industry is becoming more accepting and supportive of different points of view.
In this article, we'll showcase some of our favorite LGBTQ influencers whom we admire and believe you should follow.
Let's get started!
How to Find LGBTQ Influencers on Instagram
To discover LGBTQ influencers on Instagram, there are several effective methods you can employ:
Influencer Marketing Platforms
Leverage free influencer marketing platforms to simplify your search process. Platforms like Ainfluencer can be beneficial, connecting brands with relevant influencers efficiently.
Using Ainfluencer As The Best Solution
Ainfluencer is a free platform where brands and influencers can easily connect and collaborate. It helps you find Instagram influencers in your area of interest using its AI engine. You can search through thousands of influencers based on hashtags, quality score, category, engagement rate, and follower count. Watch this video to see how Ainfluencer works.
Why are you waiting then? Sign up today and don't miss out on the chance!
When looking for LGBTQ influencers on Instagram, consider factors like their audience demographics, engagement levels, authenticity, and alignment with your brand values. Collaborating with influencers who genuinely represent the LGBTQ community can lead to more meaningful connections with your target audience.
Hashtag Search
Begin your search by typing relevant LGBTQ hashtags such as "#gayinfluencers" or "#LGBTQ" into the Instagram search bar. This is the way, you can use if you consider how to find an influencer, which will lead you to numerous gay Instagram influencers. Explore their profiles to determine if they align with your brand.
Google Search
Utilize Google to find LGBTQ influencers on Instagram. Input phrases like "gay Instagram influencers" or "LGBTQ influencers on Instagram" in the search bar. Review the results to identify potential influencers that suit your brand's values and objectives.
Now, let's dive into the list of LGTBQ+ Instagrammers for Influencer partnership! Ready?
Top 5 Lesbian Influencers on Instagram
These incredible women, including artists, activists, fashion icons, and fitness gurus, are smashing barriers, defying conventions, and embracing their unique identities. They are making a significant impact on the digital world and beyond. Get ready to be inspired by the passion and strength of these amazing lesbian influencers on Instagram.
1. Hannah Hart (@harto)
She's a lively American internet personality, actress, comedian, and writer. Proudly lesbian, she's gained a dedicated fanbase on Instagram and YouTube, discussing captivating life topics. Notably, she hosts 'My Drunk Kitchen,' fearlessly cooking and drinking, and a podcast, 'Hannahlyze This.'
With a million Instagram followers, Hart offers engaging content on mental health, sexuality, and unique interests, actively challenging stigma.
2. Jazzmyne Jay (@jazzmynejay)
In the world of fashion and advocacy, Jazzmyne Jay stands out as a radiant American model and Buzzfeed producer. She spreads body positivity, displays her unique style, and gives fashion advice.
As a plus-sized model, this macro-influencer shares her journey as a lesbian with her partner Kate Kuczynski, showcasing their love for style and makeup.
3. Roxonajourney & Maartje (@roxonajourney)
Rox lives in the Netherlands and posts about her trips, and her relationships. What sets Rox on a Journey apart from other influencers is the heartfelt and emotional appeal in her posts. People follow her to stay in the loop about her upcoming travels and adventures and to see how she confidently lives as an LGBTQ+ woman.
Their enchanting blog, named 'once upon a Journey,' serves as a virtual compass for wanderlust souls, especially resonating with the LGBTQ community.
Follow them as delve into the pages of their extraordinary adventures, where love knows no boundaries.
4. Gabi & Shanna (@27Travels)
Gabi is a talented photographer and Shanna is a skilled videographer. Together, they made '27 Travels' to share their love for travel and show amazing places to 81.9 followers. In 2016, they started something special that combined their skills into '27 Travels,' a project where they show the world's beauty.
Gabi and Shanna, a couple who are LGBTQ+ travel enthusiasts, are using their videography and photography talents to show LGBTQ-friendly places to visit.
Keen to estimate how much you can earn on Instagram? Read our complete article about Instagram Money Calculators to learn all you need to know!
5. Sanne & Michèle (@theadventuresofmisa)
Sanne & Michèle are a pair of lesbians who want to enjoy life to the max and live in an eco-friendly way. They've been creating content about LGBTQ travel and sustainability for their fans since February 2016. They enjoy connecting with lots of people while traveling and online. People share advice with them, and they team up with companies to make a positive difference.
Don't forget to follow their journey using the links below! Let's eagerly await the stories of their latest exploits!
Now, let's take a look at a couple of male influencers on Instagram! Ready? Let's go!
Top 5 Gay Influencers on Instagram
We're excited to share a list of the five most impactful LGBTQ influencers on Instagram. These folks use the platform to display their creativity, be themselves, support LGBTQ rights, break stereotypes, and encourage many to be proud of who they are.
1. Doug & Sanj (@thetravellinggays)
Doug is a happy father and a very popular dad blogger. Alongside his partner Sanj, known as The Travelling Gays, they have been exploring the world for ten years. They share their exciting journey and stories on their fantastic blog about being gay dads.
Doug isn't just focused on having fun and being joyful. He also talks about important dad topics, giving smart suggestions about getting closer to your kids and being a good example.
Through his sincere posts, he truly connects with his 298K followers. Their impact reaches beyond borders, connecting with people worldwide and forming an empathetic community.
2. Stefan & Sebastien (@nomadicboys)
Meet Stefan and Sebastien, a French-Greek gay couple who started the travel blog 'Nomadic Boys' in 2013. What began as a way to share their adventures with loved ones has become an inspiring resource for LGBTQ travelers worldwide. Nomadic Boys is your guide to exploration, love, and community across the globe. Join them in redefining travel, one destination at a time.
3. Karl & Daan (@coupleofmen)
Follow Karl and Daan, a captivating German-Dutch gay couple whose incredible journey breaks borders and spreads inclusivity and authenticity. For inspiration, wanderlust, and heartfelt tales, check out coupleofmen.com.
With 189K followers, they share their amazing story of being in love without hesitation, using captivating photos and videos to show their world where love shines freely. Through collaborations worldwide, they're shaping inclusive travel. Let Karl and Daan's journey and love inspire you to live authentically and judgment-free.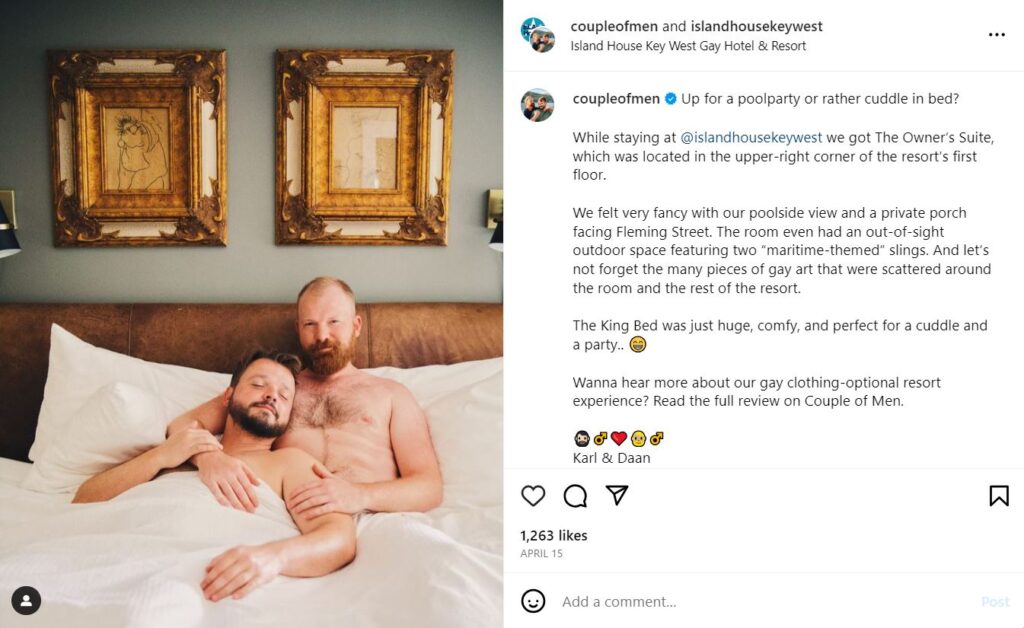 4. Ravi Roth (@raviroundtheworld)
Discover the World with the Gay Travel Guru! Follow Ravi Round The World, an adventurous traveler who's exploring over 30 countries including Chile, Scotland, and Bali. Ravi is a travel enthusiast who explores different parts of the world to find the most welcoming places for the LGBTQ+ community. He is also an actor. On YouTube, he has a very high interaction rate of 16.08%, and his followers usually back organizations like Glaad, as well as brands like Travelzoo and Amtrak.
Get ready for a journey of discovery, empowerment, and celebration with Ravi Round The World!
5. Josh Rimer(@joshrimer)
He's Mr. Gay Canada 2019 and a host on OUTtv, known for his positive impact on the LGBTQ community. Beyond travel content, his diverse videos, from interviews to comedy, are authentic and engaging.
On his social media, he shares his travel adventures and uplifting posts. Josh has collaborated with various brands such as Crabtree and Evelyn, and the Fairmont Pacific Rim Hotel. He's a fantastic choice for companies looking to partner with LGBTQ influencers, given his 11.6K followers on IG.
Top 5 Bisexual Influencers on Instagram
1. Billie Joe (@Billiejoearmstrong)
In a world craving authenticity, Billie shines as a singer and LGBTQ advocate. Their genuine self and powerful voice inspire us all. They bravely shared their bisexuality in 1995, giving strength to others. The bonus of following Billie? With 2.6 million Instagram followers, they share music, wisdom, and positivity.
2. Stephanie Beatriz (@iamstephbeatz)
You might know her as Detective Rosa Diaz from Brooklyn Nine-Nine, where her talent and charm shone. Her Instagram is a mix of glamour and relatability, with stylish red-carpet photos and adorable dog moments. With 2.4M IG followers, she is one of the famous LGBTQ influencers. Cheers to her influence and positivity!
3. Dodie Clark (@Doddleoddle)
In a world of perfection, Dodie shines with honesty. She's a British singer who shares her journey as a bisexual person. Dodie Clark is a skilled LGBTQ+ influencer who creates and shares stuff about music, art, and culture. On her Instagram, you'll see fantastic, timeless photos that show off Dodie's personality. She openly came out in 2017, inspiring others. Her songs connect with everyone. With 1.1M followers on Instagram, Dodie goes beyond music. She shows real moments, tour life, and LGBTQ friends. It's different from curated feeds.
She reminds us our stories matter. Her profile is definitely worth a follow!
4. Blair Imani (@blairimani)
Blair Imani is a person who is Black, bisexual and follows the Muslim faith. She is an author, historian, and activist. Through her platform, she teaches others about different topics such as the queer community (including its history), queer individuals who have faith, feeling good about your body and how it works, racism, and mental health struggles.
With 586K Instagram followers, she's not just an LGBTQ influencer; she's a force for change, especially for the younger generation.
5. Nicola Adams (@nicolaadams)
Nicola is an extraordinary LGBTQ Instagram influencer who leaves a lasting impression wherever she goes. Defying expectations, Nicola is one of the most accomplished women in sports. She was the first female boxer to win a gold medal at the 2010 Olympics and later became the first female boxer to win two Olympic golds. Quite amazing, right?
Not only excelling in sports, Nicola also ranked first on The Independent's 2012 list of '101 Influential LGBT People in Britain,' making her presence felt beyond the sports world.
Top 5 Transgender Influencers on Instagram
This list aims to spotlight some of the most inspiring transgender influencers who are not only breaking barriers but also reshaping the narrative surrounding gender identity.
1. Nikkie de Jager (@nikkietutorials)
Nikkie de Jager, known as NikkieTutorials, is one of the standout LGBT Instagram beauty influencers. She began in 2015 with a video celebrating makeup's impact. With over 13 million YouTube subscribers and 18.7 million Instagram followers, she's a force. Nikkie's bold makeup and fashion choices set her apart.
Collaborations with Selena Gomez highlight her influence. NikkieTutorials isn't just a channel; it's a movement of self-love. Make sure to follow Nikkie de Jager.
Read also: The Ultimate List of the Best 12 Instagram Beauty Influencers
2. Munroe Bergdorf (@munroebergdorf)
As the UK's transgender model and LGBTQ influencer on Instagram, she's making history. Fashion is like Munroe Bergdorf's close friend, and she's really great at it! Now, as the new contributing editor of British Vogue, it's obvious that Munroe has made her mark in the fashion world. Apart from talking about stylish clothes, Munroe also talks a lot about LGBTQ+ and understanding different sexualities.
With over 556,000 Instagram followers, she shares her stylish moments while promoting awareness.
3. Chella Man (@Chellaman)
Chella Man is a remarkable LGBTQ influencer on Instagram who breaks stereotypes and inspires many. He's an Asian-American actor, model, artist, and dynamic YouTuber who talks about being deaf and LGBTQ+ groups. He puts up a bunch of cool stuff about his life on Instagram and really like his unique style of fashion and art.
Follow him to see his exciting posts!
4. Charlie Craggs (@Charlie_craggs)
Charlie Craggs, who is admired by many in the LGBT community, can provide valuable support for your new marketing strategy. Her Nail Transphobia campaign breaks down bias through conversations and free manicures. It proves that talking can dismantle prejudice. With 61.1K followers on Instagram, she uses social media to share her experiences and educate with wit.
As editor of 'To My Trans Sisters,' Charlie amplifies wisdom from diverse voices. This book inspires womanhood's journey. Charlie Craggs isn't just an LGBTQ influencer; she drives change. If you're interested in working with Charlie or learning about how influencers in lifestyle, music, and entertainment can benefit your brand's marketing, feel free to follow her!
5. Bretman Rock (@Bretmanrock)
Looking for a boost of positivity and vibrant energy on social media? Bretman is a famous LGBTQ influencer who is making a big impact worldwide with his uplifting story. He brings his passions for fitness, fashion, and travel. What stands out is Bretman teaming up with Nike's #betruecampaign, showing his impact. His YouTube unboxing and skits blend fitness and fashion in an amazing way.
Read also: Most Inspiring Instagram Fitness Influencers
Top 5 Queer Influencers on Instagram
These Queer Influencers are leading the way with their powerful messages and impactful content. let's take a look at their profiles!
1. Pattie Gonia (@Pattiegonia)
They are more than a drag queen; they're a true LGBTQ Instagram influencer. Pattie describes themselves as a pro at being LGBTQ+, caring about the environment, and doing drag. On their page, you'll see a mix of these three things! Their aim is to make outdoor spaces more inclusive and to make people more aware of climate change.
They blend being LGBTQ+ with nature, and honestly, it's really cool! You should follow them!
2. Ericka Hart (@ihartericka)
Ericka Hart, a UK influencer in the LGBTQ+ community, bravely discusses sensitive subjects to make conversations about sexuality and being transgender more common. She's a writer, educator, model, activist, and someone who has overcome breast cancer. Ericka spreads positive and motivating messages that help people learn about sex and the LGBTQ+ world.
Her journey from breast cancer survivor to advocate showcases her courage in sharing her scars and embracing vulnerabilities. With 466K Instagram followers, she fearlessly discusses vital topics like race, gender, and health, working towards a more inclusive world.
3. Ruby Allegra (@rvbyallegra)
Describing as the 'awesome dreamer who's autistic, trans, queer, and disabled,' Allegra started using Instagram to showcase their makeup skills. Luckily, their account now goes beyond makeup and includes fashion, body positivity, advocating for disability and LGBTQ rights, sharing their real experiences, and just being really cool.
Their clothing choices are vibrant and a little edgy (imagine orange fanny packs with matching pants), and they also give great suggestions for brands that help disabled people and deserve our support.
4. Mx B. Hawk Snipes(@bhawksnipes)
Get ready to be amazed by the incredible Snipes! It might seem tiring to be a model, LGBTQ+ activist, artist, and actress all at once, but Hawk Snipes makes it seem effortless! People follow her to see her lifestyle, fashion, and travel posts. She also talks about the LGBTQ+ community and has supported brands like Steve Madden and Warby Parker.
5. Ady (or Arcadia) Del Valle (@_adydelvalle)
The male model from Boston, who champions body diversity and is proud of his plus-size Latinx identity, has been modeling for more than five years. He has always stayed true to himself and is determined to make an impact on the world. With attractive facial traits such as well-shaped eyebrows, a complete beard, full lips, and a nicely proportioned figure, he confidently displays his appearance.
He's been a model for NYC Pride, participated in the Real Catwalk in Times Square during NYFW, and established The Latinx Creative to showcase Latinx skills. His bold Instagram outfits vary from dresses to lingerie and everything in the middle.
Follow Del Valle and join the evolution towards a more inclusive and vibrant world.
FAQs on Famous LGBTQ Influencers
Now, it's time to take a look at some frequently asked questions regarding top LGBTQ Instagrammers. Shall we?!
1. Who Are the Most Famous LGBTQ Influencers?
These are the most famous influencers:
Hannah Hart,
Doug & Sanj,
Billie Joe,
Nikkie de Jager,
Pattie Gonia.
2. Who Are the Famous Gay Influencers on Instagram?
These are the most famous Gay Instagram influencers:
1. Doug & Sanj (@thetravellinggays),
2. Stefan & Sebastien (@nomadicboys),
3. Karl & Daan (@coupleofmen),
4. Ravi Roth (@raviroundtheworld),
5. Josh Rimer(@joshrimer).
To Wrap Things Up
Our selection includes famous LGBTQ influencers on Instagram whom we've personally followed for a long time, making it a comprehensive compilation of outstanding gay Instagram influencers. However, we value your input and would love to hear who else you think should be included.