In recent years, social media and more specifically Instagram, has become a powerful tool for fitness enthusiasts and influencers to inspire and motivate people towards a healthy lifestyle. Instagram fitness influencers have emerged as the go-to destination for fitness enthusiasts and influencers to share their workout routines, healthy eating habits, and motivational stories.
From bodybuilders to yoga instructors, and from nutritionists to personal trainers, there are countless inspiring Instagram fitness influencers who are helping people transform their bodies and minds. You can easily find this influencer through paid or free influencer marketing platforms.
In this age of sedentary lifestyles and unhealthy food habits, these influencers have become a beacon of hope for millions of people looking to improve their health and fitness. So, if you're looking for some fitness inspiration, look no further than these most inspiring Instagram fitness influencers.
Who Are Instagram Fitness Influencers & How Can They Help
Instagram fitness influencers are individuals who have built a significant following on Instagram by sharing content related to fitness, health, and wellness. These individuals typically have expertise in the areas of nutrition, exercise, and lifestyle habits and use their platform to inspire and motivate their followers to live a healthier life.
Fitness influencers on Instagram can help in a number of ways. Here are a few examples:
#1 Sharing Fitness Tips and Advice
Instagram fitness influencers often share workout routines, nutrition tips, and lifestyle advice that can help their followers achieve their fitness goals.
#2 Providing Motivation and Accountability
Seeing someone else's progress and success can be motivating for individuals who are just starting out on their fitness journey. Fitness models often share their own personal journey and struggles, which can inspire and motivate their followers.
#3 Offering Product Recommendations
Many fitness influencers on Instagram partner with brands to promote products they believe in, such as workout equipment, supplements, and fitness apparel. These recommendations can be helpful for individuals who are looking for high-quality products to support their fitness journey.
#4 Creating a Sense of Community
Fitness Instagram influencers often have a loyal following of like-minded individuals who share similar goals and interests. This community can offer support, encouragement, and accountability, which can be incredibly valuable for individuals who are trying to adopt a healthier lifestyle.
Overall, Instagram fitness influencers can be a great resource for individuals who are looking to improve their health and fitness. However, it's important to remember that not all influencers are created equal, and it's important to do your own research and carefully evaluate the advice and recommendations of any influencer you choose to follow.
17 Instagram Fitness Influencers to Get Inspired
There are many inspiring fitness influencers on Instagram. First, we'll start with female fitness influencers on Instagram. Here are a few of the hottest Instagram fitness models:
Top Female Fitness Models on Instagram
Whether you're a beginner or an experienced fitness enthusiast, these 10 female Instagram fitness influencers are sure to provide you with the motivation, inspiration, and information you need to take your fitness journey to the next level.
1. Whitney Simmons (@whitneyysimmons)
Known for her quirky and fun workout routines, Whitney Simmons is a personal trainer and fitness influencer who will have you laughing while you sweat.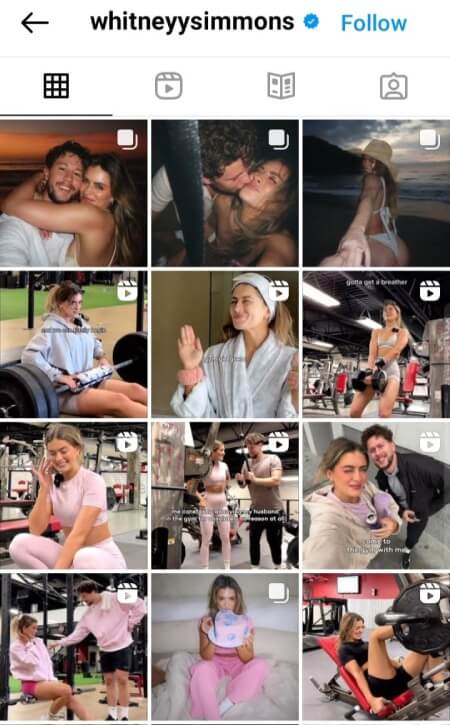 2. Tammy Hembrow (@tammyhembrow)
With her toned physique and healthy lifestyle, Tammy Hembrow is a female fitness model and social media influencer who will inspire you to prioritize your health.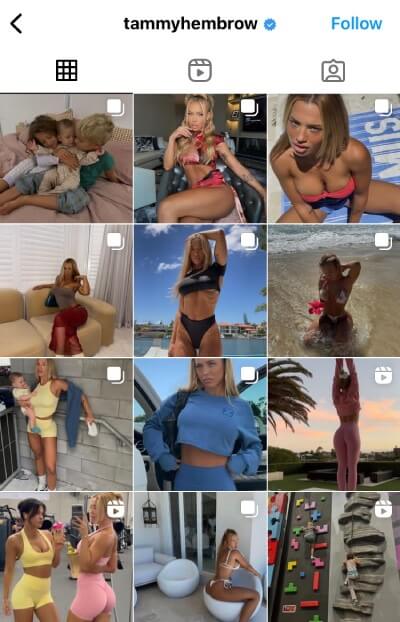 3. Cassey Ho (@blogilates)
As a Pilates instructor and Instagram fitness influencer, Cassey Ho brings positivity and motivation to her followers through her challenging yet rewarding workouts.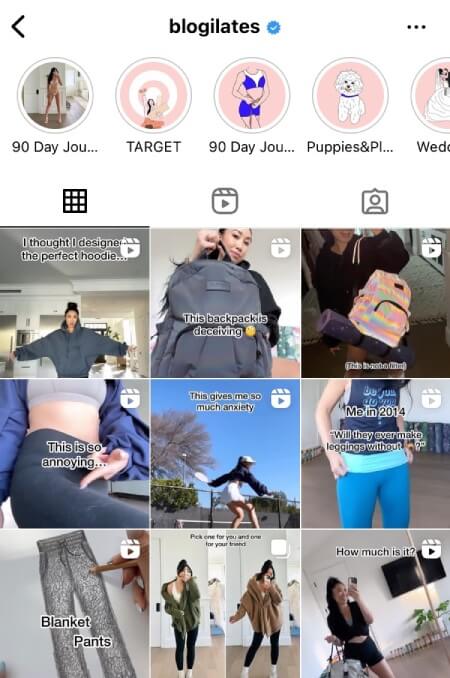 4. Kelsey Wells (@kelseywells)
With her popular PWR workout program and inspiring journey to fitness, Kelsey Wells is a personal trainer and fitness influencer who will help you achieve your fitness goals.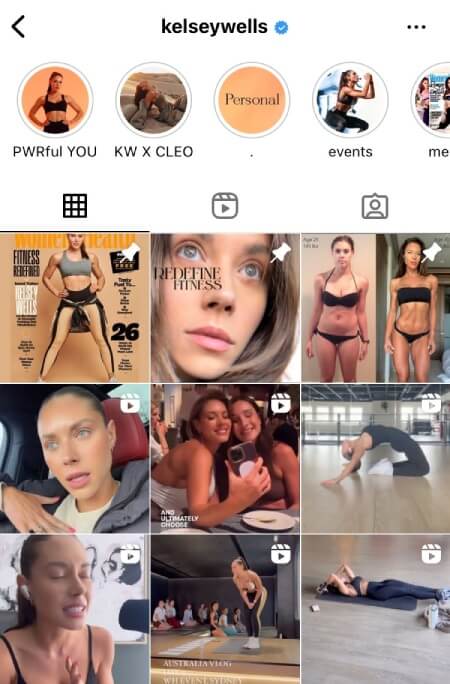 5. Jenelle Salazar (@getbodiedbyj)
Fitness coach and influencer Jenelle Salazar provides her followers with challenging and effective workout challenges that will have you feeling stronger and more confident in no time.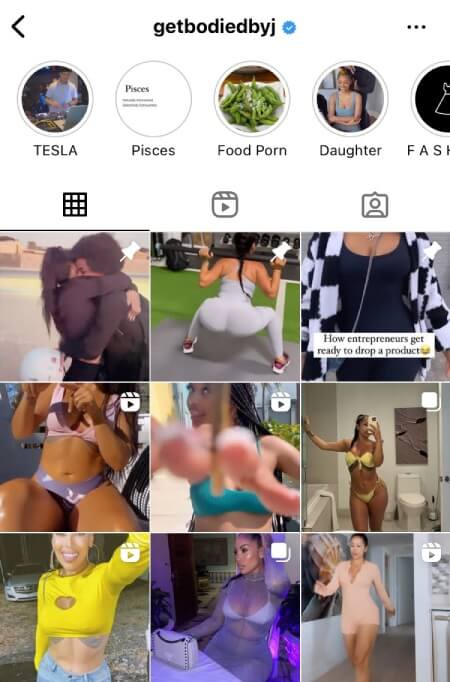 6. Brittany Dawn (@realbrittanydawn)
With her incredible transformation and positive attitude, personal trainer and Instagram fitness influencer Brittany Dawn will help you believe that anything is possible with hard work and dedication.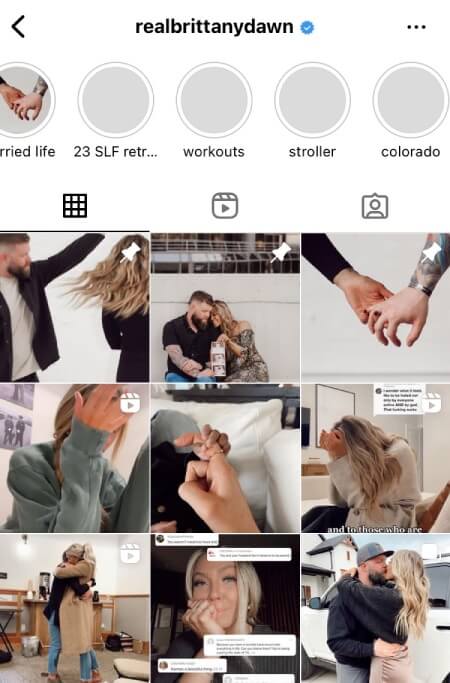 7. Sia Cooper (@diaryofafitmommyofficial)
As a mom and Instagram fitness influencer, Sia Cooper proves that it's possible to prioritize fitness while juggling the demands of motherhood.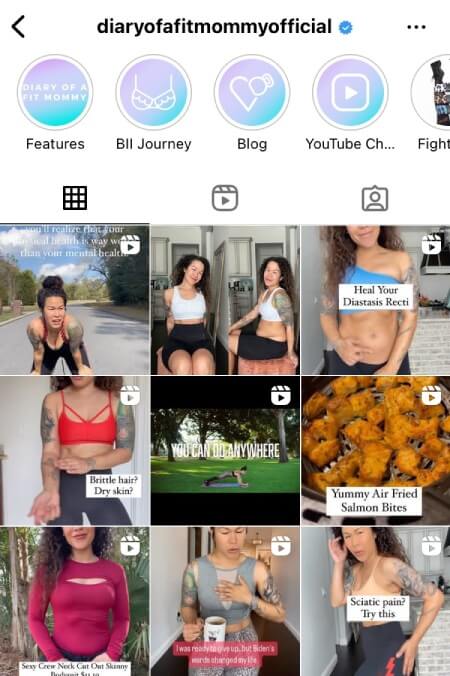 8. Amanda Bisk (@amandabisk)
Former Australian pole vaulter turned yoga instructor and fitness influencer, Amanda Bisk shares her passion for yoga and fitness with her followers, inspiring them to move their bodies and prioritize self-care.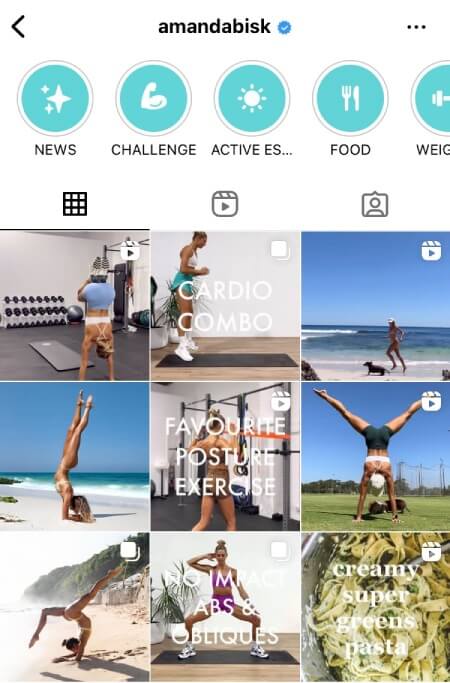 9. Lauren Fisher (@laurenfisher)
With her impressive athletic ability as a CrossFit athlete and inspiring content, Lauren Fisher is a fitness influencer who will help you push your limits and achieve your fitness goals.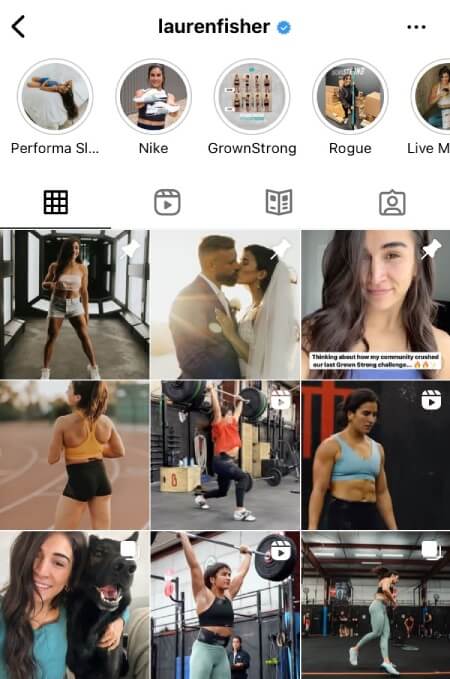 10. Emily Ricketts (@emrickettz)
With her inspiring transformation and fitness journey, Emily Ricketts is a personal trainer and fitness influencer who will help you believe that anything is possible with hard work and dedication.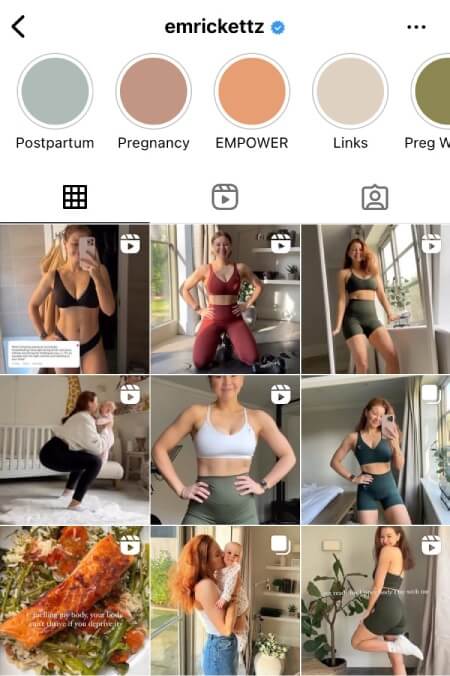 After finishing on the top female fitness models on instagram, it's time to check on the best male fitness influencers. Are you ready? Let's go.
Top Male Fitness Influencers on Instagram
Here are the top 7 male Instagram fitness influencers to get inspired:
1. Chris Heria (@chrisheria)
Chris Heria is an Instagram fitness influencer, personal trainer, and founder of the fitness brand Thenx. He is known for his innovative and challenging workouts, which often involve bodyweight exercises and calisthenics.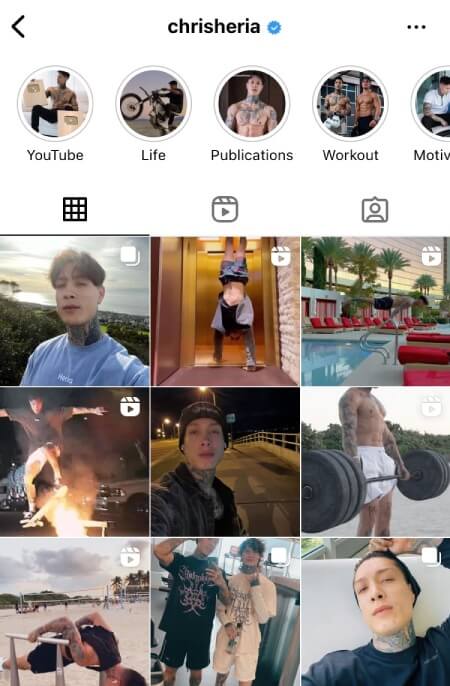 Heria gained popularity through his YouTube channel, where he shares workout routines, tutorials, and motivational content. He also has a significant following on Instagram, where he shares photos and videos of his workouts and fitness journey.
2. Lazar Angelov (@lazar_angelov_official)
Lazar Angelov is a Bulgarian fitness model, personal trainer, and former professional basketball player. He is known for his impressive physique, which he has built through years of dedicated training and nutrition.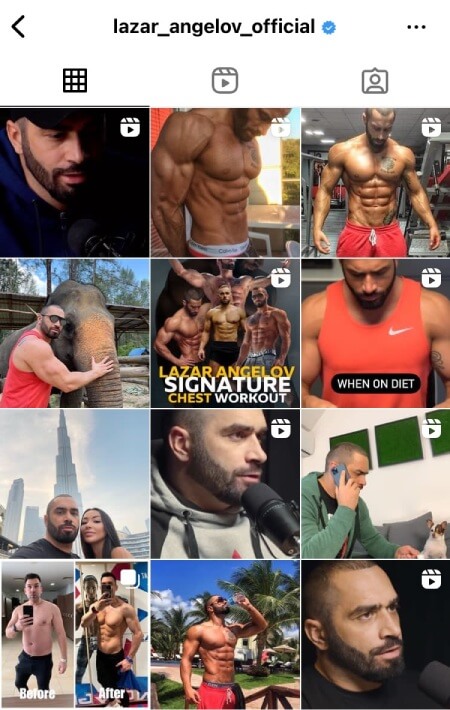 Angelov has also released several fitness programs, including the Lazar Angelov 6 Pack Abs Program and the Lazar Angelov Ultimate Abs Program, which provide users with access to custom workout plans and nutrition advice.
3. David Laid (@davidlaid)
David is an Instagram fitness influencer and bodybuilder with over 3.1 million followers on Instagram. Laid is known for his dedication to fitness, his impressive physique, and his ability to inspire and motivate others to achieve their fitness goals. He continues to be a prominent figure in the fitness industry and has inspired many people to pursue a healthy and active lifestyle.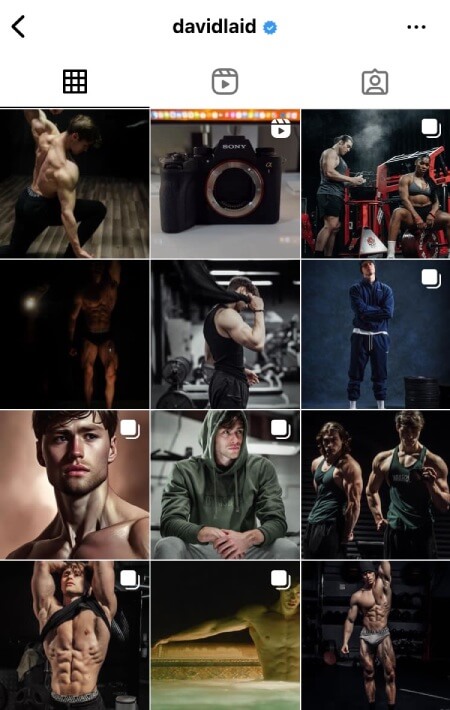 4. Ulisses Jr (@ulissesworld)
Ulisses Jr is an Instagram fitness model known for his chiseled abs, well-defined muscles, and overall aesthetic physique. His workouts often involve a combination of weightlifting and bodyweight exercises, and he is a strong advocate for maintaining a balanced and healthy diet.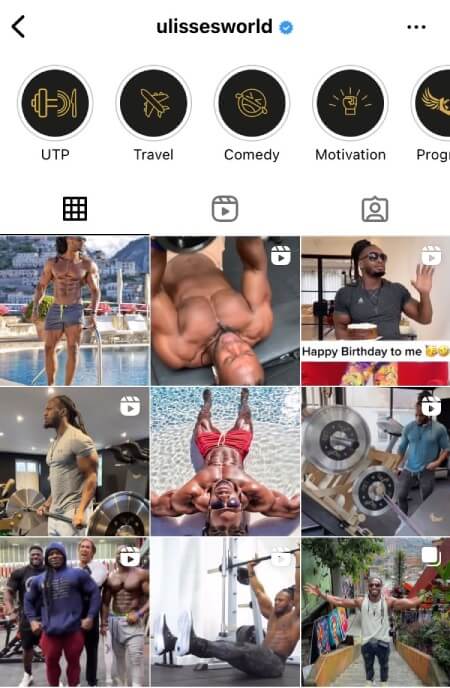 5. Simeon Panda (@simeonpanda)
Simeon is a bodybuilder and fitness influencer on Instagram with over 8 million followers. He is a prominent figure in the fitness industry, known for his dedication to fitness, his impressive physique, and his ability to inspire and motivate others to reach their fitness goals.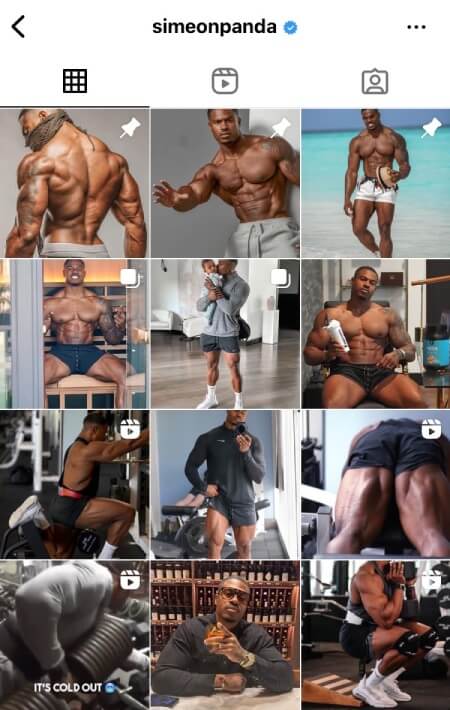 6. Jeff Seid (@jeff_seid)
Jeff Seid is not your average Instagram fitness influencer. At just 18 years old, he became the youngest IFBB pro in history, and since then, he has been dominating the fitness industry with his impressive physique and charismatic personality.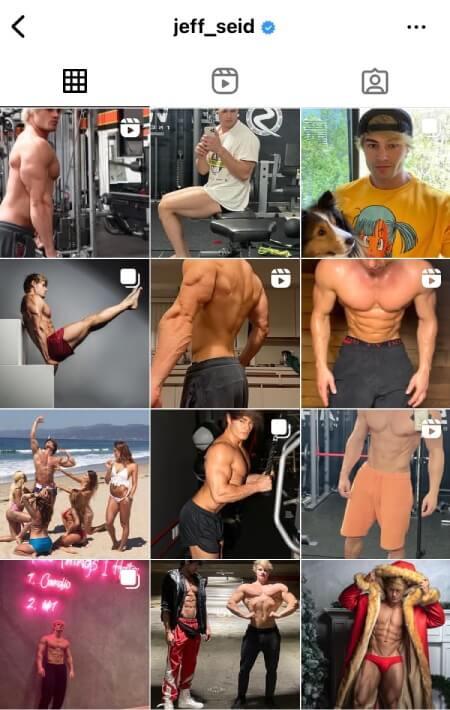 what sets Seid apart from other fitness models is his inspiring story. Despite facing numerous obstacles and setbacks, including a severe injury that nearly ended his career, Seid never gave up on his dream of becoming a professional bodybuilder. He has proven that with hard work, dedication, and perseverance, anything is possible.
7. Jeremy Buendia (@jeremy_buendia)
Jeremy is a bodybuilder and Instagram fitness model with over 3.6 million followers on Instagram. His name is synonymous with the fitness industry. He is a four-time Mr. Olympia Physique champion and a well-known social media influencer.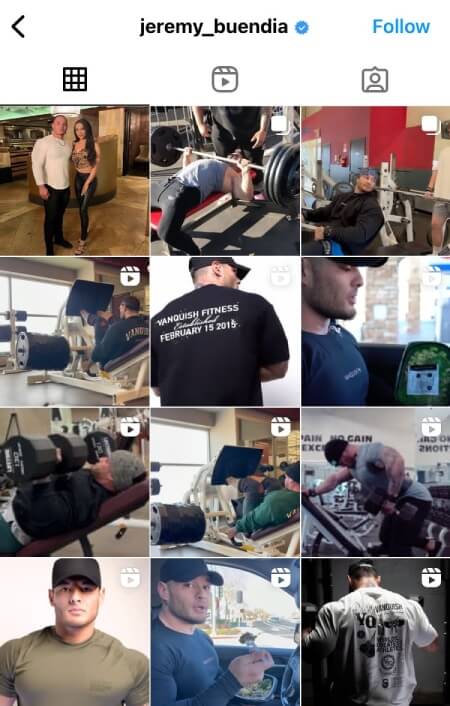 These are just a few of the many male Instagram fitness influencers who can inspire you to achieve your fitness goals. Remember to always prioritize your health and well-being above aesthetics, and to consult a professional before starting any new fitness routine.
Where to Find Instagram Fitness Influencers
Finding the ideal Instagram fitness influencers to help promote your brand may prove to be quite a difficult task. But, don't worry, we are here to put your mind at ease. Here are some interesting ways to find Instagram fitness influencers:
#1 Use Influencer Marketing Platforms
There are various influencer marketing platforms like Ainfluencer, AspireIQ, Upfluence, and HYPR that can help you find and connect with fitness influencers. These platforms typically allow you to search for influencers based on specific criteria, such as location, niche, and audience demographics.
Ainfluencer is one of the best free influencer marketing platforms that can make finding the right influencer easy for brands. It's a unique platform that easily connects businesses with Instagram fitness influencers who are best suited for brand promotion.
#2 Use Hashtags
Start by searching for popular fitness-related hashtags like #fitness, #workout, #fitfam, #fitlife, and #fitnessmotivation. This can help you discover popular influencers and fitness enthusiasts in your niche.
#3 Look for Fitness-Related Accounts
Search for Instagram accounts that focus on fitness and health, such as gyms, personal trainers, fitness apparel brands, and health food stores. These accounts often feature fitness models, so be sure to check out who they follow or who they tag in their posts.
#4 Check Out Fitness Events
Attend fitness events like fitness expos, marathons, or health and wellness conferences. These events often feature popular fitness influencers, and you can meet them in person and network with them.
How Do Fitness Influencers Make Money
Instagram Fitness influencers make money in a variety of ways, and here are some of the most common ones:
Sponsored posts: Fitness influencers with a large following can make money by posting sponsored content on their Instagram account. This could include sponsored posts from fitness brands, supplement companies, or health food companies. In exchange for promoting the company's products, the influencer will receive payment. They can find sponsors through different influencer marketing platforms such as Ainfluencer.
Affiliate marketing: Instagram fitness influencers can also make money by promoting products and services through affiliate marketing. This involves sharing unique links with their followers and earning a commission on any sales made through those links.
Merchandise: Many Instagram fitness influencers sell their own products, such as workout plans, nutrition guides, or fitness equipment. By leveraging their social media following, they can reach a large audience and generate sales.
Personal training: Some fitness influencers use Instagram as a platform to advertise their personal training services, either in-person or online. By sharing their fitness journey and offering training tips, they can attract clients who are interested in working with them.
Ad revenue: Influencers who create content on platforms like YouTube can earn money through ads that run before or during their videos.
Fitness challenges: Some influencers create fitness challenges that their followers can participate in for a fee. These challenges often include personalized coaching and support from the influencer.
Overall, fitness influencers make money by leveraging their influence and expertise to promote products, services, and programs that their followers may be interested in. By building a strong brand and a dedicated following, fitness influencers can turn their passion for fitness into a lucrative career.
Instagram Fitness Influencers FAQs
Here are some of the frequently asked questions related to Instagram fitness models that might be interesting to you.
1- Who Are the Top Fitness Micro Influencers & How to Find Them?
Micro-influencers are individuals with a smaller social media following but who have a highly engaged audience. They are known for their authenticity and ability to connect with their followers on a personal level. In the fitness industry, micro-influencers can be a great resource for promoting products or services and driving engagement with target audiences.
Kayla Itsines (@kayla_itsines), Emily Skye (@emilyskyefit), Natacha Océane (@natacha.oceane), and Hannah Bronfman (@hannahbronfman) are among the top fitness micro-influencers.
Moreover, to find more fitness micro-influencers, you can search on social media platforms such as Instagram, YouTube, and TikTok using relevant hashtags, keywords, and location filters. You can also use influencer marketing platforms like AspireIQ, Upfluence, and Grin to search for influencers based on criteria such as follower count, engagement rate, and niche.
2- Who Is the Best Female Workout Influencer?
Sommer Ray is probably the best female workout influencer on Instagram. She has been featured in numerous magazines, including Maxim and Sports Illustrated. This Instagram fitness influencer is the founder and CEO of Sommer Ray's Shop, an online clothing store that offers workout clothes, loungewear, and accessories. She has also appeared in music videos, including "Obsessed" by Mariah Carey and "Stop" by the rapper 6ix9ine.
4- What Is the Fastest Growing Fitness Trend?
The fastest-growing fitness trend is high-intensity interval training (HIIT). HIIT involves short bursts of intense exercise followed by periods of rest or low-intensity exercise. It has become popular because it is an efficient and effective way to burn calories, improve cardiovascular health, and build muscle in a shorter amount of time compared to traditional steady-state cardio workouts.
Last Words
In conclusion, Instagram has become a platform for fitness influencers to inspire and motivate millions of people to live healthy lifestyles. The most inspiring Instagram fitness influencers are not only great role models but also experts in their respective fields. They are passionate about fitness and are committed to sharing their knowledge and experiences with their followers.
The popularity of Instagram fitness influencers is a testament to the power of social media in shaping the way people think about health and fitness. By sharing their daily routines, workouts, and nutrition plans, these influencers have managed to inspire a generation to embrace a healthy lifestyle.
Ultimately, the most inspiring Instagram fitness influencers are those who promote a holistic approach to fitness, one that encompasses not only physical health but also mental and emotional well-being. They encourage their followers to be their best selves and to find joy and fulfillment in their fitness journey.