Whether or not you have an Instagram account, you might want to view your friends' or exes' Instagram stories anonymously. If that's so, you have probably heard of Picuki Instagram viewer.
Picuki is an anonymous Instagram story viewer and editor tool. But is that all? what else does Pickui offer and how can you use it?
In this Picuki review, we'll explore everything you need to know before using this IG viewer including its features, benefits, and some Picuki alternatives.
What Is Picuki
Picuki is a free website that allows users to explore Instagram anonymously, view stories, edit photos, and download reels and stories from public Instagram accounts.
So, if you want to check someone's posts and stories without the account owner noticing Pickui is what you need.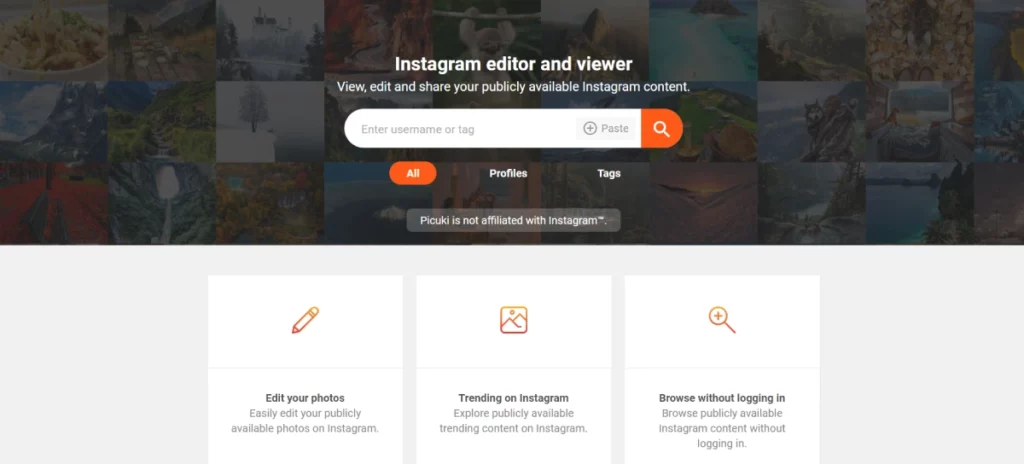 Using Pickui you can also view and download profile photos in high quality. You don't even need to have an Instagram account to visit and save profile pictures.
Something that is very interesting about Picuki is its trend section. You can click on the trending tab and find out what hashtags and photos are currently trending in different categories.
Is Picuki Anonymous?
This Instagram tool is famous for being anonymous. You can go to Picuki website and visit public Instagram accounts posts and stories without logging in to your account. So, Pickui is totally anonymous.
Note that Pickuki is not affiliated with Instagram and is an independent platform. Now, let's explain its features to get familiar with its capabilities!
What Are Picuki Features
Picuki is a clever tool that lets you watch Instagram Stories without revealing your identity. With this platform, you can easily and discreetly browse and download IG stories and highlights without anyone noticing.
There are several useful features that come with this service, such as:
The ability to view HD profile pictures and stories.
Save your favorite posts for offline access.
Discovering trending hashtags and photos in different categories.
And, search for content using tags, profiles, and locations.
Picuki also lets you download Instagram reels and images from Instagram and even edit your own content. Additionally, the Trending feature allows you to see the most popular Instagram content all in one place, making it a versatile and convenient tool for Instagram users.
Along with Picuki, there are several other tools that offer similar features and services. But you may ask:
Why We Should Look For Picuki Alternative
It offers a way to download Instagram pictures without needing to log in, which is useful for people who want to save time and maintain their anonymity. It also provides the option to view private profiles and repost on Instagram. Additionally, Picuki features an editing tool with various capabilities such as stickers, filters, frames, and text.
Nevertheless, It has some drawbacks. It is not compatible with Android devices and is better suited for iPhone and desktop users. Furthermore, it does not allow users to delete their own content from Instagram, which can be frustrating.
Therefore, it is recommended to explore alternatives to it. This article lists some of the top Picuki alternatives that can be utilized.
Let's check them out.
The Best Picuki Alternatives
With all these findings, you're sure to consider switching from this platform, right?! Let's introduce the best Picuki alternative in the market that covers all its downsides. Ready?! Let's go!
1. AiSchedul: The Best Picuki Alternative
AiSchedul is a social media management tool that provides various functions to its users. These include the ability to schedule posts on Instagram, publish content, and monitor performance. Additionally, it also allows for designing Instagram posts and stories, as well as generating hashtags.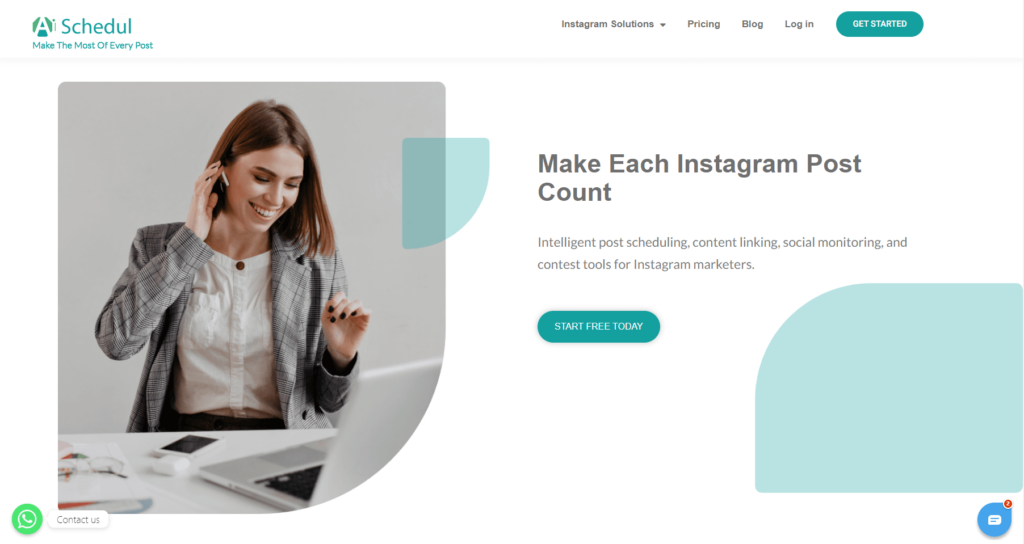 If you want to manage your Instagram account, AiSchedul can be a useful option, but it's crucial to note that it is not an Instagram viewer. Picuki enables users to explore and view Instagram profiles without following them or having an account. Hence, if your objective is to find a website that allows you to view Instagram profiles, Picuki or similar websites may be more appropriate.
How to Use AiSchedul
The AiSchedul Instagram Viewer does not require personal information or registration. There is no need to download any software or complete any difficult tasks.
To use the AiSchedul Instagram Viewer, follow these steps:
Enter the username of the Instagram user whose stories you wish to view.
AiSchedul will require you to register on their platform. However, using the AiSchedul Instagram Viewer is completely free. You can view Instagram stories and posts anonymously, and you can also download content from Instagram.
AiSchedul Features
It provides a range of features for managing social media accounts effectively.
• Post scheduling is available on multiple platforms such as Instagram, Facebook, Twitter, and LinkedIn.
• The hashtag generator tool suggests relevant hashtags to include in posts.
• The social media calendar shows scheduled posts and assists in content planning.
• The Instagram bio link tool creates a custom landing page with multiple links and CTAs.
• The Instagram comment manager allows users to manage and respond to comments in one place.
• Instagram story scheduler enables users to schedule stories and track their performance metrics.
• The contest and giveaway manager provides tools for creating and managing social media contests and giveaways.
• Analytics and reporting features help track social media performance metrics and generate reports for analysis.
Overall, AiSchedul is a comprehensive social media management tool that saves time and optimizes social media presence. To experience this product, Sign Up Now!
2. Inflact: Free Picuki Alternative
The second app we recommend is Inflact, which is highly recommended on Google Play for viewing Instagram. This app is user-friendly, lightweight, and straightforward. It has a neat interface that makes it easy to navigate. With Inflact, you can browse your Instagram feed, interact with posts by liking or commenting, explore stories, and search for users and hashtags.
Inflact is free to use, and you can download as much media as you want from any public Instagram account. Additionally, you can view posts without having to create an account, which allows you to access the content of people who have blocked you on Instagram.
The app also offers a feature that lets you view highlights and stories without leaving any trace, which is useful if you want to keep your viewing habits private. You can discreetly check out someone's story without them knowing.
While signing up is optional, it can be beneficial if you want to track a particular user's posts and keep up with their content.
3. SmiHub: An Alternative for Picuki
SmiHub is a user-friendly tool for downloading high-quality Instagram profile pictures. It allows you to anonymously browse and download photos from any public Instagram profile, including those of people you don't know. In addition to downloading photos, videos, and stories without limits or fees, SmiHub also serves as a research tool.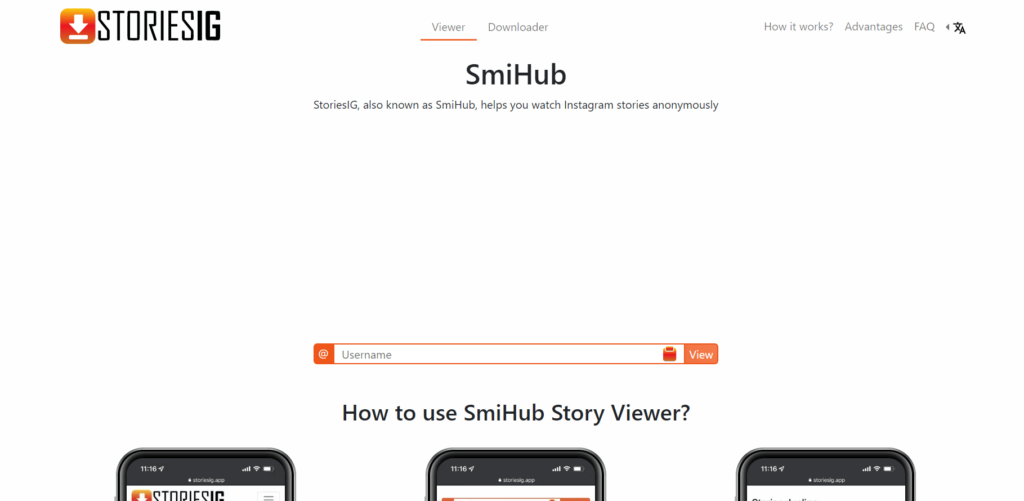 It enables users to analyze their brand, their competitors' brands, or any Instagram hashtag. This tool is particularly useful for social media agencies or Instagram power users.
SmiHub offers free access to features that would otherwise require payment on other platforms such as Sprout Social or Hootsuite. SmiHub is also available in multiple languages, which is great for non-native English speakers who can easily select their preferred language from a dropdown menu on the top right of the screen.
4. StoriesDown: An Alternative to Picuki
There is another tool called StoriesDown that is free and easy to use. It functions as a website and lets you view any public Instagram post.
You don't need to create an account to use StoriesDown, just go to the website and enter the username of the Instagram account you want to view. It will gather all the public posts of that account and present them in a grid layout, allowing you to browse and save any post you like.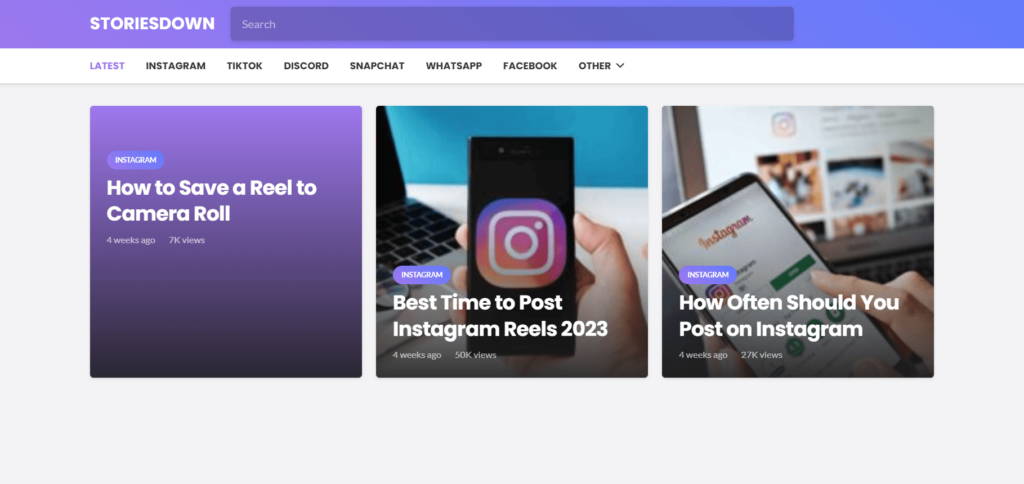 Using StoriesDown, you can find and save Instagram posts in just a few seconds, and save them to your device to view offline at any time.
If you use Instagram, StoriesDown is a useful tool to have. Additionally, the app has a feature to remove your account, which helps maintain your privacy. If you don't want anyone to spy on your Instagram activity, you can simply delete your account from the app.
5. InstaXYZ: Free Picuki Alternative
InstaXYZ is an effortless and quick tool for downloading Instagram videos and photos. It is accessible for free on the internet without any disruptive pop-up advertisements. The website presents a brief selection of top users, enabling users to instantly download their content.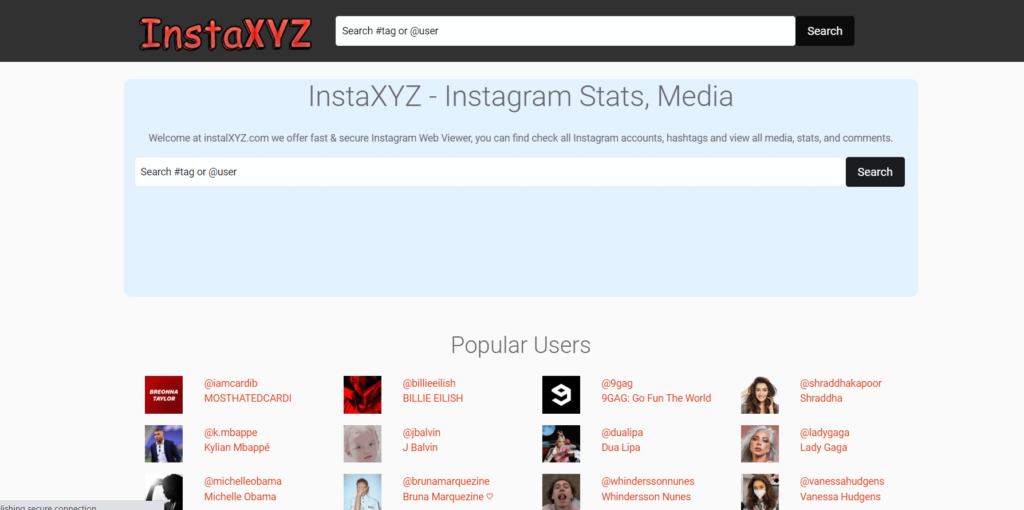 Moreover, the site displays popular tags for the given time frame, which can be helpful for marketing purposes. The hashtags also aid in staying updated on trends and identifying what's popular on the platform.
6. How Sociable: Free Picuki Alternative
How Sociable is an all-inclusive online tool that enables users to gauge and monitor their social media impact. It provides insightful analytics and data across popular platforms, including Instagram. With its user-friendly interface, individuals and businesses can effortlessly evaluate their social media performance and engagement.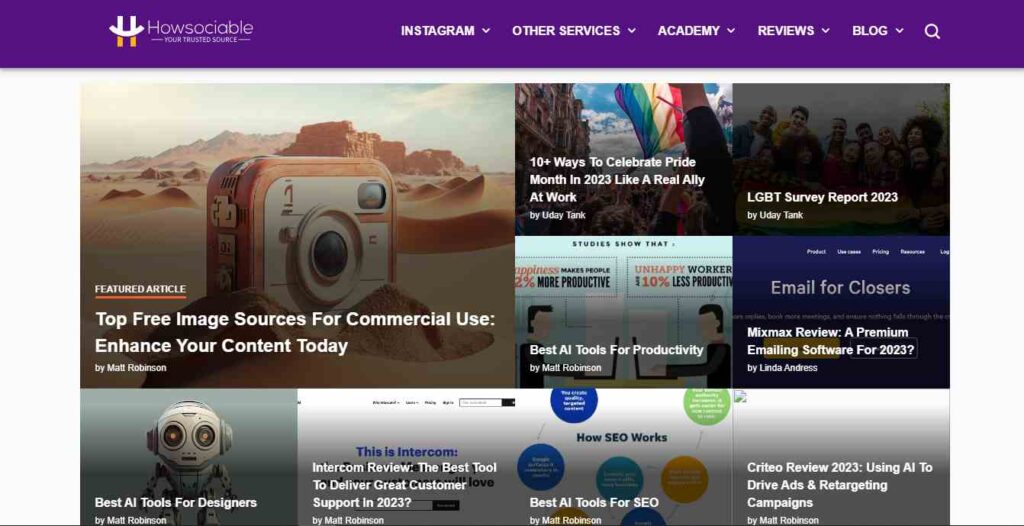 How Sociable offers a variety of features, including the option to download Instagram photos and videos. This allows users to conveniently save and utilize their favorite visuals from the platform.
Whether you're an influencer, marketer, or simply someone seeking to improve your social media strategy, HowSociable.com is an invaluable resource for optimizing your online presence.
FAQs on Picuki
Now it's time to take a look at some frequently asked questions regarding Picuki.
Q1: Is Picuki Safe to Use?
Using Picuki is considered safe since it is a web-based tool that doesn't require downloading any software or submitting Instagram login credentials. However, the website's functionality may not always be reliable.
Q2: Can We Access Picuki on My Mobile Device?
Yes, Picuki is a web-based platform that can be accessed from any device with an internet connection, including mobile devices.
Q3: Is Picuki Free to Use?
No, Picuki is completely free to use, and users are not required to pay any subscription fees or provide any payment information.
Q4: Can Picuki Be Used With Private Instagram Accounts?
No, Picuki only works with public Instagram accounts. If an Instagram account is set to private, Picuki cannot access the profile or posts.
To Wrap Things Up
To summarize, Picuki is a tool for Instagram that has limited capabilities, but allows users to explore Instagram anonymously. Its features include the ability to view and download content from public accounts, gain insights into profiles, and search hashtags. It can be accessed from any device with internet and is safe to use.
Picuki can be useful for anyone, regardless of whether they are a company, brand, or individual. However, negative reviews on Google Play suggest that some users found it unsatisfactory. If you're looking to manage your Instagram account and grow your online presence, it may be worth considering an alternative like AiSchedul.