If you've just decided to consider unique and free website heat mapping tools for improving your website performance, you have noticed that the process can seem pretty overwhelming. There are so many options! But don't worry. We've done the research for you and found the best 10 free heatmap tools, platforms, and software to help you get where you want.
As a webmaster, you're probably very familiar with the importance of conversion rate optimization (CRO) tools. They leverage heatmaps among other features to help you understand how and where your visitors interact with your site. So, if you want to make sure that they are getting the most out of their experience, then you need to use a heat map tool to find out what's working for them and what isn't.
For example, if a user spends more time scrolling down the page than clicking links, it may be because the page is too long and needs to be broken up into sections. Similarly, if there is not enough text or images to break up the content, it can make the page too boring and unattractive to scroll through. To find such problems and resolve them, you need to get your hands on a reliable heat mapping tool.
Now, in case you can't wait to have instant access to the best service, you can sign up on WatchThemLive and get started! And if you need more alternatives, we're covering a list of 10 website heat mapping software to help you figure out the best one for your needs and purposes!
Let's dive in then, shall we?!
What Is Website Heatmap Software
Heatmaps are visual representations designed to measure the popularity of different sections on web pages. This form of data visualization shows where visitors spend the most time and give insights into which areas of your website tend to receive the most attention from potential customers. In general, a heat map is effectively a colored illustration of your visitors' interactions on your site. The data captured through heat maps can provide insight into the performance of individual pages or even entire sections of a website.
Such insights even let you test different sections of your website to help you see which performs better from the visitors' perspective. Optimizing different landing pages with heat mapping tools allows you to see which version converts better or where you can put up ads and CTAs to get the best results.
Benefits Of Website Heat Mapping Tools
Heatmap tracking provides marketers with insights into their site usage patterns.
A website heat map shows visitors' frequency of actions within a specific area of interest during a defined period. The data provides information on where visitors go on a website, and how they behave and interact in the form of colors so that the places with bold colors show more engagement or spent time.
Simply put, a website heat mapping tool helps us analyze a website's performance at a glance. It helps you identify issues or opportunities to improve your user experience and CTAs, evaluate your A/B tests, and finally increase your conversion rate.
Types Of Website Heat Mapping Tools
There are several types of heatmaps offered by different platforms, and each type has its benefits, with some being better suited for certain purposes than others.
Heat map tools are generally made up of many different types, like click maps and scroll maps, to help us find out how visitors interact with your site and where your content fails to appeal to them.
Heatmaps To Visualize Users' Clicks
The click heatmap allows you to track where on a webpage or mobile app your users are clicking and then take steps to make that process better. Alongside the conversion information you have gathered, you can also use this data for customer experience research to figure out why people aren't converting.
Heatmaps To Visualize Mouse Movements
Such heatmaps reveal your visitors' navigation and mouse movements as they browse your website, as well as what they pay attention to and which elements they ignore. As a result, you can optimize your user interface design, and increase conversions by identifying problems with your website structure and calls to action.
Heatmaps To Visualize Scrolling on the Page
Scroll maps enable you to determine how far your visitors scrolled a particular web page. In this way, you will understand which parts of your web page content were the most interesting for them and at which point they left the page.
Heatmaps To Visualize Users' Attention
Regardless of the devices or browsers users use to access your website, web app, or landing page, attention heatmaps show you where their attention is focused. When you observe which parts of your webpage are the most popular, you can make it more engaging, and focus your conversion rate optimization strategies around it.
A heat map showing your visitors' eye movements provides clues as to what interests them and what doesn't. It gathers data on the frequency and duration of visitors' visits to a single element, such as the thumbnail image, sign-up form, or any other CTAs.
This provides a visual report so you can find ways to increase the persuasiveness of your content and increase the likelihood of your visitors turning into paying customers.
Best Free Website Heatmap Tools
It's important to conduct regular website audits and monitor your website for potential issues. But how can you know where the problem is?! Well, when you can't read the user's mind, analyzing heatmaps is the next best thing!
The below list is free heatmap tools designed to analyze the performance of webpages and draw conclusions from the collected visualized data.
1. WatchThemLive: The Best Website Heatmap (Free)
You can pay close attention to your website and optimize it with WatchThemLive, a free heatmap tool that records all user actions so you can see how they navigate your site.
WatchThemLive is not just one of the best heat mapping tools. It keeps track of every single movement and step that your users take on your website and records it in video format. So you can easily watch session replays or activity records to find out what engages users and what stops them.
It is one of the best website heat map software and a website traffic checker because it provides web owners with any tool required for tracking customers and visitors, data analytics, and visualization. As a result, you will gain more visibility, happy customers, and an increased conversion rate.
If you can't wait to guarantee your success in today's competitive digital realm, sign up on WatchThemLive right now!
And if you'd like to know more, we've listed some of its unique features here:
Heatmaps
It tells you how well visitors are engaging with each page. using WatchThemLive heat mapping tool, you can keep an eye on key points or issues on any page and optimize it for your target audience.
Session Recording
Session recording tool enables you to see your users' or visitors' journeys across your website in real time. With this tool, you can observe their actions closely as if you're on top of their head watching them through the lens of a camera.
Comprehensive Analytics
With analytics, you can gain deep insights into how well you're performing. The invaluable data visualization will help you keep an eye on the bigger picture. It allows you to keep an eye on the big picture.
Sales Flows
You can define goals and track them to identify which pages are preventing the users from completing the goal.
Visual Live Chat
By activating a visual live chat app, you'll have live chat accompanied by session recordings! That is, you can check out your customers' questions while watching their session on your website. Having access to this information will help you resolve issues faster and more conveniently.
Video Testimonials
It is an amazing feature that enables you to ask your users to give feedback or reviews regarding their experience with your products and services in video format. But, you won't be leaving the task to your clients! Instead, you'll provide them with the questions. So, as they start recording their video testimonials, these questions and queries play on the screen.
If you want to drive every visitor to make a purchase and turn a customer into a repeat sale, sign up on WathThemLive today for free.
2. Smartlook: User Behaviour Analytics Heat Mapping Tool
Using Smartlook, a free heatmap tool, you get analytics with immediate visual insights.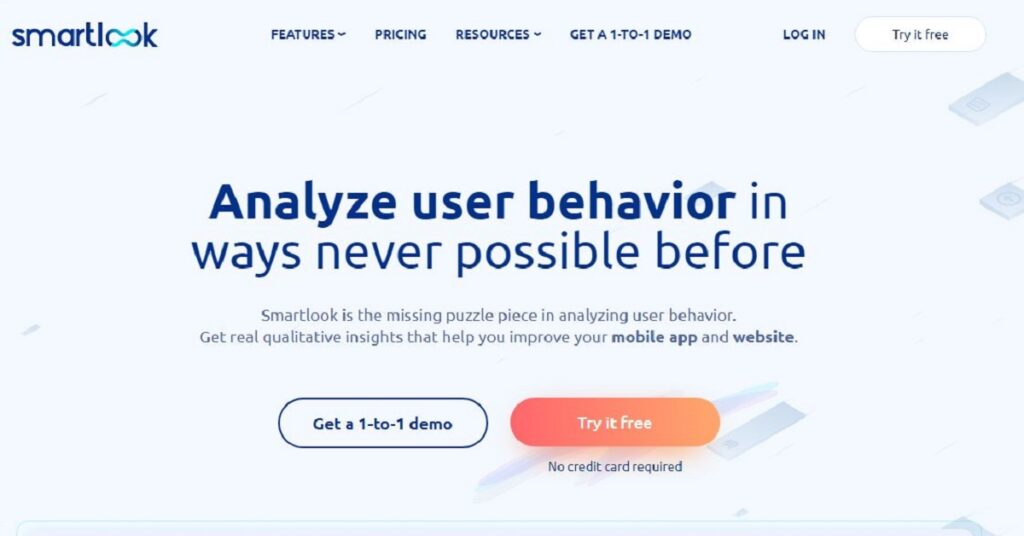 It offers four key features of website heatmap tools that allegedly help you understand what is happening on your website and how users engage with the content: heatmap (for websites), session recordings, event tracking, and customer flow analysis.
You can track the clicks, scrolls, and mouse movement of your visitors and customers on your website to find out what drives more visits and repeat sales, and what the barriers are.
Smartlook Pros
It provides good session replays that help with customer segmentation.
you can keep track of your customers' actions in real time.
And, it's simple to install with no coding.
Smartlook Cons
Compared with the features you get, it's expensive.
The filters do not work properly.
Plus, there's no sign of psychographic segmentation.
3. Crazy Egg: A/B Testing Heatmap Tool
Same as other free heatmap tools, this one also enables you to visualize users' clicks as an important factor that represents their interests and what they like. In addition to a website heatmap, it also offers mobile application heatmaps.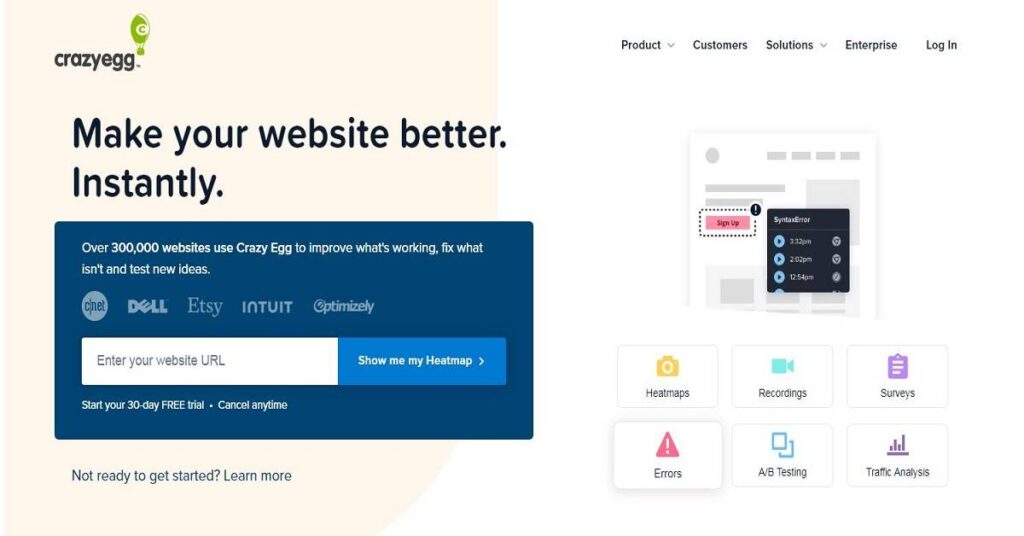 Crazy Egg provides you with website heatmap tools. With features like A/B testing, recordings, traffic analysis, error tracking, and heatmaps, it allows businesses to track how effective their ads are on their website.
Moreover, using the A/B testing feature, you can evaluate different aspects of your website to see what works better. For example, you can test different headlines on your homepage to see which one is more engaging.
Crazy Egg Pros
It is easy to use.
It provides good customer support.
Crazy Egg Cons
Limited visualizations are available in the heatmap feature.
There is no funnel analysis tool.
Crazy Egg is not a website traffic checker.
On top of these, setting pages to be tracked is not simple compared to other similar software.
4. Mouseflow: A Website Heat Map For Optimization
For website optimization, there's also Mouseflow, a free heatmap tool. Similar to other website heat map platforms, it provides you with session replays, heatmaps, conversion funnels, form trackers, and user feedback automation tools.
MouseFlow can integrate with 45 platforms, including Adobe Analytics, Hubspot, Google Optimize, Shopify, and many other CRO tools so it will be possible to transport your data across multiple required marketing analytics tools executing a campaign.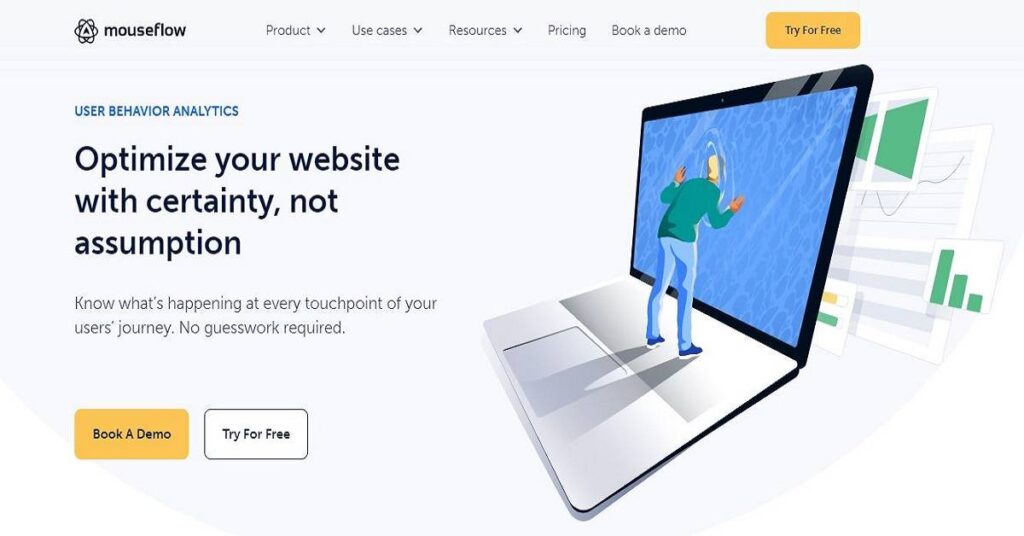 To put it briefly, you will be able to have a comprehensive look at your customer's behavior by tracking their clicks, mouse movements, scrolls, presses on the different buttons, filled forms, etc in the video record format. This way, you can find out the gaps and customer issues that stop them from staying longer on your website or interacting with content.
When you sign up for MouseFlow, you need to fill in some information including your website URL, then it provides you with three installation methods; Google Tag Manager, WordPress, and HTML, along with instructions for each to guide you on how to add it to your website.
MouseFlow Pros
you can locate and resolve issues fast using visual and actionable data on your website.
You can set heatmaps on specific pages.
You can create surveys to ask questions from users
Moreover, you can see the whole recordings of all the users' sessions.
MouseFlow Cons
Your website loading time will increase noticeably.
There are some inaccuracies in video recordings.
There's a difficult setup, and there are no tutorial videos to show how to set it up.
And, the interface is not attractive, and it's out-of-date.
5. VWO: A Free Heatmap Tool For A/B Testing
It is a website and mobile application heat map tool that allows access to different types of features, such as customer behavior analytics, personalization, and customer data platform. It is suitable software for eCommerce, SaaS, eLearning, Media, and enterprises.
Its behavioral marketing analytics tool is equipped with a website heat map that helps you capture the strength and pain points of different sections on your website.
There is another tool for website personalization included in VWO. With this feature, you get to edit your website content, evaluate them based on search engines, and publish them publicly or privately for a specific group of audiences.
VWO Pros
It is easy to use and understand.
You can customize JS, HTML, and CSS. Additionally, you can also use built-in editors to create A/B tests on your website.
The customer support team is helpful.
And, you can segment your visitors and filter them through your tests so that you can put your focus on the right people.
VWO Cons
There is no integration with Google Analytics.
There is no chance to have an analysis of the entire conversion funnel.
There is a high likelihood of errors when using Visual Editor.
In addition, they don't deliver good customer service.
6. Plerdy: Heatmap for Website
It is a free heatmap tool working based on user behavioral analytics. It provides four categories of tools.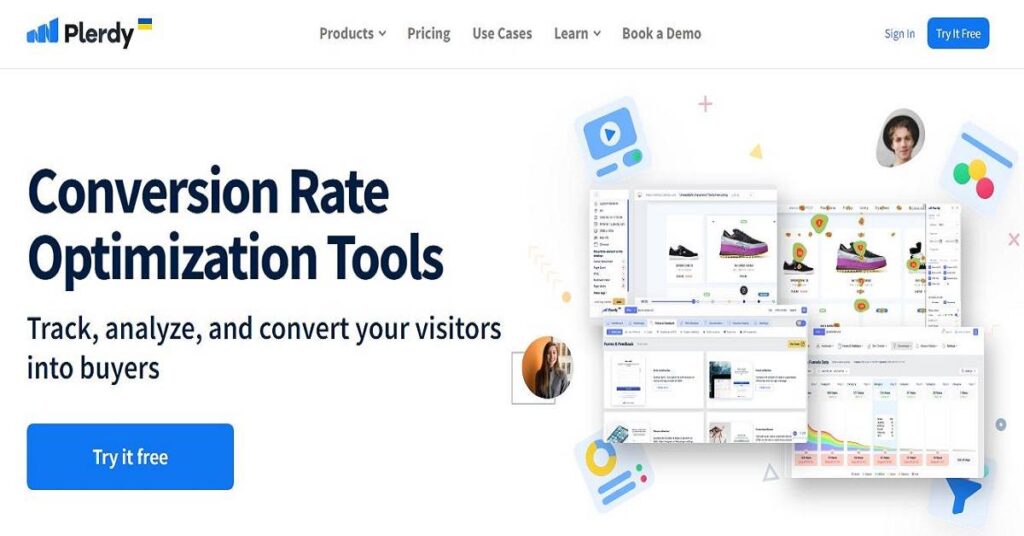 1. CRO and UX Tools
It features a heatmap and session replay software to track users' behavior and interactions, pop-up software to receive feedback from website visitors, and net promoter software to create personalized surveys in a form format to receive users' opinions about your services or products for example to get their rates on their last purchase.
2. E-commerce Tools
Here you can find E-commerce analytics tools that let you find out which components on your web pages generate leads or sales. For example, if visitors do not click on a suggested product to check it out then you need to revamp the headline used for recommending this product or its visual content to make it more engaging.
3. Analytics Tools
There are event tracking tools that are used to monitor and record a particular activity of users on your website and funnel analytics enable you to check out the acquisition process of customers by figuring out where and how your visitors navigate your website.
4. SEO Checker
Plerdy also offers a feature with which you can check your SEO. Then, you can make necessary changes to your SEO strategies.
Plerdy Pros
They provide video recordings of users' interactions.
The heat mapping tool isn't hard to understand.
It's light enough.
You can find out how user-friendly your design is by using A/B testing features.
Plerdy Cons
The user interface needs improvements.
Plus, it stores previous data for the last six months. So if you want to compare current data, there is a limitation.
7. Lucky Orange: A Free Heat Mapping Software
A heat map software for websites is used to pinpoint the website user's journey (sign-up, searching for a product,ct, etc.).
Just like other heatmapping tools, it records the user sessions, displays dynamic heatmaps, presents live chat and insights, records conversions, and reveals visitor profiles.
In addition to the above features, Lucky Orange includes another feature known as 'Announcements' to create a personalized announcement to show important discounts, updates, or promos to your customers when they enter your website.
Lucky Orange Pros
Its setup is easy.
Its interface is simple.
Data analytics are useful.
Lucky Orange Cons
The video recording is glitchy and does not record the whole session and jumps to the end.
Problems arise with recording heatmaps because they don't display as they should.
Plus, the customer chat feature is almost entirely useless.
8. UXCam: User Experience Heat Map Software For Apps
It is a mobile application experience analytics tool that enables product managers to gain customers' insights on the application.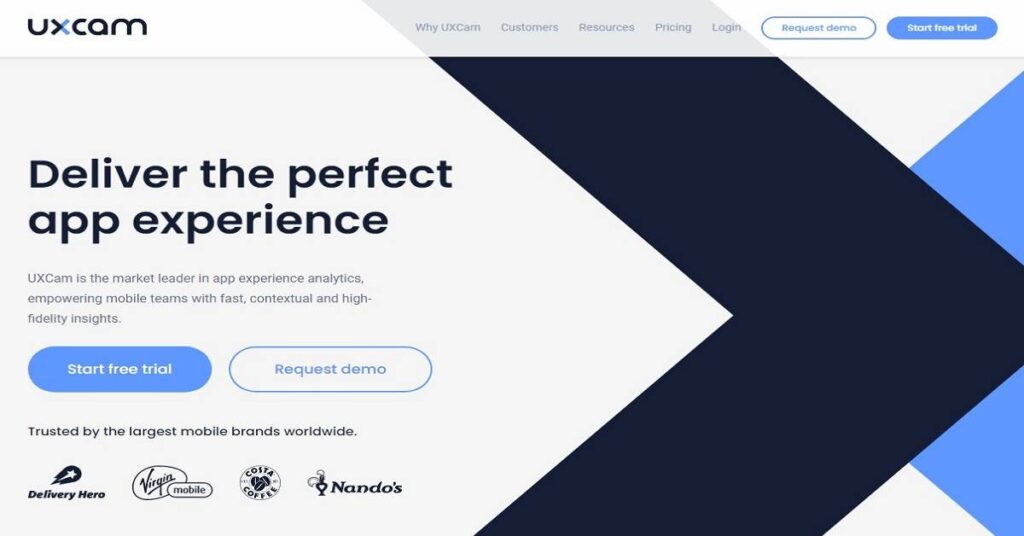 As you know, users are the core of your business, so it is important to know them instead of blindly collecting data, like the number of application sign-ups. By taking advantage of heatmaps, funnel analytics, and session replay, UXCam offers user behavioral analytics solutions for making data-driven predictions about the user experience.
UXCam Pros
Its session video recording is its most compelling feature.
Using event data, you can create funnels and session flows
UXCam Cons
Filtering users is difficult for the purpose of excluding internal testers.
Its paid plans come in an annually-priced format.
Moreover, you can't search a customer's profile by name, instead, you can use a Customer ID number which is a bit confusing.
9. Hitsteps Web Analytics: A Customer Behavior Heatmap Tracking Tool
As its name refers, it is a web analytics software equipped with live chat, page analysis, and website heat maps. This is a free heatmap tool that helps you measure and visualize how users interact with your website, records data on how long each session is, and what sections they were most interested in.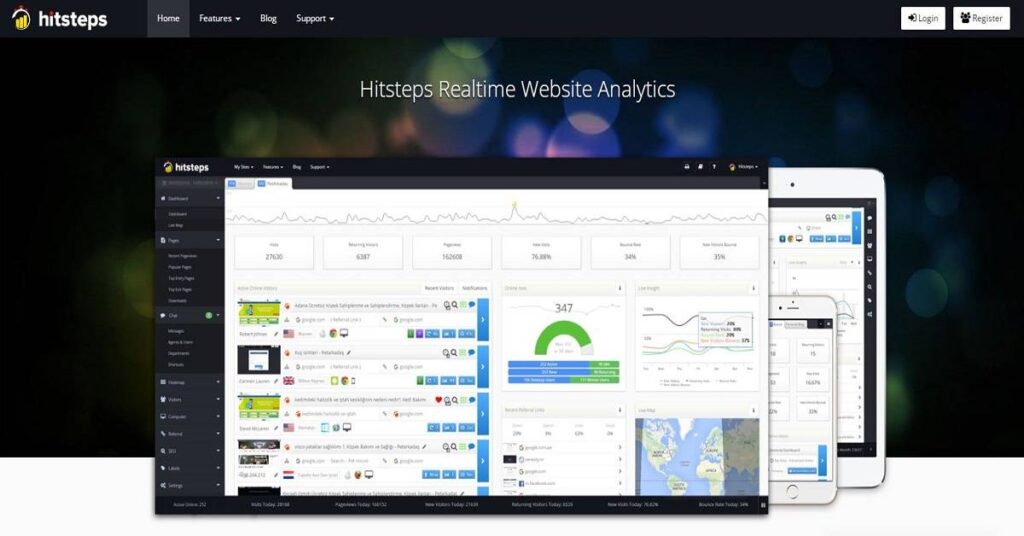 Furthermore, you will be provided with a real-time analytics dashboard that displays all data such as users' locations, the ways your website has been accessed by visitors, the keywords used by visitors to reach your website, the time each user spent on your web pages, impressions, etc in real time.
Hitsteps Pros
You can see real-time statistics.
There is an ability to determine whether a visit is from a bot or a fake visitor.
It's easy to find information quickly with plenty of detailed analytics.
And, you can export data and reports.
Hitsteps Cons
There should be a more efficient way to get people to return.
There is room for improvement in the interface.
Currently, you are unable to see the exact location of visitors in the heatmap.
10. Attention Insight: An AI-Generated Heat Map Tool
It is an AI-powered website performance analytics tool that makes it possible to discover hidden issues customers face on your website using heatmap tracking. As a result, you can allegedly reduce bounce rates and increase your website functionality.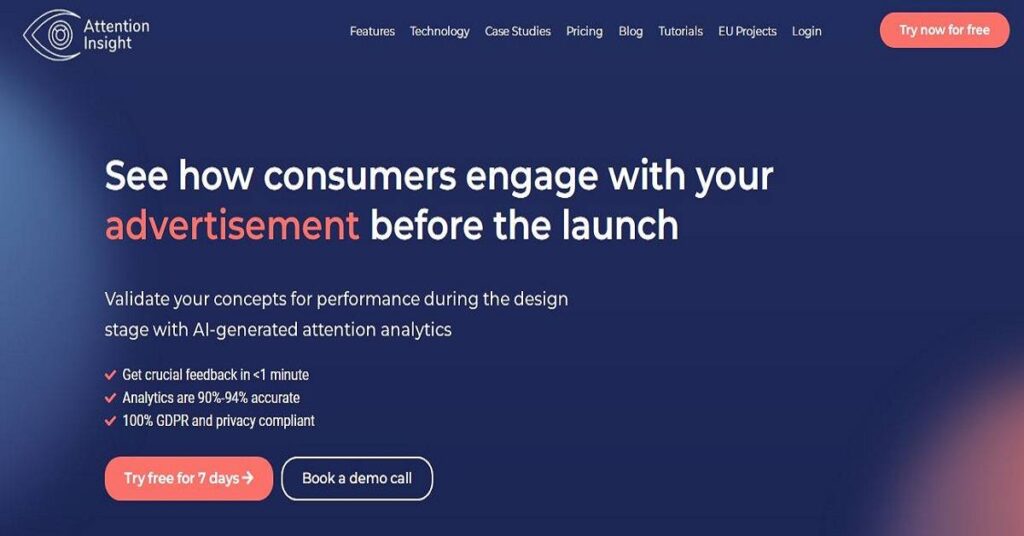 With this tool, you can also analyze competitors' websites to find out how successful they are, what colors are more appealing on their websites, which CTAs get more clicks, and so on.
Attention Insight Pros
There is a way to track the site before it gets published.
It is easy to use.
On top of these items, the Chrome extension allows for quick and easy analyses of any webpage.
Attention Insight Cons
The reports do not provide much information.
It would be better if there were a faster way to generate heatmaps.
Website Heat Mapping Tools FAQs
Can't find what you're looking for? Our FAQs might have the answers. Check out the following questions and answers to learn more about using a heat map for website optimization.
1. Are Heat Maps Available in Google Analytics?
Yes, Google provides the Page Analytics plugin on the Chrome browser as an add-on. When it is installed, you will be able to see where visitors are clicking on your web pages.
Here you can also find the Google Analytics Alternatives.
2. Is It Possible To Create a Heat Map Using Google Maps?
Yes, it is possible. Taking a few steps, it's easy to create a heat map website visualization by combining Google Maps data with third-party tools such as Easy Map Maker, and VWO. You can also use Maps JavaScript API provided by Google itself.
3. Is There a Heat Map Plugin in WordPress?
There is a plug-in called Heatmap website for WordPress that displays user activity in real time on your website. It uses a content explorer so that you can quickly see where you should be making your improvements.
Final Words On Best Free Website Heat Mapping Tools
When it comes to heatmaps, there are so many options and so little time! We've done the work for you, and narrowed down the best tools to help you find out what people are doing on your site right now! You can find out which website heat map free tool is perfect for you with our guide today!
If you are looking for an all-in-one free heatmap website tool with a great user interface, try WatchThemLive, to achieve your marketing goals easily and quickly.