Every professional business owner needs a website where customers can find it easily, contact the support team, view and purchase products, etc. Before recent years, businesses have needed to ask a programmer to design their website but with the invention of AI website builder tools, it's easier these days.
Now, you don't need to know anything about coding or programming. Using a website builder AI, you can create, design, customize, and launch your website in a couple of minutes. In this article, we will introduce you to some of the best AI website builder tools to help you create your own website, customize and monetize it to boost your income. 
Top 5 AI Website Builder Tools
If you don't have enough budget to ask a programmer for a website and you don't know anything about coding, don't worry! Here are some of the best websites and WordPress website design tools that you can try.
1. Wix
One of the most popular and known AI website builder tools is Wix which has been in the industry since 2006. This AI Website developer tool provides more than 900 different free and customizable templates and around 1000's of advanced design capabilities, to help you create a professional website.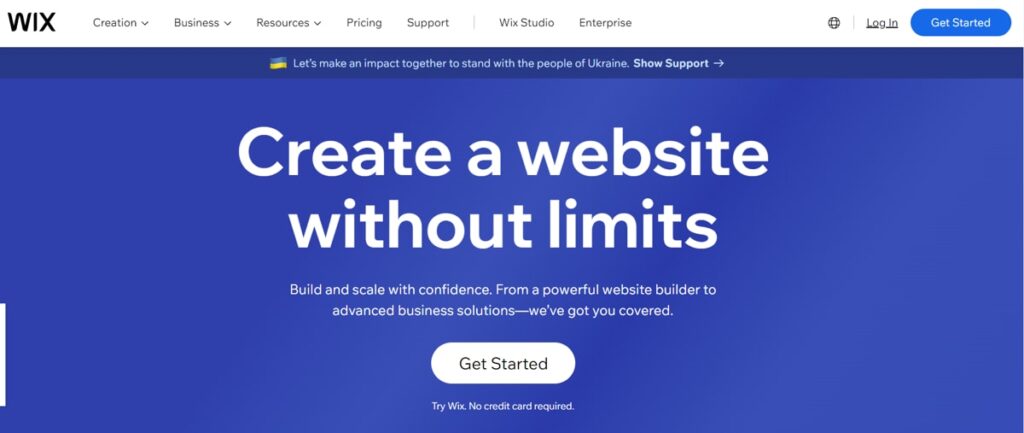 Wix provides a simple and smart drag-and-drop editor to make it easy even for beginners to design their website. AI technology creates a site for you for a couple of seconds and then you can add your custom domain, logo, and more brand tools based on your needs.
As you can see, Wix is one of the best AI website builder tools that provides almost everything you need to create a website for free. But that's not everything it offers! After creating your website, Wix provides various tools that help attract visitors to your website and turn them into loyal customers. These tools include complete SEO solutions, AI-driven FB & IG Ads, Email campaigns, Social posts, Website visitor tracking tools, and more.
Wix Pricing
This free AI website builder provides hundreds of designs and templates that you can try without spending anything. However, if you need more professional tools, you can upgrade to premium. Here are the different plans that the Wix AI website builder offers: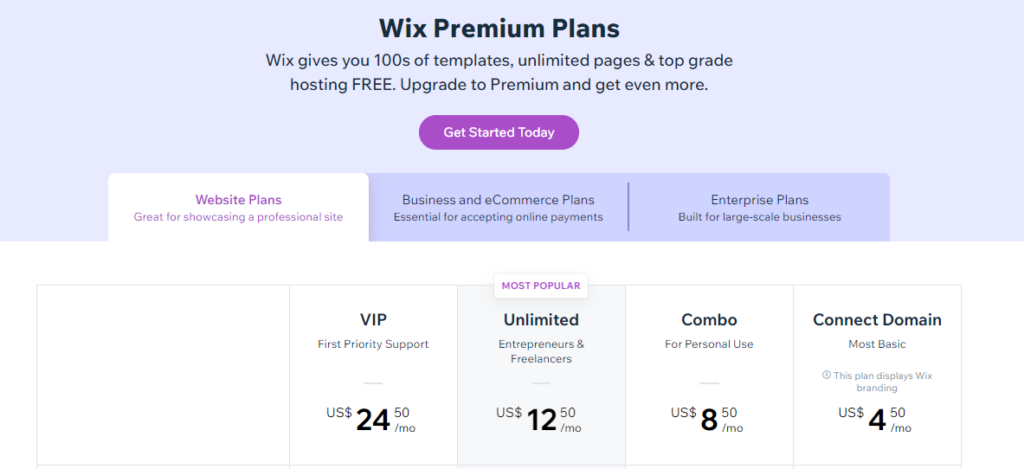 Connect Domain: US$ 4.50/mo – Most Basic
Combo: US$ 8.50/mo – For Personal Use
Unlimited: US$ 12.50/mo – Entrepreneurs & Freelancers
VIP: US$ 24.50/mo – First Priority Support
2. Jimdo
If you are looking for a tool that uses AI more than Wix, Jimdo is one of the available options. Jimdo is one of the first durable AI website builder tools that launched its AI editor in 2017. When you use Jimdo's free AI website builder tool, you can either pick from ready-made templates or let the AI create a design for you.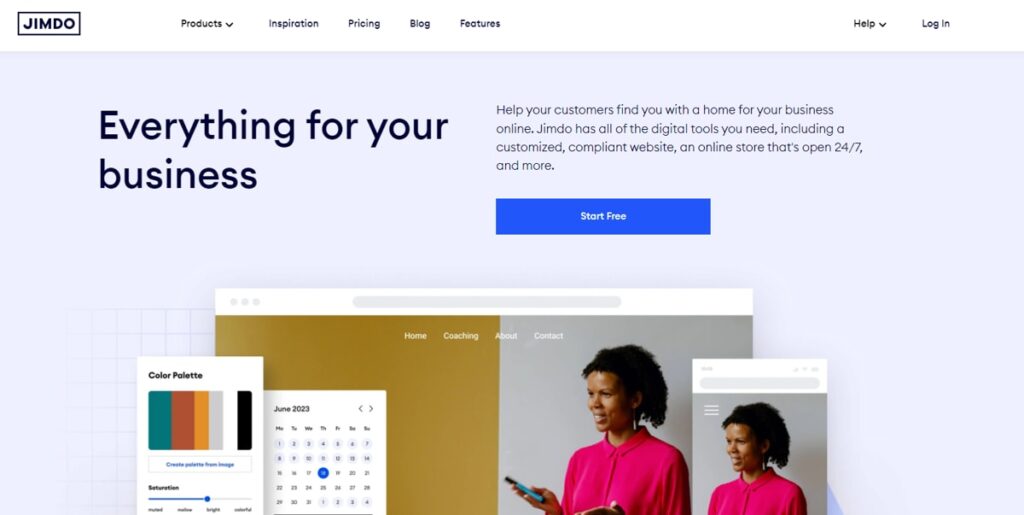 With the professional website builder for the self-employed, you can create your own website without programmers or designers. You can use the built-in design features to upload your own logo and images, and the AI will tailor your website colors to match. After that, choose the right address for your website, or use one you already own.
Creating a website with Jimdo follows a few simple steps: signing up for a free account, answering a few questions about your website, uploading your photos, and waiting for the AI to design it. This ai website builder will suggest style, color palette, and everything your website pages need. Then, add your business info and social media accounts, so your visitors can contact you.
Jimdo Pricing
If you decide to use this AI-powered website builder, there is a free plan that everyone can try and use. But to access more professional features and tools, you can try their premium packages. Here are the different packs that this WordPress AI website builder offers: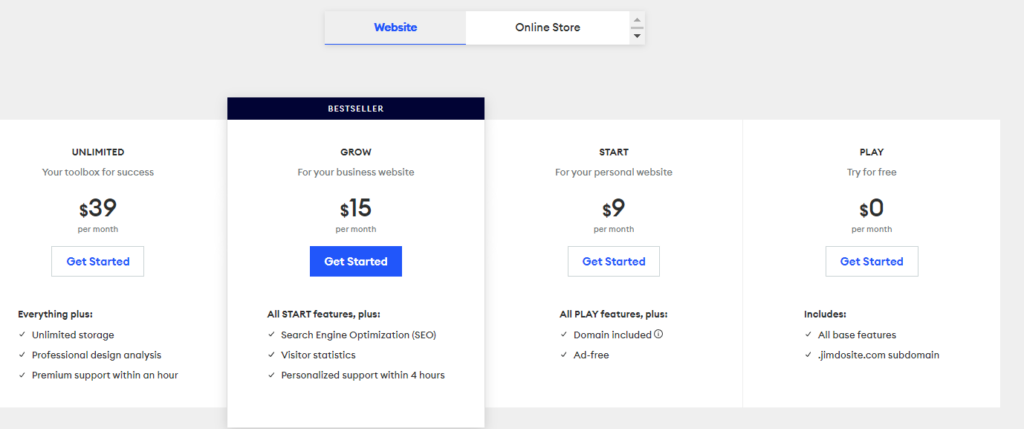 START: $9 per month – For your personal website
GROW: $15 per month – For your business website
UNLIMITED: $39 per month – Your toolbox for success
3. 10Web
If you like to use WordPress and are looking for a WordPress ai website builder, 10Web is one of the best available platforms to try. With a powerful AI Website Builder, you can create your website, host it on 10Web Hosting, and optimize it with pageSpeed Booster. If you already have a website and you want to migrate to WordPress, 10Web can easily recreate it for you.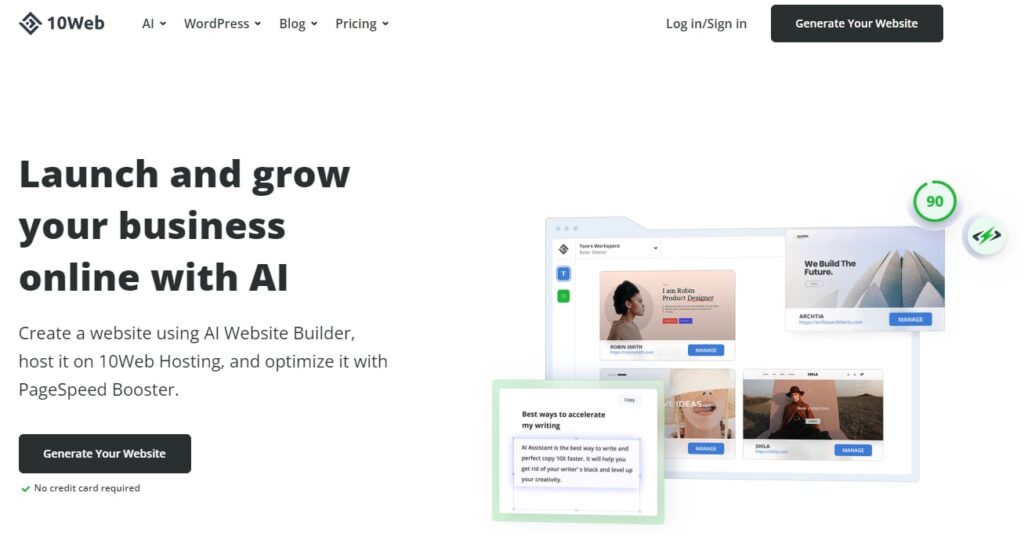 You only need to provide your existing Website's URL and let 10Web do the rest. Creating a new website is also as easy as Pie! There is a 'Create a new website with AI' which will design a website in a couple of seconds after answering a few questions about your business. These answers will help the AI to generate a web layout with content and images related to your business (You can easily change them if you want).
10web will then suggest three templates to choose from. All of them will have layouts with texts and images based on the details you give. Even though 10Web provides a free AI website builder, the customization options are limited in the free version. For example, you can drag and drop assets onto the page and adjust their alignment, but you don't have the option to move elements around freely.
10Web Pricing
If you want more advanced tools to design your website, you can try the 10Web AI-powered website builder tool in the pro version. Here are the different plans that it offers:

AI Starter: For simple websites – $10 /mo
AI Premium: For professional websites – $15/mo
The AI Ultimate package: For high-traffic websites – $23 /mo
Enterprise: For large-scale businesses – Get in touch with their team of experts for a dedicated plan tailored to your needs
4. Hostinger
If you want to try a durable AI website builder with a 30-day money-back, Hostinger is one of the good options. With this service, it only takes a couple of minutes to create, set, and publish your dream website. This AI Website Generator lets you build as many web pages as you need without coding a single line.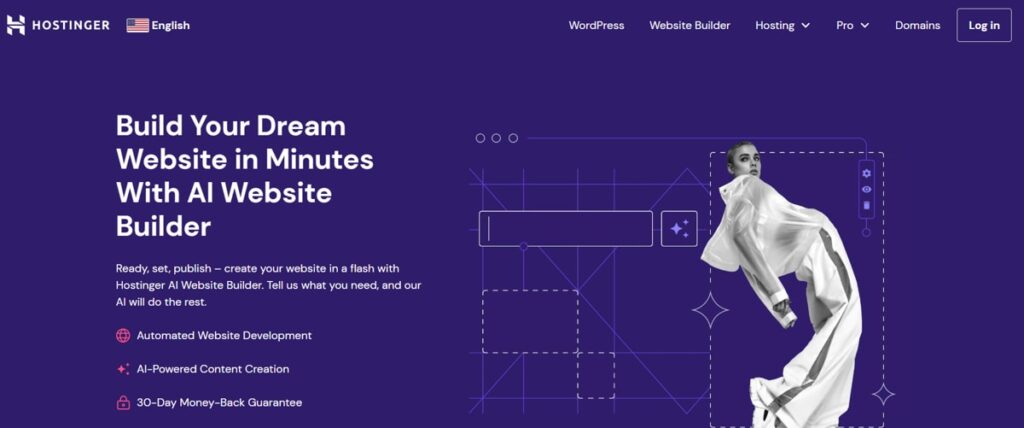 It only takes four steps to design your website: Enter your brand name, select the website type( online store, a portfolio, a blog, etc.), describe your business, and customize your website once it's ready. Powered by an advanced machine learning algorithm, this website builder AI tool will generate a custom site based on your description. Then, even if you are not a writer, you can use the AI content creation tool to produce SEO-friendly website copy and launch your site.
With Hostinger, you can add up to 500 products to your website, manage your inventory and orders, accept payments, etc. If you run into trouble, this platform provides 24*7 global customer support that you can contact and fix the issue in no time.
Hostinger Pricing
If you are looking for an AI website builder for free, Hostinger is a trustworthy platform. However, this platform provides a pro version with a more advanced tool that only costs $2.99 for the first month. If you decide to renew this package, it will be $6.99.

5. Divi AI
Another WordPress AI website builder option for those who want to have a WordPress-based website is Divi AI. Similar to the previous tools, website creation with this artificial intelligence is easier than ever before. Divi provides multiple WordPress themes and page builder plugins as well as an AI image generator, content writer, and almost everything a website owner needs. 

If you already have a website but don't know what to post now, Divi AI analyzes existing content and website details to recommend the content you should add next. Then, you can use the image generator to add relevant images to your website and content. After that, you can analyze the SEO results with the tools that DIVI provides for you.
While this AI-powered website builder might not be as advanced as the content copy service, the ability to generate content is a distinctive feature not commonly found in similar tools.
Divi AI Pricing
Unfortunately, this platform doesn't provide a free version. But, if you decide to use Divi website builder ai, it costs $19.20/ Month for full access to all tools.
FAQs
Now that you know everything about the best AI website builder tools and their features, let's take a look at some of the most frequently asked questions.
1. Are AI Website Builders Suitable For Beginners?
Yes, AI website builders are designed to be user-friendly and cater to individuals without extensive technical skills. They offer intuitive interfaces and drag-and-drop functionality, making them suitable for beginners who want to create websites with ease.
2. Can I Migrate My Existing Website To An AI Website Builder?
In many cases, you can migrate your existing website to an AI website builder. However, the process may vary depending on the platform and your website's complexity. It's recommended to consult the AI website builder's documentation or support team for guidance on migrating your site.
3. Do AI Website Builders Support E-commerce Features?
Many AI website builders offer e-commerce features and integrations. These features allow you to set up an online store, manage products, and process transactions. Some AI website builders even provide specialized templates and tools for e-commerce websites.
4. What Is The Future Of AI Website Builders?
We can expect enhanced AI capabilities that offer more advanced design suggestions, automated content generation, and even voice-enabled website creation. AI website builders are likely to continue empowering users with innovative tools and features for efficient and creative web development.
Conclusion
With the rise of AI tools, doing every task on your own is possible these days and web design is no exception. In this article, we showed you some of the best AI website builder tools (free and paid platforms) and took a look at the features offered by each of them. No matter if you want a blog website, online shop, or anything else, you can use these tools to design a website in a couple of minutes.