If you are looking for a list of free simple WordPress themes, you are one of the following types, or maybe all. Let's see if you've landed at the right place:
You simply like things simple, and a WordPress theme is just no exception for your core "less is more" philosophy on life
You belong in a community that believes in starting simple and building on complexity whenever warranted.
Your industry or niche requires a simple website to appeal to their target audience's persona, you are maybe a blogger or an artist.
Or you are a wary beginner, new in the digital scene, and looking for one of those simple WordPress themes that won't give you a ton of grief to get set up, built, and customized.
Whether you fit only one of the descriptions above or you fit all, a simple WordPress theme is just what works for you. Tag along while will peek into 15 Free Simple WordPress Themes to Consider for your website.
7 Free Simple WordPress Themes to Consider for Your Site
Being the first-timer, watchful with your finances, you may be thinking premium features are just a luxury at this point. That's why we will introduce 7 Free Simple WordPress Themes to Consider, hoping one would give you a leg-up into the realm of an online presence.
Free Simple WordPress Theme #1: Corner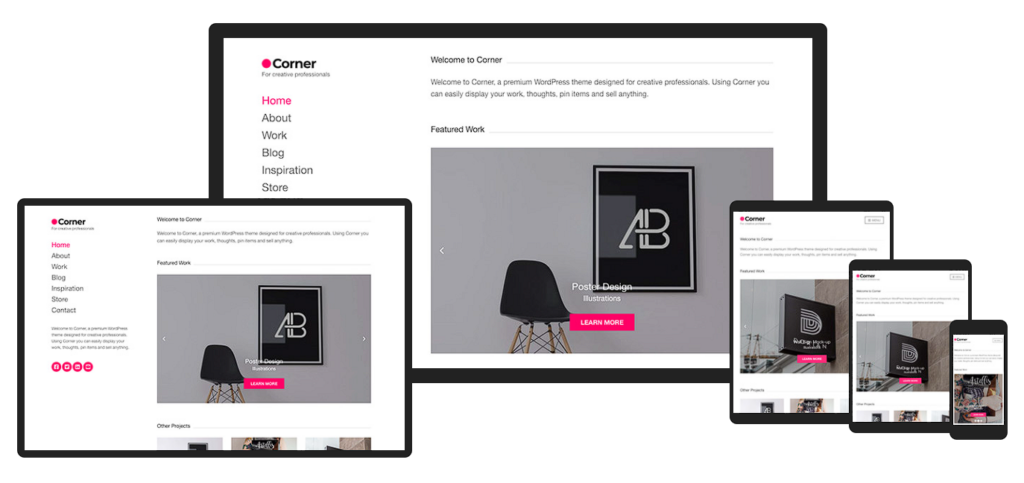 Despite coming with a super-rich color palette, and a well-equipped customization panel, Corner can still get categorized as one of the best simple WordPress themes, as it is easy to implement all those colors and customization options, and it is also simple in its style all through. It would be perfect for you if you are a writer or a photographer, as it has a built-in portfolio. It's also:
Seo-friendly
Google font integrated
Gutenberg block supported
Multiple page-builders
Free Simple WordPress Theme #2: Presence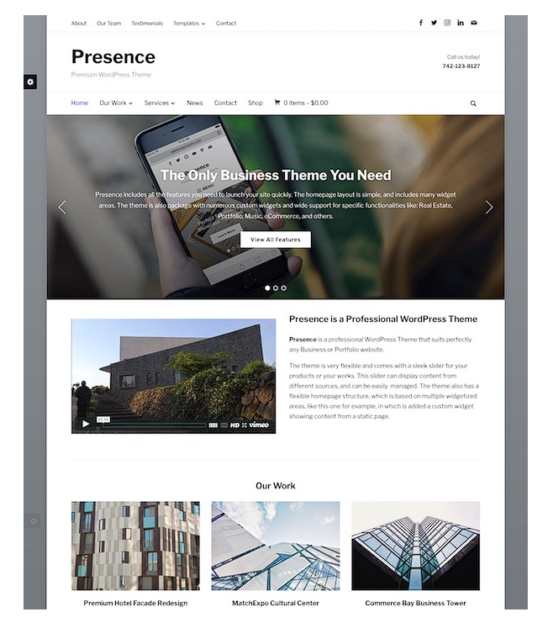 Available in full-width and boxed portfolio layouts, Presence, one of the top simple WordPress themes, gives businesses an understated and sophisticated digital presence characteristic of establishments like hotels, universities, and magazines, thus giving an aura of class to more mainstream businesses like realties and fitness centers. It's also built for ease with its simple installation process and ten demo templates that only take a few clicks to import your content into. It also features:
SEO optimization
Translation plug-in
Gutenberg block editor
Free Simple WordPress Theme #3: True North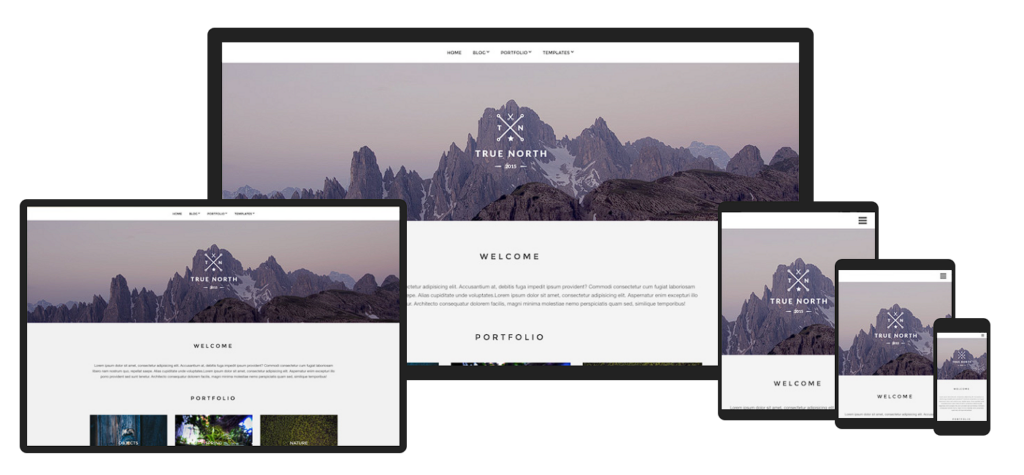 A free portfolio-theme WordPress theme, True North ranks high on our list of the best simple WordPress themes to Consider for a reason, as it is one of those portfolio-based themes with a fully-gridded homepage layout that is unique, chic, and sleek, as it uses simplicity to make your content shine. To give your customization effort options and ease, true north has built an "options panel" and a three-fold layout list to choose from: the portfolio array, column-listing, and isotope filtering, all three giving you subtle elegance. It also comes with :
A variety of page builders to choose from
SEO-friendly codes
Flying –fast speed optimization
Free Simple WordPress Theme #4: Magazine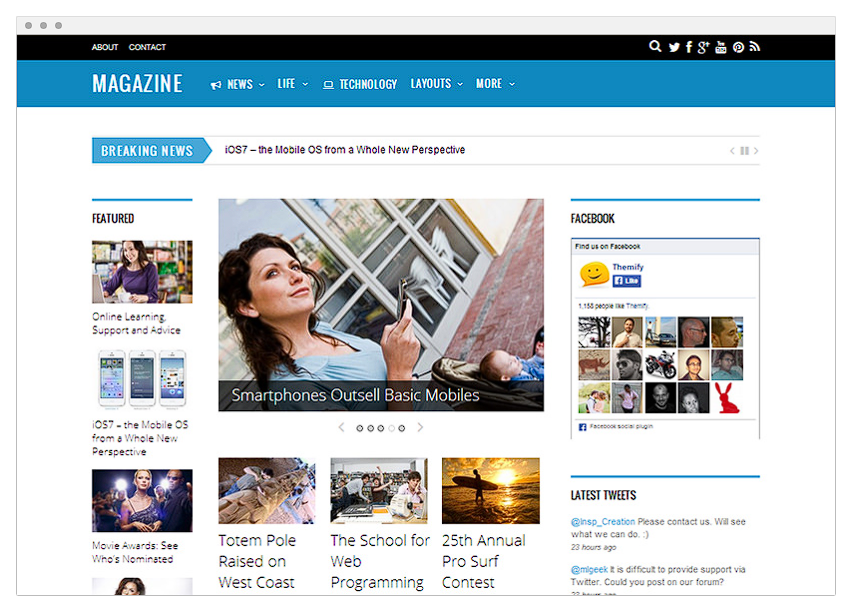 Not a misnomer, Magazine gives you the classic style of a high-brow magazine with its simple yet refined grid-layout design. A three-column theme with unlimited magazine layouts, this theme will satisfy those who intend to upload regular content in a neat and sophisticated way. It also comes with a packed bag of features like mobile slide navigation, 24 pre-built layouts, and a mega menu. It is also:
Mobil responsive and retina-ready
Breaking-news ticker
7 sidebar options
Free Simple WordPress Theme #5: Tusant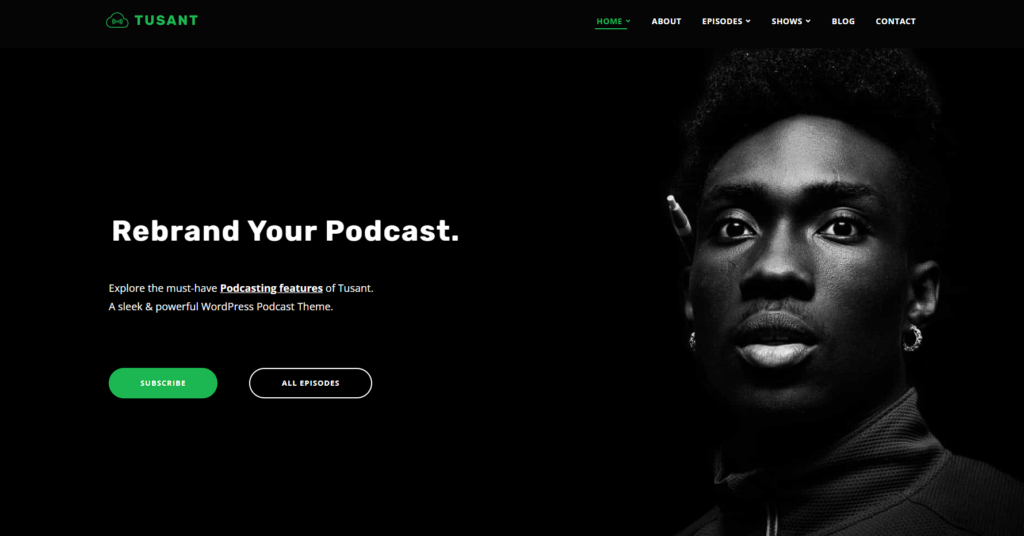 If you are a Vlogger or a Food Blogger, a music streamer, or a podcaster, who wants a website solely for uploading videos or audio files, Trusant is one of the simplest yet most engaging WordPress themes for you. Using charming animations, full-width background, and a uniquely-designed blog section, it provides the perfect showcase for your material. With an extremely flexible customization system, ultra-fast Elementor as a page builder, and custom add-ons for further ease, it has made sure you have simplicity both in looks and function.
It also supports:
Unlimited number of entries
7 different video/audio-specific layouts
WooCommerce
Free Simple WordPress Theme #6: Pure
Designed to stay pure from distractive elements, Pure is one of the top-rated themes of the best simple WordPress themes, as its idea comes from the purity of a clean canvas ready to underline your art, whether it is shown in words, images, or videos. A portfolio-themed blog website combining professionalism and modernism, Pure uses a transparent style to stress its owner's particular style. It is also
Fully responsive and retina ready
Equipped with a live demo
Stylish typography
Free Simple WordPress Theme #7: Kalium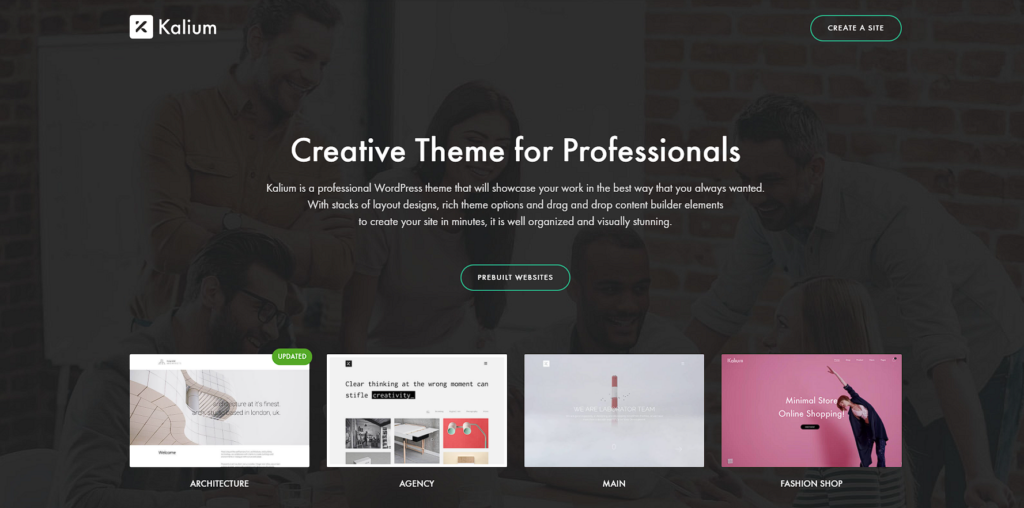 A multi-purpose, minimalism-oriented theme, Kalium stays simple while reflecting all the color and character of your brand of individuality. With a long array of options, a multitude of layout designs for every sub-taste and industry, and more than 30 portfolio types, it makes staying organized yet stylish possible in one neat package. You can use it for your online bookstore, travel agency, or fashion shop, as well as your law firm or medical practice. It also has :
15-plus header styles
Multilingual translation
One-click installer
7 Free Minimalist WordPress Themes
Remember that there are super famous and popular themes like Astra, Divi, Oceanwp, Hestia, and Neve that are multipurpose mega themes and have a couple of layouts, templates, and feature sets for every business, niche, taste, and need out there. They offer an impressive enough number of simple WordPress themes for your site. Keep scrolling to see a list of seven minimalist WordPress themes.
Free Minimalist WordPress Theme #1: Didi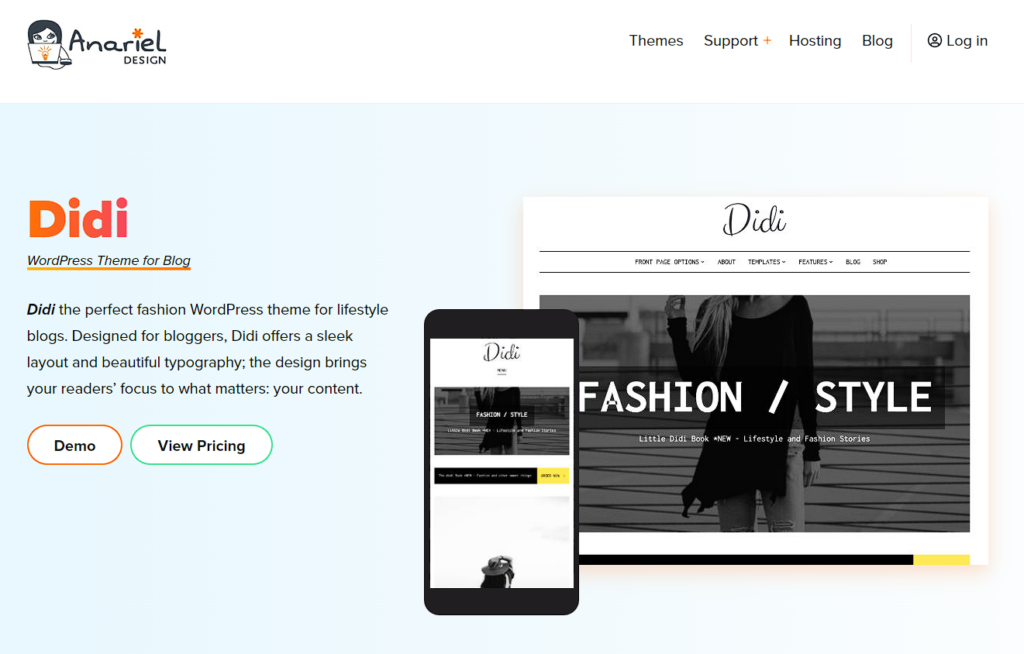 A prime example of elegance personified in a minimalistic sense, Didi is super easy and fast to set up due to a live customizer making the full range of options available. Not sacrificing beauty for simplicity and function for convenience, this carefully coded theme provides a variety of templates, layouts, and widgets to choose from and still keeps you a true minimalist. It is also:
Multilingual
WooCommerce integrated
Page builder –supported
Free Minimalist WordPress Theme #2: Breakthrough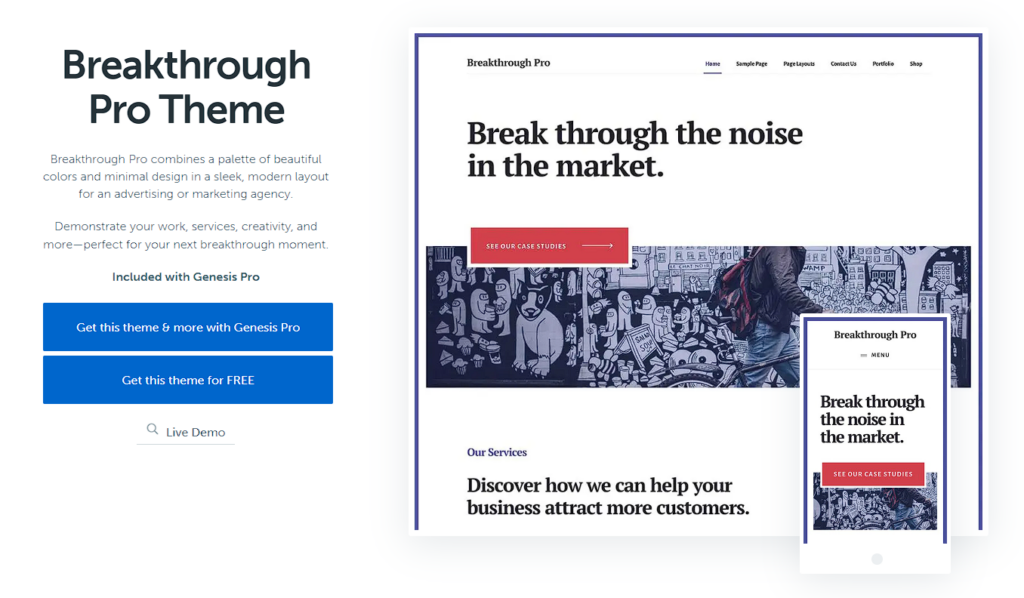 Especially suited for advertising agencies, bloggers, or vloggers, Breakthrough stays true to its slogan of giving you a breakthrough as it mixes a stunning display of imagery with a tasteful array of typography to stylize your image-text combo into a streamlined, minimalist finish that stands out. The smooth customizer takes a few clicks to give you a live preview of your vision, and the customizable header and 9 widget areas are super simple to fill with content. It also doesn't fall short on the basics, as it is :
Mobile responsive
Gutenberg-optimized
WooCommerce -supported
Free Minimalist WordPress Theme #3: Monochrome Pro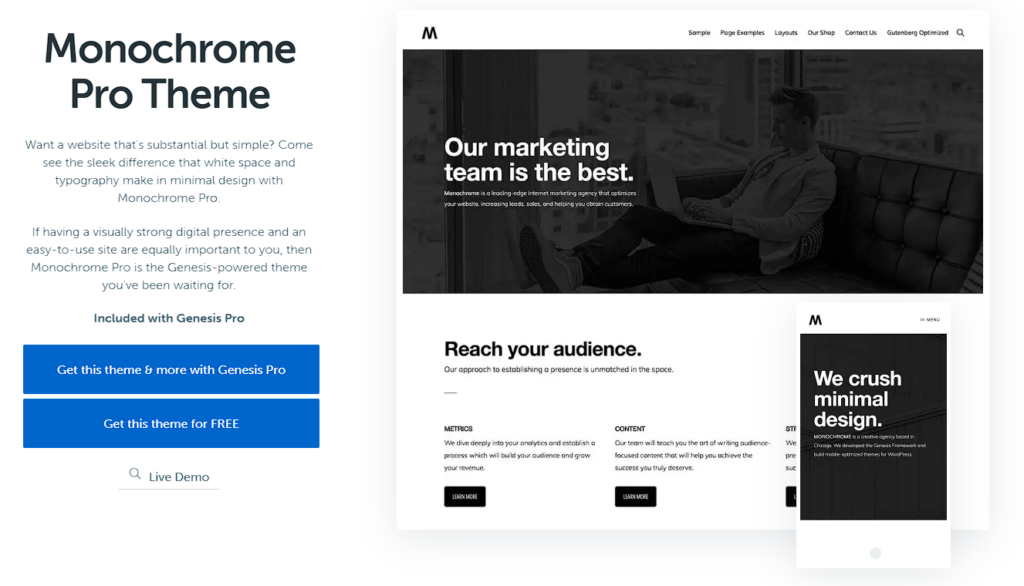 Keeping the promise made by its name, Monochrome Pro is a black and white theme with an elegant interplay of minimalistic practices like white space, unique typography, and powerful grayscale imagery to create contrast and ambiance. A multi-purpose theme, stocked with a wealth of custom widgets and customization options, monochrome makes for a great visual experience, in addition to being easy to build/use by being:
Mobile-responsive
WooCommerce optimization
Gutenberg block integration
Free Minimalist WordPress Theme #4: Extra
If you are seeking elegance delivered through minimalism, Extra won't disappoint. Weeding out all the clutter that graphic effects and animations can create, this multi-purpose theme focuses on a one-of-a-kind typography and A grid-or-masonry layout portfolio to appeal to the typical audiences of writers, artists, and different editorial sites. Incorporating a new image filter feature, a navigation menu on top, and a rich color palette, it prepares you to create a powerful visual aid for your content. In addition, it gives you
Left or center layout options
Custom header styling
Free Minimalist WordPress Theme #5: Gema
Styled with an oversized-image asymmetrically-arranged grid layout, a unique menu theme, and the light hover effect on blog posts, Gema is the ultimate " stylish minimalist" theme that bloggers, photographers, and magazines would just eat up. A short, simple set-up process, a neatly-organized customization panel aptly named "style manager," and a live preview feature put it among the best simple WordPress themes, as it is a super simple WordPress theme to build. It won't fail you in the following departments either:
Unique typography
Gutenberg block support
Dedicated customer support staff
Free Minimalist WordPress Theme #6: Phlox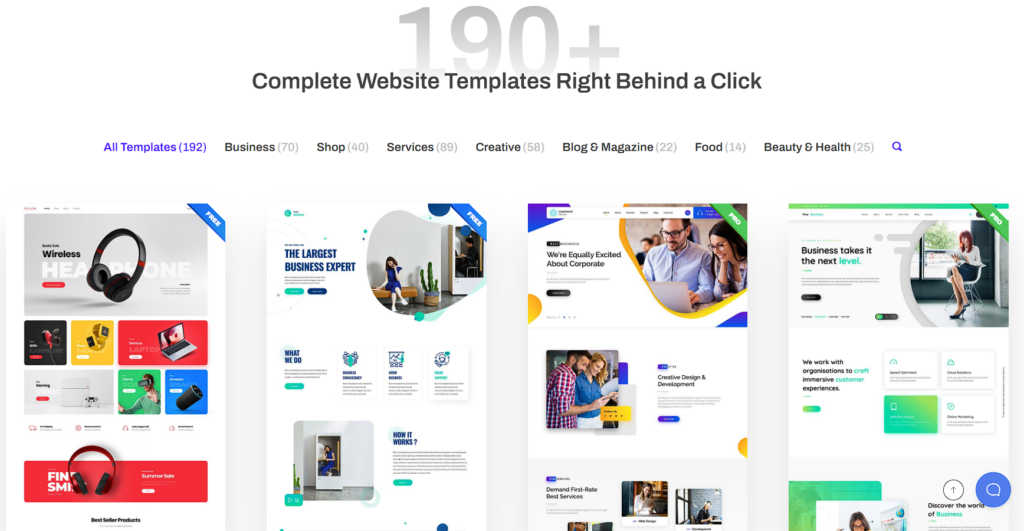 Ranking high among the best simple WordPress themes, Phlox is delightfully clean, modern, and impressively minimalist in design. One of the most complete portfolio themes, it recruits the services of a live theme customizer, more than 40 full-width templates, and 30-plus advanced elements to make building a site for freelancers, designers, and writers easy. It is also made easier to design and run with its:
One-click installation
WooCommerce compatibility
A smooth touch slider
Free Minimalist WordPress Theme #7: Minimalist Blog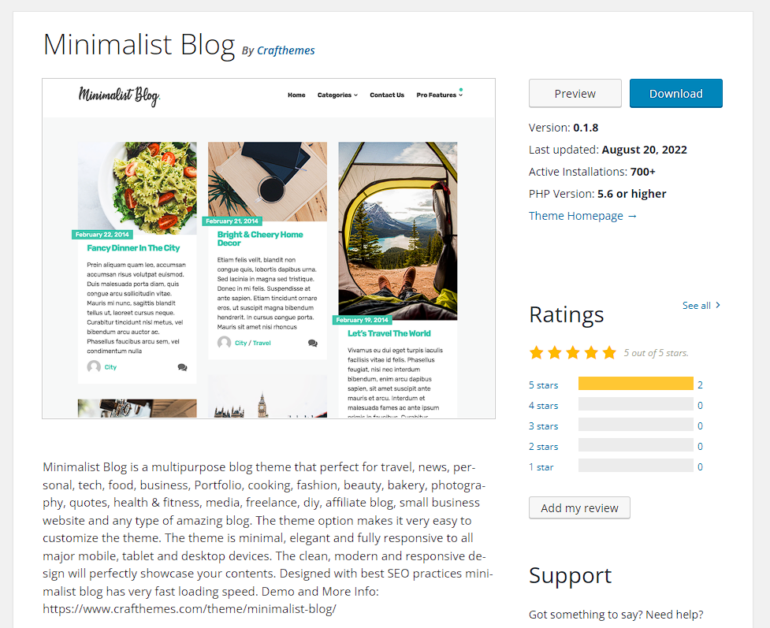 Well, it's telling who it is by merely saying its name, as it is simply a perfect Minimalist Blog suited for news websites, vlogging, and web designers alike. Through its modern and sophisticated grid layout, you can express your ideas through imagery and simplicity. A great many theme options and a versatile customization system render making your website a minimalistic effort as well. In addition, It is also:
Translation ready
Mobile responsive
SEO-optimized
Final Words on Simple WordPress Themes
A simple WordPress theme does not mean it won't have the advanced technical features you need for your site to succeed in today's ultra-high-tech world of websites; it means it's easy to design and work through while having a minimalist philosophy towards aesthetics.
Responding to that need among our patrons, we gave you a brief overview of the best simple WordPress themes to pick from if you plan to build a new simple, minimal website while hoping one would give your maximum satisfaction with your minimalist preferences.
---
Read more: