Instagram is regularly adding new tools and features to the platform, so users can have a better experience on the app. One of the latest features is Instagram Notes which allows you to share short messages at the top of your followers' inbox.
If you want to stay updated with the latest top Instagram trends and changes, shorts are the new feature you need to pay attention to. In this article, we will tell you everything you need to know about what Instagram notes are, how to find them, and their role in the latest Instagram algorithm.
What Are Instagram Notes
In 2023, Instagram rolled out a new sharing feature on the app called Instagram Notes, which allows users to share up to 60-character messages with their friends. These notes appear on your DM inbox, above the chat boxes, and next to the online list.
Similar to Instagram stories, they are only visible for 24 hours and after that, they will disappear. You can share up to one note and if you want to add more, you need to wait 24 hours or delete the previous one. In the following parts, we will show you how to get Instagram notes and use them in the latest Instagram algorithm updates to grow your visibility.
How To Make An Instagram Note
Since this feature is new on the platform, before anything else, make sure to update your app, so you have access to it. One of the common reasons you are facing the " why don't I have Instagram notes question is that you are using an outdated version of the app. Now, follow these simple steps to find out how to add notes on Instagram:
Log into your Instagram account and go to your feed page.
Tap on the paper airplane icon at the top-right corner of your screen to open your DM inbox.
At the top of the page, tap on the '+' icon.
In the opened box, you can write your note.
Once you are done writing, you can tap 'Share' at the top of your screen to share it with all of your followers.
Also, you can tap the 'Share with followers you follow back' to create an Instagram close friend list for your notes or share it with your friends.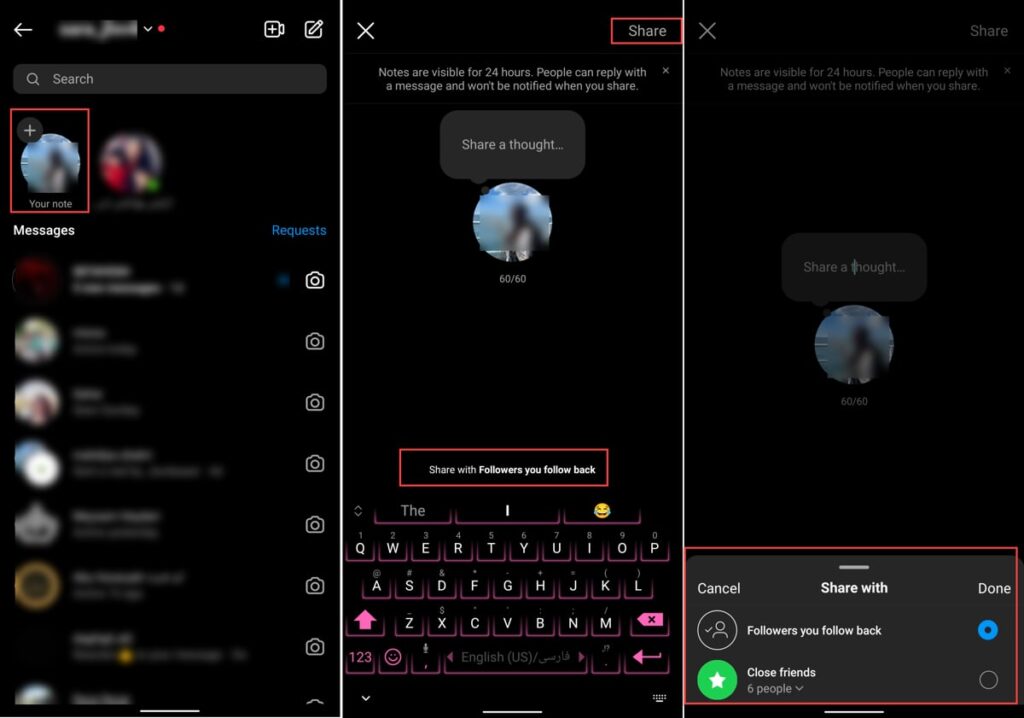 According to the Instagram help center, for some users, a music icon on their note section allows them to add soundtracks to their shorts. Even though this feature is not available for everyone yet, we can expect it in the upcoming updates.
How To Respond To A Note
Now that you know how to get the notes on Instagram, let's see if it's available to reply them. If notes on Instagram are available on your app version and you can see what your friends share, you can easily reply and respond to them. Similar to the way you reply to a message on Instagram, you can respond to notes. Follow these simple steps to find out how:
Go to your Instagram feed page and open the DM inbox at the top-right corner of your screen.
Above your previous conversations with users, you can see what your friends have shared on their notes.
Tap on a note and it will open a pop-up chat box to write your response.
After writing your message, tap the 'Send' icon. It will open a conversation in your inbox and the recipient will also get a notification about your response.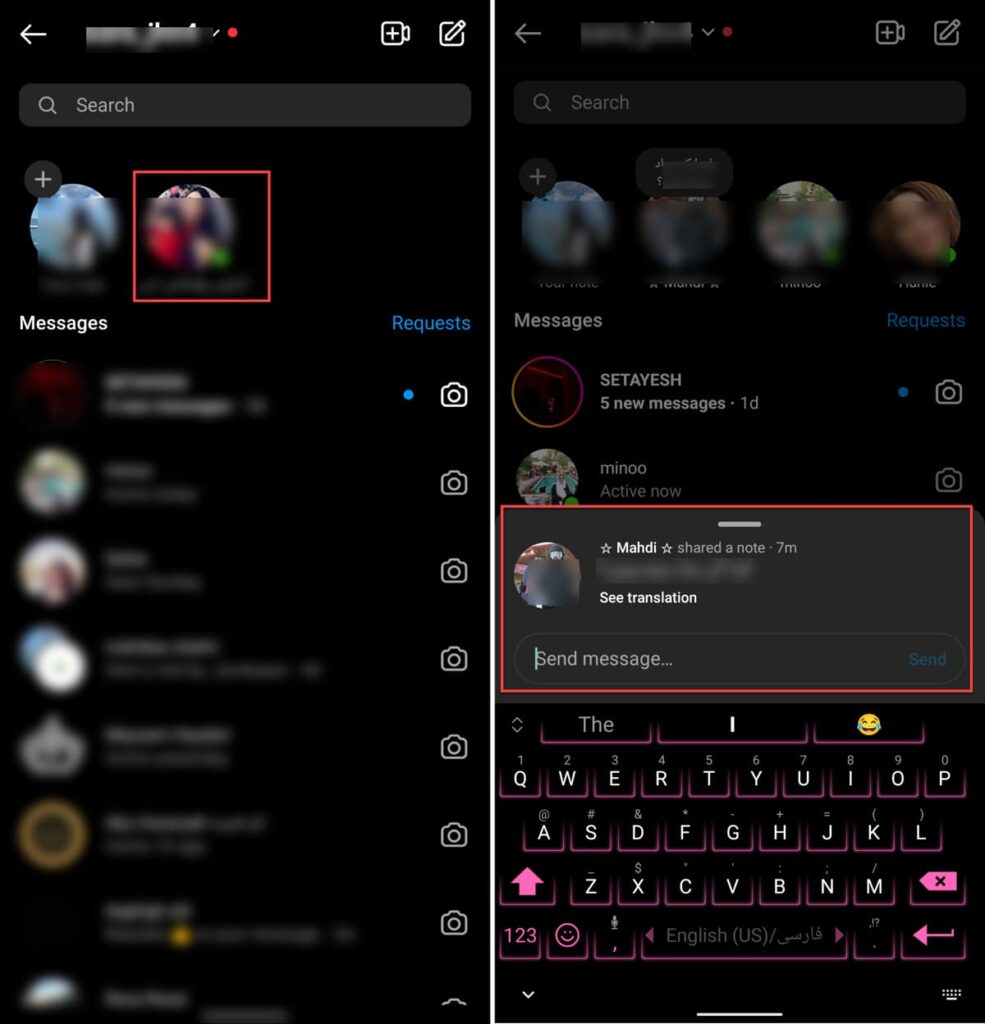 How To Mute Notes On Instagram
If you don't like to see someone's Instagram notes, you can mute them by following these simple steps:
Open your Instagram feed page and go to your message inbox.
Tap and hold on the user's note till it opens a menu.
Select 'Mute notes'.
Confirm your action and that's it!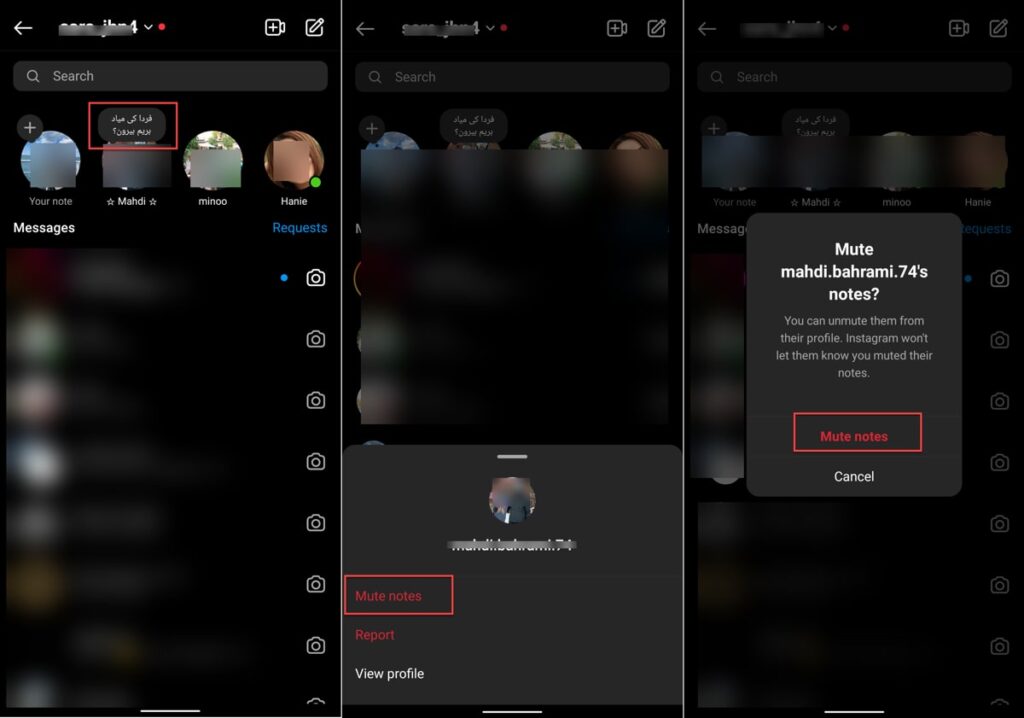 How To Unmute Notes On Instagram
If you change your mind and decide to unmute someone, don't worry! It only takes a couple of seconds to redo your actions. Here's how to unmute notes on Instagram:
Log into your Instagram account and go to your profile.
Tap on the three-line icon at the top of your screen.
Choose 'Settings and privacy.'
From the opened tab, select 'Muted accounts.'
Find the user and tap 'Unmute' in front of its name.
Toggle off the 'Mute notes' option.
That's how to turn on notes on Instagram again. Now, just refresh your feed page and you can view their notes again.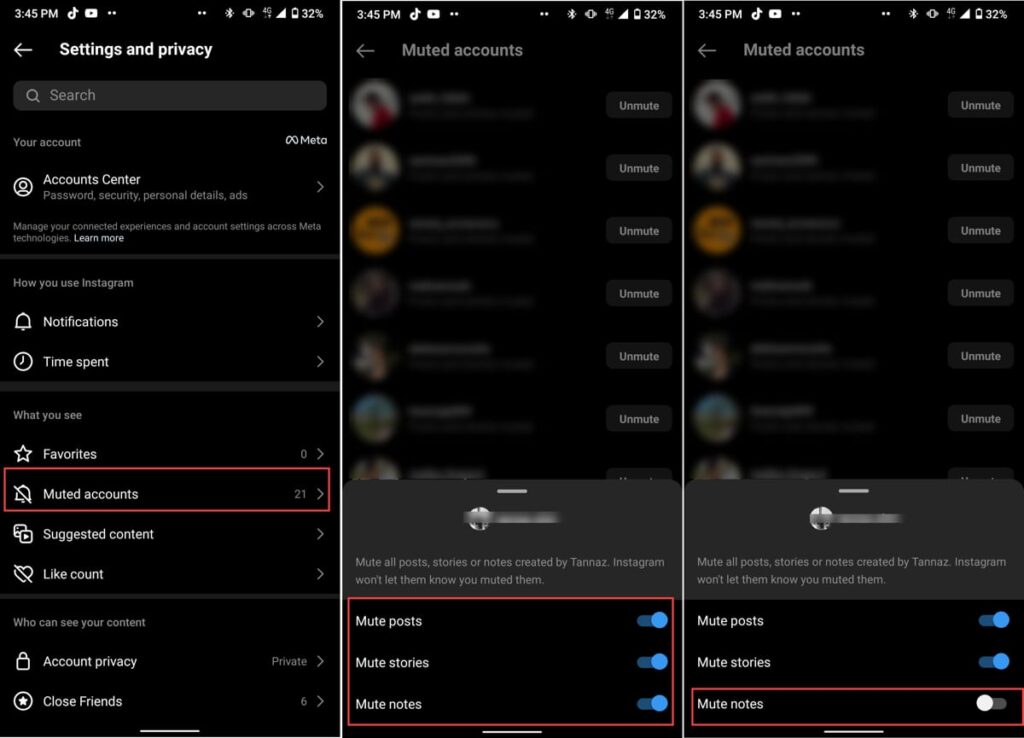 Best Instagram Notes Ideas
Since notes on Instagram are similar to Stories, we can use some of the best text Instagram Story ideas for them. Here are some funny, cool, and creative ideas to boost your Instagram engagement.
Funny Instagram Notes
Looking for funny Instagram notes ideas to share humor with your friends? Here are some examples you can try.
Testing testing. Is this thing on?
Be friendly, but don't overdo it.
If Monday had a face, I would punch it
You're in italics, I'm in bold.
Just here to make your day a little weirder. You're welcome!
I don't sweat; I sparkle
Life's a soup, and I'm a fork.
I need six months of vacation twice a year.
I need a six-month holiday twice a year. Who's with me?
I speak fluent emoji
I'm just a kid and life is a nightmare.
Coffee won't solve all your problems.
I'm not clumsy; I'm just dancing with the floor
Keep calm and selfie on.
I can resist anything except temptation… and pizza
We see you sliding into our DMs
In a relationship with pasta.
I'm not short; I'm just like Instagram notes
Cool Instagram Notes Ideas
For those who want to look cool even on their texts, we got you covered. Here are some ideas to share.
Living a cool life.
The less you care, The happier you will be.
Life is short, make it sweet.
I'm not perfect, but I'm a limited edition.
Keeping it cool 🧊
Hating me won't help you.
Keep it classic, yet modern.
Be yourself, everyone else is already taken.
Keep calm and carry on.
Everyday everywhere.
I'm not perfect, but I'm always improving.
Life is tough, but so are you.
Creative Notes
This way, I know how I look.
Keeping life creative
Me doing me.
I'm not old, I'm vintage.
A smile can change the world.
Wake up and make up.
Classy and fabulous!
I'm not weird, I'm a limited edition.
Dress like you're already famous!
High tides and good vibes.
Adventure is out there.
Letting nature take its course.
I'm not short, I'm fun-sized.
My place in the sun.
Another day, another sunrise.
It wasn't always easy, but it was worth it.
Show your sparkle.
Like a boss.
Here comes the sun.
Nailed it.
FAQs
Now that you know what are Instagram notes and how to use them, let's answer some of the most frequently asked questions about them.
1. Are Instagram Notes Available To All Users?
Yes, Instagram Notes are available to all users who have updated their app to the latest version. However, some features such as adding music to your notes or tagging users are not available for everyone yet.
2. Can I Edit My Instagram Notes After Posting Them?
Unfortunately, Instagram does not currently offer the ability to edit Instagram Notes once they've been posted. However, you do have the option to delete a note and create a new one if you need to make changes or corrections.
3. Are There Any Privacy Settings For Instagram Notes?
Yes, Instagram Notes comes with flexible privacy settings, allowing you to control who can see your notes. When creating a note, you can choose to share it with followers whom you follow back, a select group of people using the close friend list, or make it public for everyone to see.
4. Do Instagram Notes Have A Character Limit?
While Notes are designed to encourage creativity and expression, they do have a character limit. You can only write characters in a note and you can't share multiple notes at once.
5. What Is The Instagram Notes Number Trend?
In a new trend which was started from TikTok, users share codes on their Instagram notes. These codes refer to the first initial of their name or in most cases their crush's name.
Conclusion
If you use Instagram to run your business or contact friends, you have probably noticed a new feature in your DM inbox. These notes allow you to share short information with whoever you want on Instagram. In this article, we showed you how to get notes on Instagram and use it like a pro.