Although using IG Stories is pretty straightforward, sometimes it can be tricky to create and publish high-quality content on it. One common question we are usually asked is 'Why are my Instagram stories blurry?'. While it looks frustrating to see your content appearing blurry on IG stories, there are several reasons why this might happen.
Instagram stories are one of the most popular tools for drawing your followers' attention to your page and can also be saved as Highlights, which are permanently visible. So, it's essential to post high-quality and engaging stories which are simply possible by using the best Instagram filters, trending music, and talking about hot topics there.
OK, Let's take a look at the issue and possible ways to fix it.
Why Are My Instagram Stories Blurry
Instagram Stories can appear blurry for several reasons. To avoid and fix this issue, you must be mindful of a couple of technical things while creating and sharing your content on Instagram Stories. You keep asking 'Why are my Instagram stories blurry?' Well, here we have a number of explanations:
1. Compression
I tell you, Instagram has its own algorithms. You maybe want Instagram algorithms explained, but if you're familiar with them, you probably know, Instagram employs certain compression algorithms to reduce the file size of images and videos uploaded to Stories.
Due to this, a loss of image quality may happen which sometimes causes blurriness in Stories. Fast loading and efficient data usage is Instagram's priority which sometimes results in compromising content clarity. 
Furthermore, adding music, stickers, gifs, and other media reduces the quality even more after the story is uploaded. So, if you are wondering 'Why are my Instagram stories blurry when I add music?', here's your answer: Consider using third-party apps like Mojo, Design Kit, and Lifelapse, plus sharing options to minimize the compression rate in your Instagram stories
2. Low-Resolution Media
When displayed on high-resolution screens, photos or videos with low resolution that are uploaded to Instagram Stories may appear blurry. It's crucial to know what the correct Instagram Story size and dimensions are, to make sure the content you share appears properly on the Instagram app.
Be obsessive about using media with higher resolutions and ensure a quality upload. 
3. Network Connection
Check your internet connection before uploading your content on IG Stories. While you might say 'Why are my Instagram stories blurry', you must be aware that the quality of your Instagram Stories can be damaged by poor network connectivity or slow internet speeds.
Instagram compensates for the limited bandwidth and poor connection by automatically reducing the resolution of your media, and this results in blurry images.
4. Device Compatibility
There are various display capabilities and screen resolutions among different devices. If you share your Stories on a device with a high-resolution screen, viewing them on a device with a lower resolution might make the images look blurry.
5. Zooming or Cropping
Instagram stories give users a set of tools to design and edit the stories before publishing them, and it includes zooming and cropping. While using third-party editing tools like Canva is more professional and is recommended.
However, if you still prefer in-app editing, be careful while zooming or excessively cropping your images. These actions can significantly reduce the overall image quality and may result in blurriness.
6. Filters and Effects
Nowadays, there are dozens of filters on IG stories. At Hoothemes, we've explained how to use Instagram filters and effects before. They can vary from simple color-correction effects to complex funny shapes and objects that can be added to the Stories. Applying certain filters or effects can reduce image sharpness, and adding glitching artifacts, results in a blurry appearance.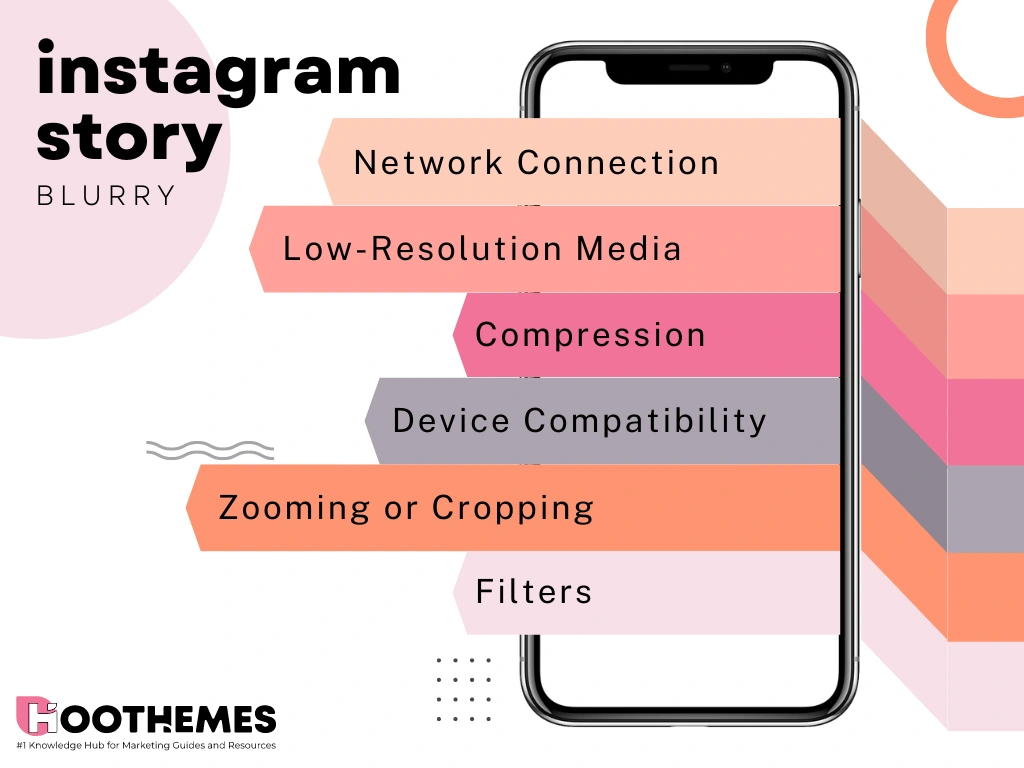 Now that you know the answer to the question 'Why are my Instagram stories blurry?' you need to follow the next steps to make sure it won't happen next time you share a story.
How to Fix The Blurry Stories on Instagram
If you still keep searching 'Why are my Instagram stories blurry on iPhone or 'Why are my Instagram stories blurry on Android' we have something to tell you, whether you use Android or iPhone, you can consider the following tips to improve the clarity of your Instagram Stories:
Update your Instagram: Always Make sure your app is updated to the latest version.
Delete the app data: Clear the app cache and try again. It might help you get better results.
Use high-resolution media: Capture or select photos and videos with higher resolutions to ensure better image quality when uploaded to Instagram.
Avoid excessive zooming or cropping: Minimize the use of zoom and cropping features within the app, as they can reduce image quality.
Ensure a stable network connection: Connect to a reliable Wi-Fi network or use a strong cellular data connection to upload your Stories. This can help prevent Instagram from compressing your media excessively.
Avoid heavy filters or effects: While filters and effects can enhance your Stories, be mindful of their impact on image quality. Experiment with different options to find the ones that maintain clarity.
Test on different devices: Check how your Stories appear on various devices with different screen resolutions to ensure they are clear and sharp across platforms.
Are You an Influencer Reading Our Blog?
As an influencer, getting familiar with influencing marketplaces is vital for you. Traditional ways of finding brands to cooperate with are time-consuming and require a significant amount of research to find one in your niche. While a competent influencer marketplace will do all the work for you to grow.
Ainfluencer: The Best Place for Boosting Your Instagram Income
Ainfluencer is a secure DIY marketplace that provides you with the options below without extra cost:
Get access to a wide selection of sponsorships and partnership opportunities from top brands
Easily apply to campaigns that match your niche and audience
Receive payment directly for any brand collaborations you secure
Offer luxury brands to establish a prosperous partnership
And that's why we choose Ainfluencer without hesitation 😉
Read Also: How to Turn Off Active Status on Instagram
FAQs
We hope that you've got your answer to 'Why are my Instagram stories blurry' so far. In case there are some questions left, we will answer them below.
1. How Do You Make Your Instagram Stories Better Quality?
First, open the Camera app. Then, look for an icon that looks like a small gear. Find and press on it. This will take you to a menu where you can change some settings. Now adjust the size quality to the highest.
2. How Do You Stop Instagram Stories from Blurring?
Stopping Instagram stories from being blurry, needs a few simple steps: 1. Clear the Instagram cache from the device setting, 2. Check your data connection and try using WiFi, 3. Watch your story size and dimensions.
To Wrap Things Up
In conclusion, Instagram Stories may appear blurry due to compression, low-resolution media, network connection issues, device compatibility, excessive zooming or cropping, and the use of certain filters or effects. By following the tips mentioned above, you can improve the quality and clarity of your Instagram Stories. If you found a new way to fix it, we are eager to know about it!