Have you ever scrolled through your Instagram and noticed a few reels that you've already heard multiple times? One element that has become the driving force behind their success is trending Reels songs.
If you are an Instagram influencer or just use the Instagram platform to share photos and videos with friends, using trendy songs can help your videos go viral and boost your engagement rate. In this guide, we gathered some of the best TikTok and Instagram trending reel songs that you can hear almost everywhere.
Good news! In case, you want to collaborate with brands, you don't need a massive following on Instagram! Actually, with the rise of influencer marketing, it's easier than anytime before. Once you reach 5k followers, you can start working with brands/influencers on Ainfluencer.
How To Find Trending Reels Songs
Trends are consistently changing and if you want your page to always get a high reach, you need to follow them. There are several effective ways to find trending Reels songs that are popular these days. By following these tips, you'll be able to stay up-to-date with the latest trending reel songs and create engaging content. Let's dive into some effective ways of how to find trending reels songs to stay up to date with the Instagram algorithm:
1. Check The Discover Page
Instagram's Reels Discover Page is a goldmine for finding trending songs that you need to check before making a reel video. Accessing it is easy, open the Instagram app and navigate to the explore tab. Open a video that you see and scroll down to find a world of trending Reels content. Scroll through the Explore page, and you'll notice Reels with popular songs that are currently making waves.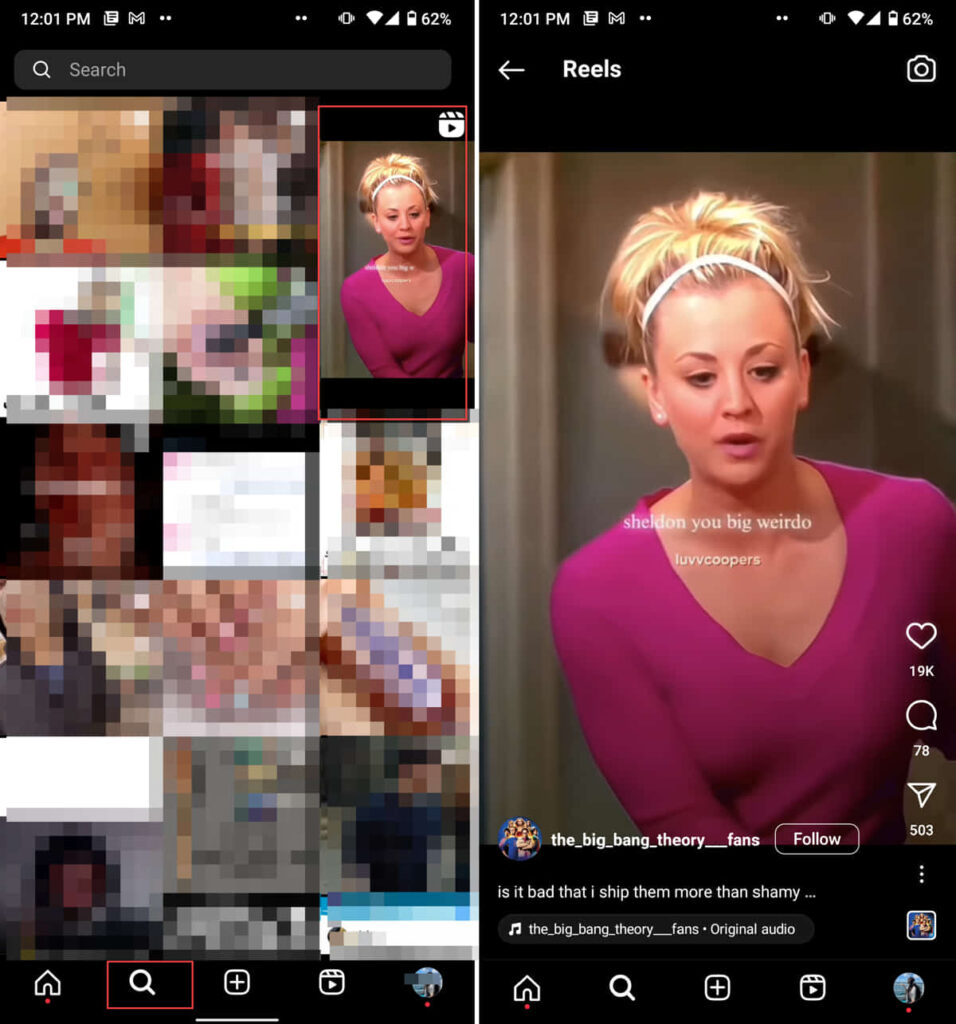 2. Pay Attention to Reels by Influencers and Creators
Influencers and creators are often at the forefront of popular trends, including music choices for Reels. Follow accounts that specialize in Reels content and pay attention to the trending songs on Instagram reels they use.
Some of them have a telegram channel and upload all trending reels songs there. Otherwise, you can use music recognition tools. Many creators even mention the songs in their captions or provide a list of songs used in their bios. You can also save the song by tapping on its name and choosing "Save."
3. Check The Reels Tab
In the latest updates, Instagram added a specific tab only for reel videos. It's full of trend reel videos that you can check and save their songs. To access this tab, open your feed page and tap the reels option at the bottom of your page.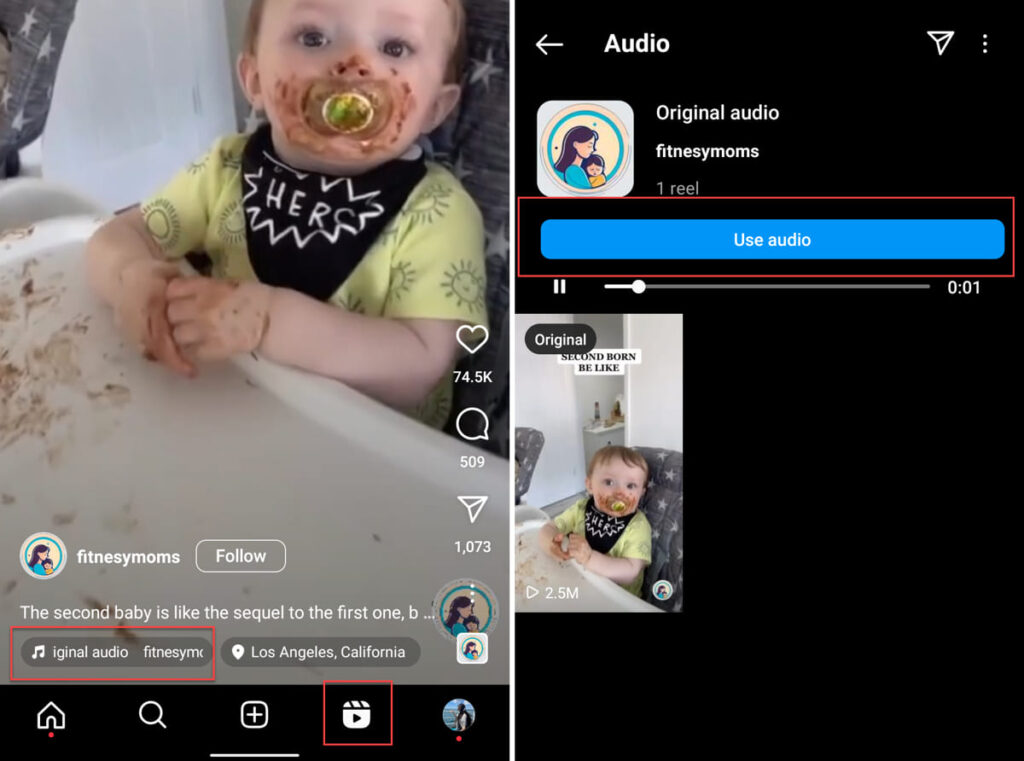 Top Trending Reels Songs In 2023
Now, you know how to stay up to date with the latest and greatest Instagram Reel trends. In this section, we bring you the most notable Instagram Reel trending songs and audios that have been making waves in 2023 that can help your organic Growth.
1. Die for You – Ariana Grande
"Die for You" is an enchanting song by the immensely talented Ariana Grande. This track is the fourth collaboration between Ariana Grande and The Weekend which was released on February 23rd. Soon after, the song reached the first position on the Billboard Hot 100 chart on March 11, 2023, and became viral.
2. Flowers – Miley Cyrus
The next track of trending songs on reels is a perfect reminder for you to love yourself and you can share this message with your audience on a reel video. "Flowers" by Miley Cyrus is a perfect audio that focuses on self-love for teenagers and the young generation. It's also viral on TikTok and was a trend in early 2023.
3. Hey Mickey – ImBabyTate
ImBabyTate is not a famous singer, maybe you haven't even heard her name but this soundtrack is all over TikTok and Instagram these days. This track was originally performed by the British pop group Racey under the title "Kitty," the song later gained popularity when it was included on their debut studio album, "Smash and Grab," in 1979.
4. Make Your Own Kind of Music – Cass Elliot
From the moment the song begins, Mama Cass's powerful and soulful voice captivates listeners, drawing them into a world of self-expression and musical freedom.
5. Julia Kursten – All About The People
This famous song, All About the People" is a captivating track that is perfect for showing travel pics in a calm video.
6. Hundred Miles – Yall, Gabriela Richardson
Checking the list of trending songs on Reels 2022, you will definitely see this track("Hundred Miles" by Yall ft. Gabriela Richardson) but still, many users love it and use it in 2023. If you want to share short videos of your recent travel or show landscapes, this track has the vibe.
7. All of the Girls You Loved Before – Taylor Swift
This track is originally an outtake of her seventh studio album, Lover (2019). This track attracted so much attention after its demo version unexpectedly leaked online on TikTok.
Finally, Taylor decided to gift this song with the official release of "All of the Girls You Loved Before" on March 17, 2023. Taylor Swift's "All of the Girls You Loved Before" serves as a powerful reminder that the path to self-love and healing often requires letting go of past relationships.
8. Big Subwoofer – Mount_Mestmore
For this unique track, four legendary rappers gathered together to release a song for their fans, Snoop Dogg, Ice Cube, Too $hort, and E-40. As snoop dog says: "There's so much talent on this record… so many styles of music, it breaks the algorithm. Right now, the algorithm is telling us you have to rap this way, you have to sound this way, but they're not telling you how it's supposed to feel. "
9. Cupid – Twin Version
The next track should be on the list of trending songs on reels 2022 but still, many users are using it for their videos. In their track "Cupid (Twin Version)," the talented duo FIFTY FIFTY immerses themselves in the complexities of love.
10. Red Ruby Da Sleeze – Nicki Minaj
Nicki, a true idle in the rap industry, brings her charisma and confidence to this song. Nicki announced this track on her Instagram page in February 2023, and in March it became available for everyone to hear it.
11. Madonna vs Sickick – Frozen
When two iconic artists come together, magic happens. Such is the case with the collaboration between Madonna and Sickick on their rendition of "Frozen." This soundtrack is perfect for videos of your lifestyle and a normal day in your life.
12. Fly Girl – FLO ft. Missy Elliott
The next track in our list of trending Instagram reel songs is a new release that gained a lot of popularity in a short time. There are around 3k videos for this song till now. So, you have a perfect opportunity to make your videos go viral.
13. El Merengue – Marshmello
Are you looking for energetic trending Instagram reels songs for adding excitement to your videos? El Merengue – Marshmello is one of the best options. This Spanish song was released on Mar 3rd, and soon become viral on TikTok and Instagram for dance videos.
14. Rude Boy – Rihanna
Without any doubt, Rihanna is the one and only queen in the music industry and there is no surprise to see her tracks in the trending reels songs. Rude Boy" is the perfect soundtrack that gained a lot of popularity, especially on TikTok after Rihanna's Superbowl performance.
How To Add Music To Reels On Instagram?
Adding music to Reels on Instagram is a simple process that can enhance the overall experience and engagement of your videos. Here's a step-by-step guide on how to add music to your Reels/stories:
Open the Instagram app on your mobile device and log in to your account.
Tap on the "+" icon at the bottom of the screen and choose reels. (You can also swipe right from the feed page to open the story camera and find the reels option from the bottom bar).
Another way to access your reels camera is from your profile. Simply go to your profile and tap the "+" icon at the top of your screen, and choose "Reels" from the drop-down bar.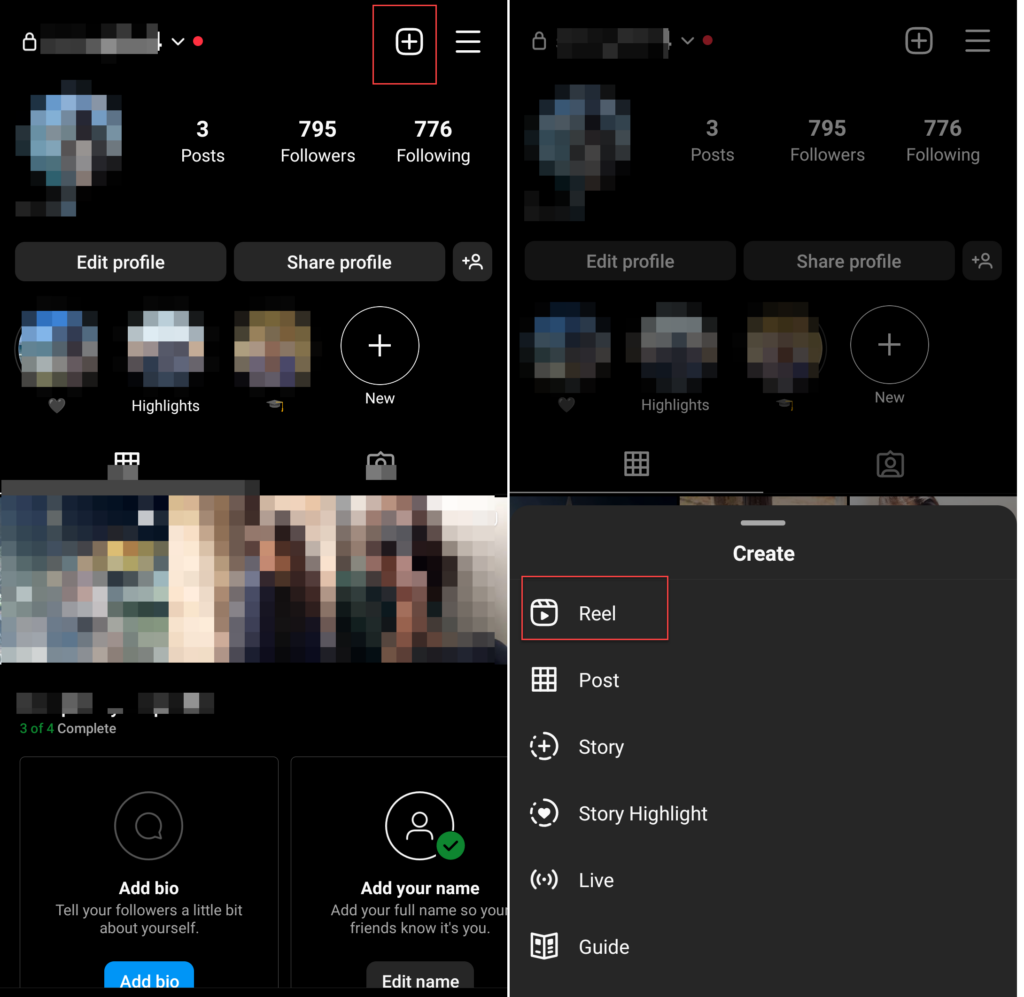 Choose whether you want to record a new video or upload a pre-recorded video from your gallery.
Once you're on the video editing screen, you'll notice a music icon on the left side of the screen. Tap on it to open the music library.
Here, you can explore various categories, and popular songs, or use the search bar to find specific tracks.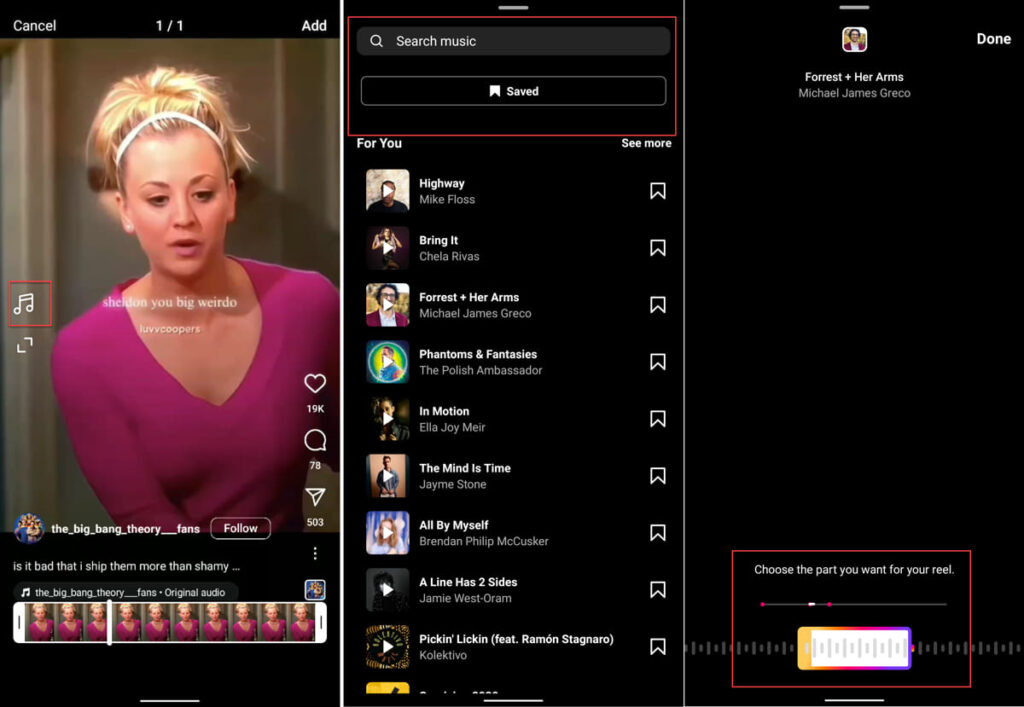 Tap on a song to preview it. You can scrub through the song to find the desired section.
Once you've found the right song, tap on the "Select" button next to the track.
Once you're satisfied with the music selection and editing, add your caption and other details and share the post.
How To Earn Money From Reels Views
If you've been able to build a substantial following on Instagram Reels and have a high video reach, you have the potential to monetize your content and earn money as an influencer. Collaborating with brands is an excellent way to leverage your influence and generate income while doing what you love. But how to find and connect with brands?
One of the best ways to find brands that are willing to work with content creators on Reels is through Ainfluencer. Ainfluencer is a leading influencer marketing platform that connects brands with influencers across Instagram and TikTok.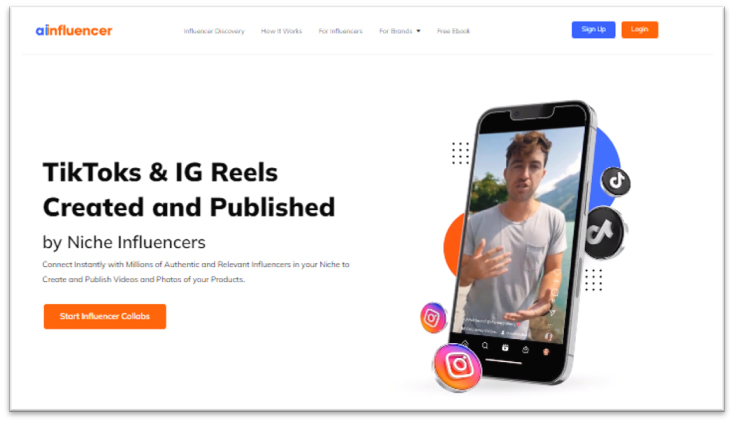 This influencer marketing platform boasts an advanced search engine that allows you to discover relevant brands to find the ones that align with your content and values, increasing the chances of successful collaborations. You can easily filter and refine your search criteria to pinpoint the ideal brands to work with.
So, if you're looking to monetize your Reels views and connect with brands for sponsored posts, Ainfluencer is the ultimate platform to consider.
FAQs on Trending Reels Songs
Now, let us answer some of your frequently asked questions.
1. Can I Use Copyrighted Music On My Instagram Reels?
It's important to respect copyright laws when using music in your Instagram Reels. While Instagram provides a library of licensed music, it's advisable to use copyright-free or royalty-free music to avoid any legal issues. There are various platforms and websites where you can find such music, enabling you to add a unique soundtrack to your Reels without infringing on copyrights.
2. How Do I Find Trending Songs For My Instagram Reels?
Discovering trending songs for your Instagram Reels is relatively easy. Keep an eye on the Reels section of Instagram's Explore page to see what songs are popular among users. Additionally, follow accounts or hashtags related to music trends to stay updated. TikTok can also be a great source of inspiration, as many viral songs there often cross over to Instagram Reels.
3. Can I Use Instagram Reels To Promote My Business Or Brand?
Absolutely! Instagram Reels offers a fantastic opportunity to promote your business or brand. Create engaging and relevant content that showcases your products, services, or brand values. Utilize the power of storytelling, behind-the-scenes glimpses, tutorials, or customer testimonials to capture the attention of your target audience. Remember to use relevant hashtags, engage with your viewers, and monitor analytics to measure your Reels' impact on your brand's visibility and growth.
Conclusion
In this article, we've covered some trending reels songs. Instagram reel videos are one of the best ways for creators and influencers to boost their reach and appear on the Explore page. But what is the secret behind the success? Trending reels songs are the key factor that decides which content goes viral and which doesn't. By incorporating trending Reels songs into your content, you can the chance of your content getting a high reach.
In this article, we introduced you to the top 14 trend songs in 2023 that you can use for your videos. Also, if you have a high reach on your videos, you can use this opportunity to collaborate with brands on Ainfluencer.