Sometimes, scrolling down through different posts feels like a real waste of time. A voice in your head will ask you 'how to deactivate your Instagram' if you want to be free from it.
What if you just make some tiny changes to your feed and see if it suits you, huh? We will guide you toward how to mass unfollow on Instagram to shorten the time it takes to change the content you used to see there.
Ready to take a break from Instagram? Follow this article to know how.
Exploring Your Options: Deactivating or Deleting
Instagram users often find themselves puzzled by the distinction between deactivating and deleting their IG accounts. Deleting an account is a permanent action that cannot be reversed after 30 days, whereas with deactivating, you can reactivate your account at any time.
When you delete your account, all of your content, including photos, likes, and followers, will be removed. On the other hand, deactivating it preserves all your Instagram content.
Another notable difference is that deleting your account may allow someone else to use your username once it's deleted. Therefore, when you deactivate, you can hide your username to prevent anyone from using it.
How to Deactivate Your Instagram
It's not rocket science to temporarily disable IG, here is how to do it on different devices.
#1 How to Deactivate Instagram on a Phone
If you don't know how to deactivate Instagram on Android mobile, the account center will help you. How?
Tap on the three line options at the top right corner.
Go to the 'setting and privacy'. Tap on 'accounts center'.
The 'meta' page will show up here,
Go to 'Personal details' below account settings.
Tap 'Account ownership and control', Then tap 'Deactivation or deletion'.
Choose the account.
Make the circle of 'Deactivate account' blue by tapping on it, Then 'Continue'
The password is required to complete the process.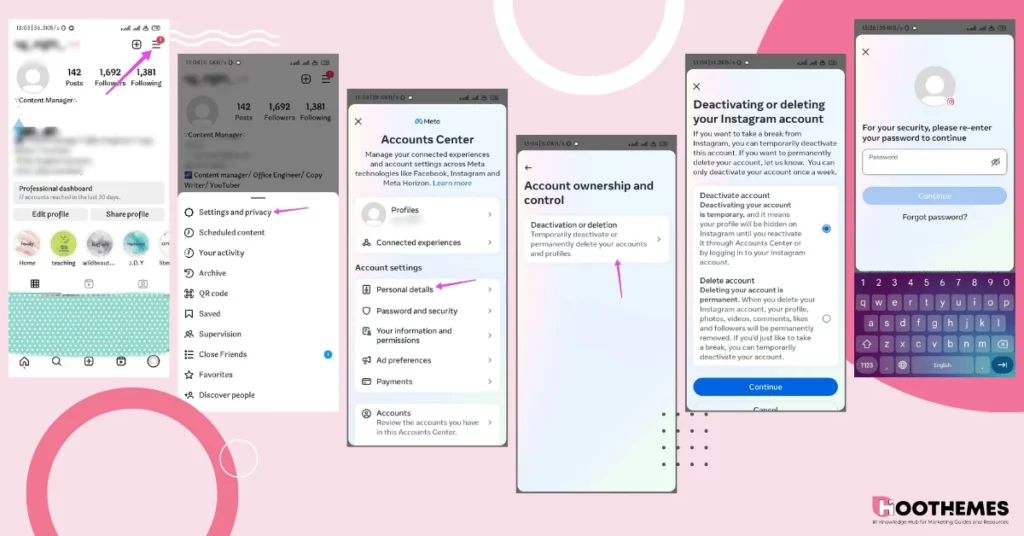 This is how you deactivate Instagram. To delete your Instagram account, you need to go to step 6 and choose 'delete account'. But don't, you'll regret it!
Sometimes, Instagram finds something against its rules on a page and suspends the user, if that's why you want to deactivate your Instagram, just don't. We have clarified how to fix we restrict certain activity Instagram for you.
#2 How To Deactivate Instagram on iPhone
If you want to know how to deactivate the Instagram page on an iPhone device, the process is simple. Just follow the steps below:
Navigate to your profile, Tap the three-line icon, Then select 'Settings and privacy'.
Choose 'Account Center' now, Select 'Personal details' under 'Account settings'.
Tap 'Account ownership and control', and hit 'Deactivation and deletion'.
Choose the 'Deactivate account' option and tap 'Continue' to proceed.
Select a reason that justifies your case. again, Tap Continue.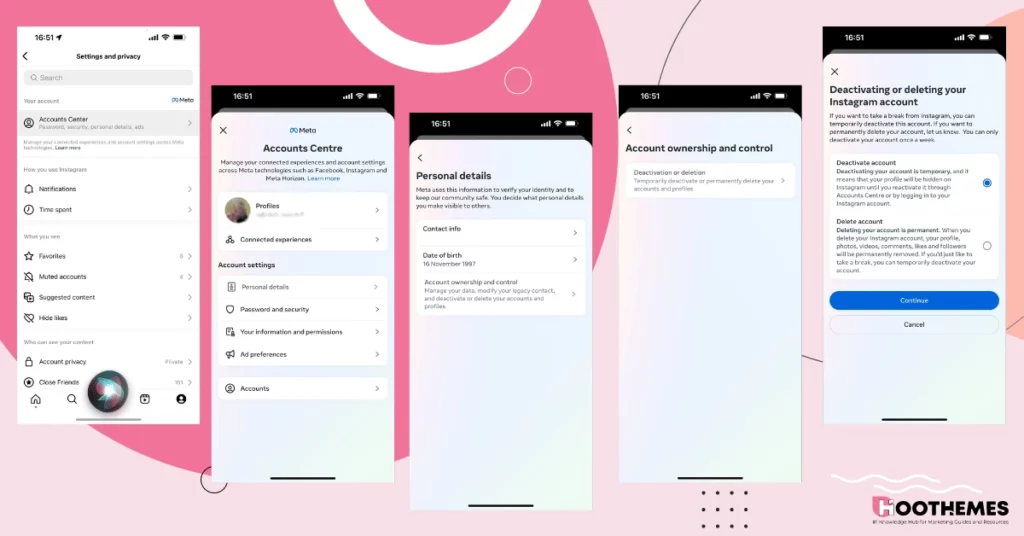 Wait! Another option to stay away from the crowd on Instagram is to turn off the active status and become a ghost for a while 👻  
What Happens to My Posts If I Deactivate My Instagram Account
If you're considering deactivating your Instagram account, you may be wondering what will happen to your data. The good news is that everything, from your follower list order to your photos, comments, Reels, and likes, will remain intact when you reactivate your account.
Unlike some other platforms, Instagram won't temporarily pull down your data from its servers. Instead, your account data will simply be hidden while your account is deactivated. This means that when you're ready to return to the platform, you can pick up right where you left off without missing a beat.
Still, I'm insisting. You can simply put the hard work in the hands of Instagram unfollow apps to remove followers for you. then, If it still doesn't work, try deactivating your account.
Before Saying Goodbye, Rescue Your Data First
Now that you know how to temporarily deactivate Instagram, for more caution, it's not a bad idea to back up all your information on the app.
To do so, follow these steps:
Again, tap on those three lines in the up-right corner,
This time go to 'Your activity'.
Scroll down and tap 'Download your information' at the bottom.
Add your email address in the slot and click 'Request Download'.
Enter your password.
Check out your Email inbox, Instagram will send you a file.
Now you have your data, relax and deactivate Instagram.
Read Also: TikTok vs Instagram: Which Platform Is Better To Try
FAQs on How to Deactivate Your Instagram
So far, we've discovered how to deactivate Instagram temporarily, but there may be questions jumping to your head. We will cover them here.
1. How Long I Can Deactivate Instagram?
If you have the intention to leave Instagram behind for a while, deactivating is the best option since the data will remain on Instagram forever. So, you can keep your account deactivated as long as you desire.
2. How Long Until I Can Deactivate My Instagram Again?
You can deactivate your Instagram account once a week. In order to do so, tap your profile picture in the bottom right and tap Profile, then select Edit Profile. Scroll down and tap Temporarily deactivate my account in the bottom right.
3. How Long Can I Deactivate My Instagram Before It Gets Deleted?
While Meta's policy states that they reserve the right to delete inactive accounts after 28 days, there's no clear guidance on what constitutes inactivity. In practice, it seems that Instagram only deletes profiles that have been inactive for a year or more.
Conclusion
Remember, taking care of your mental health and well-being is important, and taking a break from social media can be a helpful step in that direction. It's good to know nothing will change if you leave your account deactivated for a while and try mindfulness! Thanks to Instagram this is possible.
By following the steps outlined in this article, you can easily deactivate your account and if you decide to come back to the platform, you reactivate your account at any time by simply logging back in. Just leave social media behind and enjoy!