Are you tired of limited features and restrictions on Instagram? One such tool that has caught the attention of many is Gramho. But is it worth buying?! Let's take a look at Gramho review to help you make an informed decision.
With its innovative features, including an Instagram story viewer, Gramho provides users with an immersive and convenient way to connect with the stories that matter most to them.
Let's dive deeper into this remarkable platform and explore its alternatives on the market. Shall we?! 😀
What Is Gramho
Gramhir, formerly known as Gramho, is an Instagram Viewing and Analyzing Tool! With this platform, you can explore Instagram stories in incognito mode and compare the insights of two profiles effortlessly.
But that's not all! They claim to take it a step further by enabling you to predict the number of followers and likes a specific post will receive. According to the Gramho website, this can help you browse through Instagram profiles, posts, followers, locations, stories, and hashtags anonymously. It's like being a social media anonymous detective!
So, whether you want to delve into your own Instagram world or explore others', Gramho.com has got you covered. Start exploring now and unlock a whole new level of Instagram insights.
Now, Let's dive into the advantages of using Gramho. Ready?! 😉
Gramho Review: What Are the Benefits of Gramho
Gramho, one of the popular Instagram highlight downloaders, has simplified the process of viewing and analyzing Instagram accounts and getting deep statistics.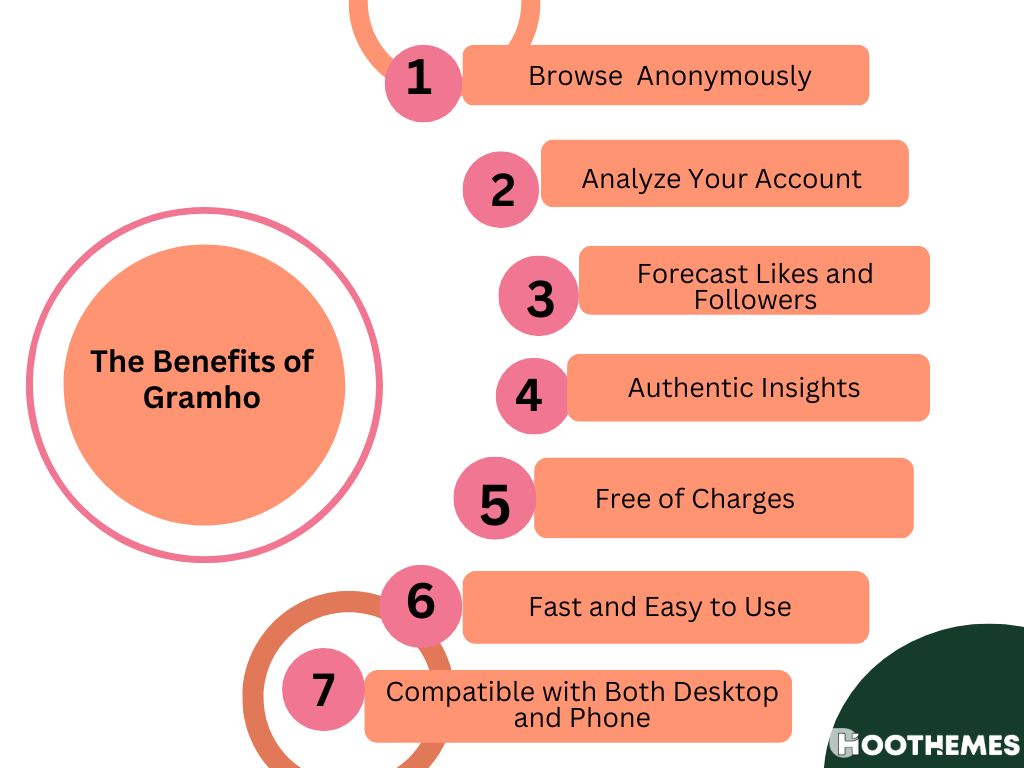 In the following, we're going to discuss some benefits of using Gramho Instagram:
1. Browse Anonymously
You can browse and download Instagram accounts, hashtags, stories, followers, locations, and profiles without revealing your identity.
2. Analyze Your Account
Gramho's unique algorithm allows you to evaluate your Instagram account insights and compare them with others.
3. Forecast Likes and Followers
Users can predict the number of comments, likes, and followers they can expect on their own or others' new posts.
4. Authentic Insights
Gramho provides accurate information about an account, including average likes per post, account rate, average comments per post, and time between posts.
5. Free of Charges
All features of the tool are absolutely free, with no payment required.
6. Fast and Easy to Use
Gramho delivers insights quickly and is designed with minimal complexity for easy handling.
7. Compatible with Both Desktop and Phone
Gramho Viewer can be accessed and used on both PCs and mobile devices, making it widely accessible.
Hope this helps! Now, check out the process of using this platform in the next section!
How Can I Use Gramho
Wondering how to use Gramho? be patient and follow the steps below!
Step 2: Enter the targeted username and discover his/her profile.
Step 3: Once you find out the profile, click on it.
Step 4: Behold! The statistics will be magically displayed at the page's summit.
Step 5: For those captivating videos and photos in the feed, just tap the Download button. As for stories, a single click on the blue arrow icon will do the trick.
And voila! You're officially analyzing Instagram with Gramhir.com! How unbelievably simple is that?!
Apart from having a close look at the benefits of Gramho, you can also use a lot of similar platforms! Go ahead and read below.
Gramho Review: What Are the Best 7 Gramho Alternatives
Although Gramho is a popular platform that allowed users to browse and download Instagram photos and videos, you might seek alternatives to any online platform.
Here are some Gramho alternatives:
1. Inflact: Top Gramho Alternative

This tool provides an extensive range of information and data that surpasses what Gramhir offers. Getting started is simple – just enter a username. Immediately, Inflact gives you access to essential details like the account's post count, follower count, and average user activity.
Inflact enhances your understanding further through informative charts. One chart displays the profile's average number of posts published based on both the day of the week and the time of day. Similarly, another chart illustrates the average activity the account generates during specific weekdays and times. By comparing these two charts, you can identify the optimal posting times for your own content.
Inflact Pros
The website ensures security,
Verified payment gateways,
The team can be reached via email,
Responsive customer support.
Inflact Cons
The app utilizes Instagram bots,
Technically, it violates Instagram's terms of service.
Also Read: Best Time to Post on Instagram: The Ultimate Guide 2023
2. Picuki: Free Alternative for Gramho
This platform also referred to as Picuki, offers a user-friendly experience and includes features that are absent in Instagram's search engine! Picuki enables you to explore Instagram privately and retrieve content from both your friends' profiles and your own account.
You can use Picuki to browse tags, locations, posts, profiles, followers, stories, and accounts easily and conveniently. Let's take a look at its pros and cons:
Picuki Pros
Picuki enables users to download Instagram pictures without the need to log in, saving time, and ensuring anonymity,
The platform allows users to view private profiles and repost content on Instagram.
Picuki Cons
Not compatible with Android devices,
More suitable for iPhone and desktop users,
Users cannot delete their own content from Instagram, leading to frustration.
But that's not all! You can also read more about this platform and Picuki alternatives!
3. Toolzu: Instagram Analyzer
Users can utilize artificial intelligence to search for tags using either a photo or a URL instead of relying solely on keywords. Toolzu offers comprehensive data and analytics on hashtags, allowing users to analyze their performance and identify the top posts to gain insights into the competition. 
Prepare to dive deep into any profile you desire, unveiling a treasure trove of data: Discover the number of uploads, and followers, and witness engagement and user activity like never before.
With this Instagram hashtag generator, Hashtags are organized into different groups based on their level of difficulty in reaching the top, and users are encouraged to combine ideas from multiple difficulty groups.
Toolzu Pros
No need for downloading apps or signing up,
Accessible from any browser and operating system,
Free of charge.
Toolzu Cons
Unable to download photos from private accounts,
Requires upgrading to a premium plan for full profile downloads.
4. Path Social: Free Alternative to Gramho
Unlike Gramhir, Path Social not only gives you important details such as the number of people following you and the content you share, but it also provides special knowledge that can greatly enhance your performance on Instagram.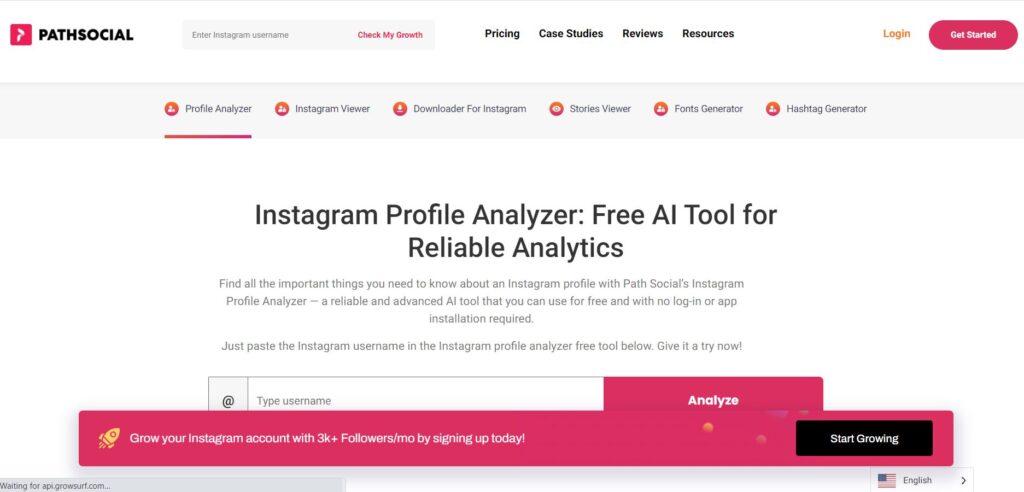 Path Social Pros
Provides a service to help you acquire genuine and active Instagram followers,
Utilizes an exclusive AI targeting algorithm for exceptional results.
Path Social Cons
It doesn't offer free trials.
Read Also: How to Get Sponsored on Instagram: Proven Strategies and Tips for Success
5. Imginn: An Alternative for Gramho
Introducing Imginn, a website that lets you explore public profiles in incognito while viewing others' profiles.
Imginn Pros
Designed for browsing Instagram content,
Provides a platform to explore Instagram without distractions,
Offers a clean and minimalist interface.
Imginn Cons
Does not support features like posting or liking on Instagram,
Lack of interactive elements,
Certain components are missing, which raises safety and reliability concerns.
Also Read: How to Use Instagram Filters & Effects Easily in 2023 [Without Posting]
6. Saveinsta: Instagram Video Downloader
Why Saveinsta? It is a convenient website for instantly downloading videos and photos from Instagram. The great advantage is that you don't require any specific software or application to download content from Instagram. All you need is a browser, and a reliable internet connection, and you're good to go!
SaveInsta offers a wide range of downloadable content from Instagram. Prepare yourself for an abundance of options! You can save Instagram reels, IGTV videos, beautiful images, captivating videos, and even intriguing stories. But take a look at its pros and cons:
SaveInsta Pros
The interface is uncomplicated and easy to navigate,
It enables users to download both photos and videos from Instagram,
No Instagram login is necessary to use the app.
SaveInsta Cons
The presence of ads may cause interruptions and disturbances,
It offers fewer features when compared to other tools.
Also Read: How to Download Instagram Reels in 2023: The Complete Guide + Best Tools
7. SmiHub: Popular Instagram Analyzer
It is a discreet Instagram monitoring tool that allows you to achieve various goals. With SmiHub, you have the ability to secretly observe and evaluate the content being posted by your competitors on their Instagram pages, targeting their desired audience. 
SmiHub Pros
You don't have to go through the process of downloading or installing anything to utilize this Instagram story viewer,
Simihub is an online tool that comes at no cost, and there is no requirement for registration.
SmiHub Cons
The blog is not currently active,
The website contains excessive and annoying advertisements,
Simihub offers fewer features and services compared to other Instagram viewer options,
Smihub does not allow you to view private Instagram profiles.
Keen to learn more about SmiHub?! Click on SmiHub Review and discover all you need to know about this tool!
Ainfluencer: The Professional Influencer Marketing Platform
The Instagram viewer Tool and influencer marketing tool can work together to boost the effectiveness of influencer marketing campaigns. The viewer tool analyzes Instagram profiles, providing valuable insights into an influencer's performance, engagement, and audience. This helps marketers choose the right influencers and optimize their own Instagram accounts.
Meanwhile, 'Ainfluencer' is an all-in-one influencer marketing platform that simplifies the influencer marketing process. It facilitates discovery, collaboration, and campaign management. 
By combining insights from the viewer tool with 'Ainfluencer,' marketers can make informed decisions and run successful influencer campaigns.
Sign up today to maximize your business success!
FAQs on Gramho Review
Now, let's take a look at some frequently asked questions regarding Gramho's review and its alternatives! Shall we?!
1. Is Gramho.com Instagram Analyzer And Viewer Free?
Absolutely! you can use Gramho.com for free. They don't require any money or subscription fees from you. And the best part is, you don't have to think about any expensive upgrades. You can enjoy unlimited access to their services without paying anything.
2. Is Gramhir Instagram Viewer Legitimate?
Yes! Gramho Viewer is a completely legitimate platform for monitoring Instagram accounts. This tool allows you to browse and track different profiles anonymously.
To Wrap Things Up
In summary, when we assess Gramho and look at other options. Gramho offers some information about Instagram profiles, but since it has some downsides, we can use other strong platforms instead. There are many other choices now, so users can try them out.