Almost everyone on Instagram has faced reel videos on their explore page and wondered how they have appeared there. The key behind their success is using high-quality Instagram reel templates, videos, and engaging soundtracks.
In this article, we will show you how to make reel videos using pre-ready templates to help you save time and energy. 
If you are an Instagram content creator/influencer, you can earn money from your reel videos/posts through influencer marketing. Ainfluencer has made collaborations for brands and influencers easier than anytime before. 
What Are Instagram Reel Templates
The power of Reel videos on Instagram to boost your engagement rate and interactions is not hidden from anyone. However, not every video goes viral; you need to spend time creating high-quality content using different effects.
To save you time, there are pre-designed Instagram reel templates that provide a framework for creating visually appealing Reels. These templates often consist of a combination of text, graphics, and other design elements that you can easily customize to match your brand's style and message.
Most Instagram influencers who don't have enough time use these professional templates since they have to create content instantly.
How To Use Instagram Reels Templates
The process of using Instagram Reel Templates depends on where you find these templates. So, let's take a look at the best ways to look for Instagram reels template free and see how to use the.
1. Instagram Editor Templates
The best place to find Instagram reel templates is on Instagram itself. There are many ready-to-use templates you can check and use for free. To use template Instagram reels follow these steps:
Log into your Instagram account and tap the "+" button from the bottom of your screen to open your camera.
Swipe the bottom tab to the "Reels" option to start recording reel videos. (You can also go to your profile, tap the "+" icon at the top of your screen and choose the "Reel" option.)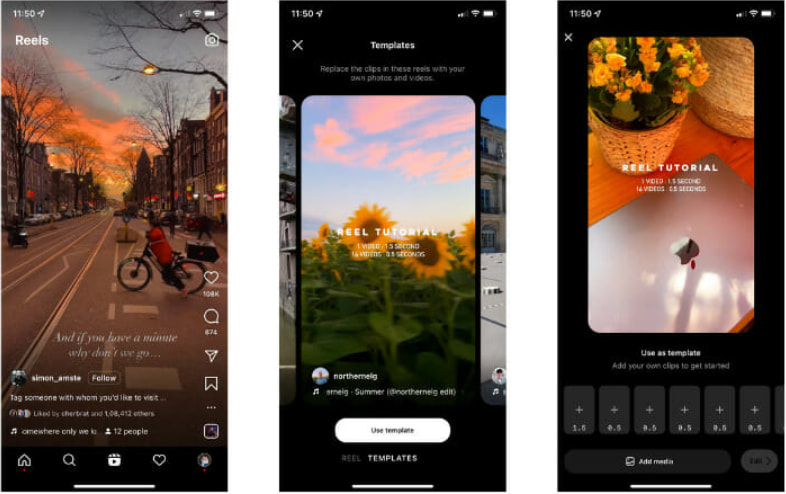 Record your video or choose one from your gallery.
Tap on the "Templates" option at the bottom of the screen.
Here you can scroll through the different Reels templates available in the library and choose the one you like.
2. Trending Reel Videos
Checking the Reels tab, you can find hundreds of videos of trending reel songs to get inspired, and might want to recreate some of them. Fortunately, this option is available for all digital creators. Here is how to use the template on Instagram reels from others' videos:
Open the Instagram app and go to the reels tab.
Explore the top videos till you find the one you like. If the creator has set the permission, there is a "Use template" option under the video.
Note: If this video is created outside of Instagram, you can't see this option.
Tap on the "Use template" button to use this template for your video.
Add your video to this template, and add effects and other details.
Once you are done, publish the video as you always do.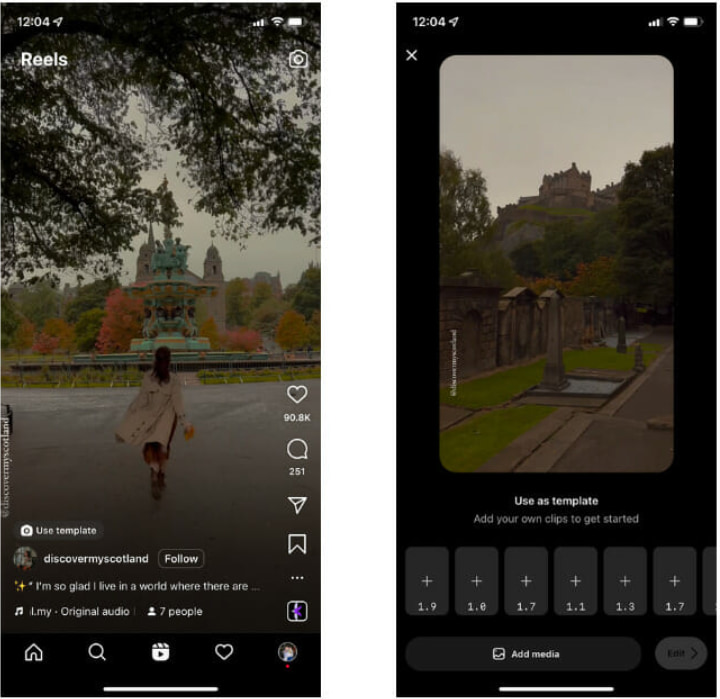 3. Canva
Canva is a popular graphic design platform that offers a wide range of templates, including Instagram Reels Templates. To use Canva, follow these steps:
Visit the Canva website or open the Canva mobile app.
Sign in to your account or create a new one if you don't have an existing account.
Search for "Instagram Reels Templates" in the templates section.
Browse through the available templates and select the one you like.
Click on the template to open it in the Canva editor.
How To Earn Money Through Reel Videos?
If you are an Instagram influencer who is looking for reel templates to create your content, we got you covered in this article. But did you know you can earn money from your reel videos? In this part, we will show you how to do this.
Influencer marketing is one of the best ways for Instagram influencers and content creators to get paid for Reel videos. By partnering with brands, influencers can promote products, services, or campaigns through their Reel videos and earn a commission or flat fee in return.
One of the best platforms that can help you find potential brands for partnerships is Ainfluencer. This trusted influencer marketing platform connects brands and influencers of various niches. With powerful search and filtering tools, you can find the best brand.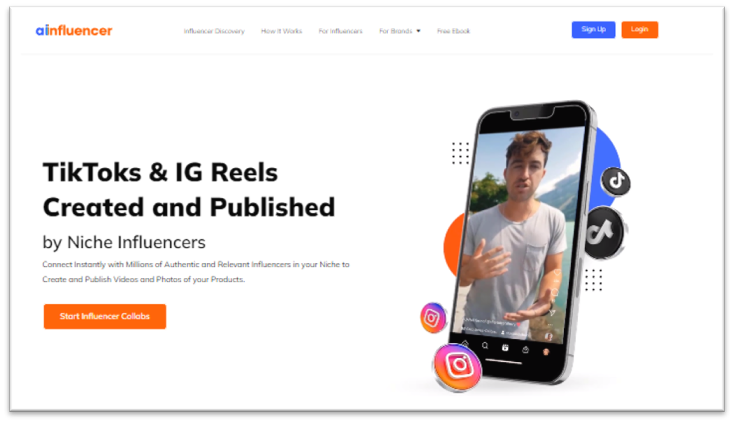 And you know what is the best part? It's totally free to use! Once you reach 5k followers on Instagram, you can signup on Ainfluencer and start monetizing your content.
FAQs on Instagram Reel Templates
Till here, we have discussed what are Instagram reel templates, how to use them, and where to find free templates. Now, let's answer some of the most frequently asked questions about templates for Instagram reels. 
1. What Is An Instagram Reel Template?
Instagram Reel Templates are pre-designed layouts and graphics that can be used to create engaging and visually appealing video content for Instagram Reels. These templates provide a convenient and time-saving solution for content creators by offering ready-made designs that can be customized with their own content.
2. Where Can I Find Instagram Reel Templates?
There are several places where you can find Instagram Reel Template. You can explore graphic design platforms like Canva, which offer a wide range of templates for various social media platforms, including Instagram Reels. Additionally, there are third-party websites and template marketplaces such as Canva that provide free and premium Instagram Reel Templates.
3. How Do I Customize Instagram Reel Templates?
Customizing Instagram Reel Template is a straightforward process. Once you have chosen a template, you can replace the placeholder and add images or videos from your gallery.
4. Can I Use Instagram Reel Templates For Commercial Purposes?
Yes, Instagram Reel Templates can be used for commercial purposes, depending on the licensing terms of the templates you use. It is important to check the licensing agreement or terms of use for each template to ensure that you comply with the creator's guidelines. Some templates may require attribution or have specific restrictions, so it's crucial to review and adhere to those requirements.
Conclusion
Instagram Reel Templates are a valuable resource for digital creators looking to create high-quality content without spending so much time. By using these templates create eye-catching content that engages your audience.
In this article, we've shown you how to find these templates for free and use them for your videos. Also, we showed influencers how to earn money from their content on Ainfluencer.