Are you looking to create impressive and engaging TikTok videos that will capture the attention of your followers or even become viral among TikTokers? TikTok video editing apps provide various options to make a normal video look like Nolan's movies with a few clicks!
As trends and techniques continue to evolve, it's important for influencers to save their position in the social marketing industry. Thankfully, there are resources available, such as the TikTok marketing guide, which can provide valuable insights and tips to help influencers improve their content and build their career professionally.
In this article, we will review the top TikTok video editing apps and compare their features, their best usage, the latest updates, and pricing. Find the best TikTok video editing app and stay ahead of the curve.
1. Inshot: Powerful HD Video Editor
There was a time that you asked a friend about the best tiktok edit app that is easy and does all the work, and they said: 'Download Inshot' because it is the versatile app of the best TikTok video editors.
InShot offers a wide range of features, including retouching, magnifier, free stock footage, and the option to use third-party music options. You can even adjust the speed of your videos and import animations or GIFs from separate Giffy apps to make them stand out.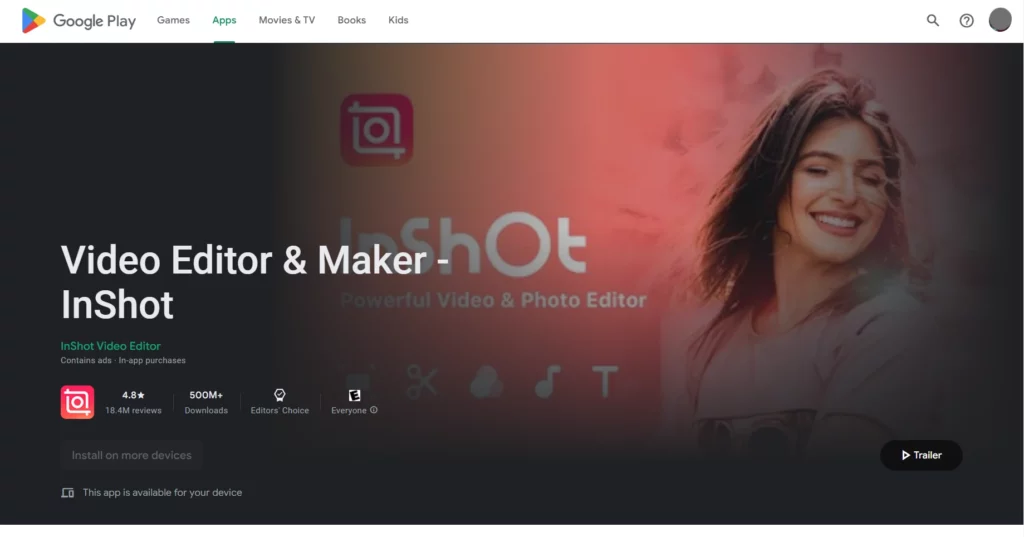 One of the most exciting features of Inshot is its ability to create video collages, which is perfect for those who want to showcase multiple clips in a single video. Plus, there is an option to remove background noise, what else an influencer could want from a mobile app?
Pricing: Free, the Pro version: $3.99 monthly & $14.99 annually, and $34.99 forever!
Available on: Android, iOS
Latest update features:
Mask stroke,
Tracking: Make the materials move with the target,
New effects pack 'Weather'.
2. Funimate: Powerful Video Editor and Advanced Motion Design
This tool is a revolutionary video editing software specifically designed for TikTok users. This app boasts exclusive features such as the ability to create smooth velocity, insert pictures behind videos, and produce slow-motion glitches, all of which elevate the quality of your TikTok content to new heights.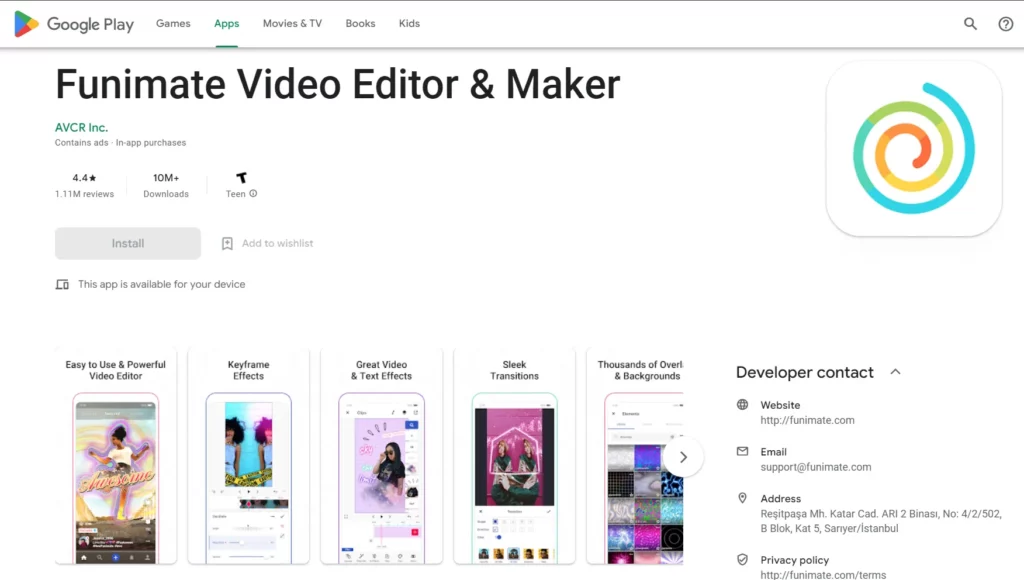 But wait, there's more! Funimate also allows you to create captivating lip-sync videos that synchronize perfectly with your favorite songs. Furthermore, You can even collaborate with other users on Funimate to create joint videos, which can help you build your following and connect with other TikTok users.
Although limited music selections in the app would be the downside, the ability to submerge the camera to change the direction of the flashlight is mindblowing!
Pricing: Free with watermark, Starts at $2.99
Available on: Android & iOS
Latest update features: Not mentioned by the company.
3. Power Director: Best AI Video Maker
Power Director reigns supreme when it comes to video editing apps. There is almost nothing you can't do with it. Some of its features include the voice changer and recorder, censoring faces, video stabilizer, motion design, and tilt-shift effects, some people say this app is best for anime videos.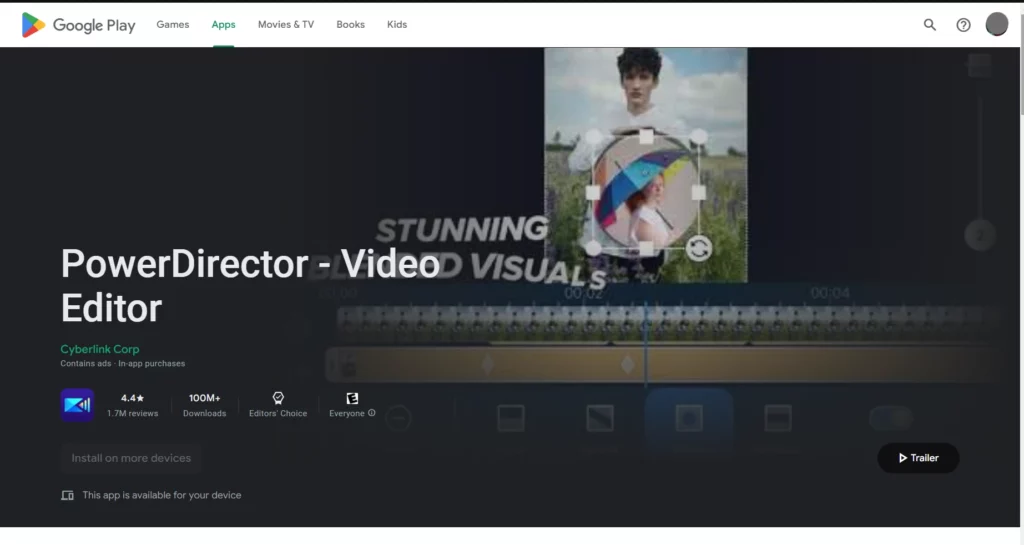 But the most interesting part is HotKeys, which is PowerDirector's coined word for shortcuts; to learn all the hotkeys that are available on PowerDirector, all you have to do is press 'Alt + H' on Windows and 'Option + H' on a macOS device. Enjoy!
Pricing: Monthly plan starts at $19.99, Annual plan starts at $51.99
Available for: Android, iOS
Latest update: They are using an AI generator, awesome!
AI generator to customize stickers,
AI Wraparound Effects,
Subtitle Templates.
4. Zoomerang: Free Video Effects
This app is built for beginners. With step-by-step tutorials for different features, the team made it easy to work with Zoomerang. Among video editing apps, this one allows you to connect the app to TikTok, Instagram, and Snapchat.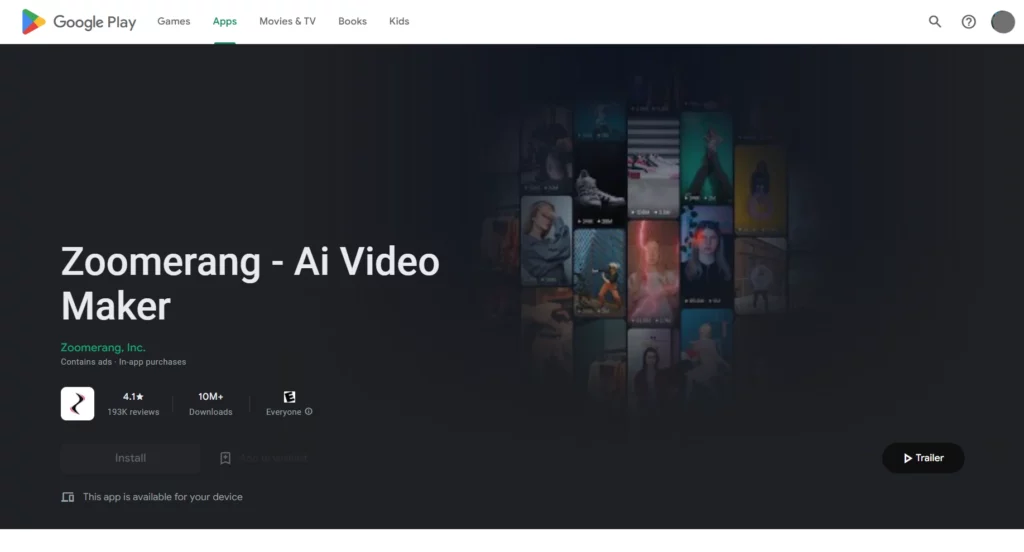 The exceptional feature that truly sets Zoomerang apart from other TikTok video editing apps is its ability to change the color of outfits with ease. Another feature of this app is the option to create stop-motion videos, which can be a fun and creative way to showcase your content on TikTok.
Pricing: $29.99 annually or $4.99 weekly
Available for: Android, iOS
Latest update:
AI Art Integration: Now templates with AI Art,
UI/UX improvements.
5. CapCut: Video Editor for Android
With over 500M downloads on Google Play, Capcut is one of the best TikTok video editors. A remarkable detail about CapCut is the 'Magic Cut' feature, which uses AI technology to automatically identify and remove unwanted objects in a video. This feature can save users a lot of time and effort when editing their videos.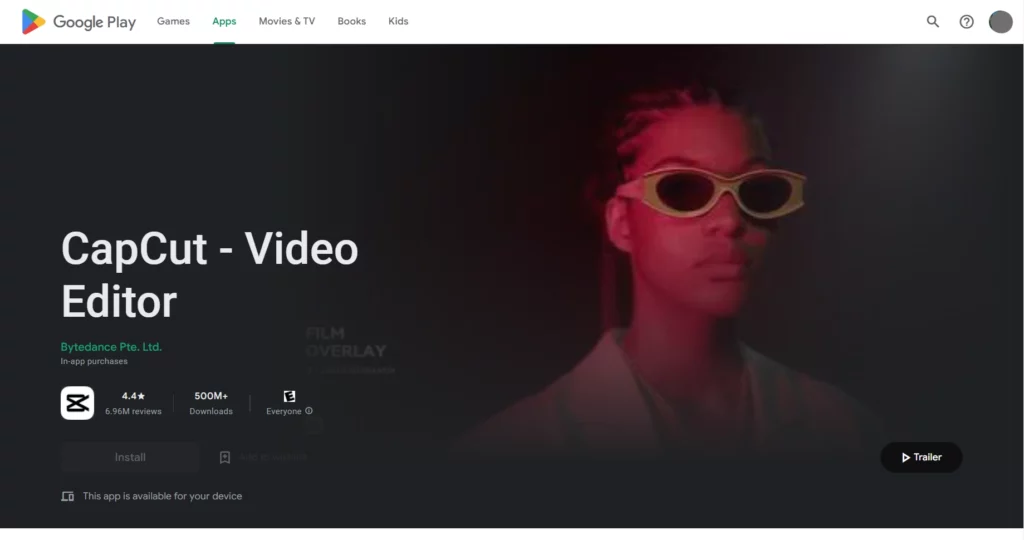 Another great feature is the app's ability to support high-definition video editing, allowing you to create high-quality videos that are perfect for TikTok.
If you are looking for a free video editing app that includes trending stickers and custom TikTok fonts, CapCut is your answer.
Pricing: free
Available for: Android, iOS
Latest update: Not mentioned by the company.
6. Magisto: Google Play Editor's Choice
Magisto is here to help you make a movie from zero to ten. Decision-making would be hard in Magisto since it contains 3+ million stock video clips and 25 million photos, Can you imagine? 
This tool is the best app for TikTok video editing that uses AI technology to automate the video editing process, then analyze the footage and automatically edit the video for you, want more? Like adding music, transitions, and effects? Will do!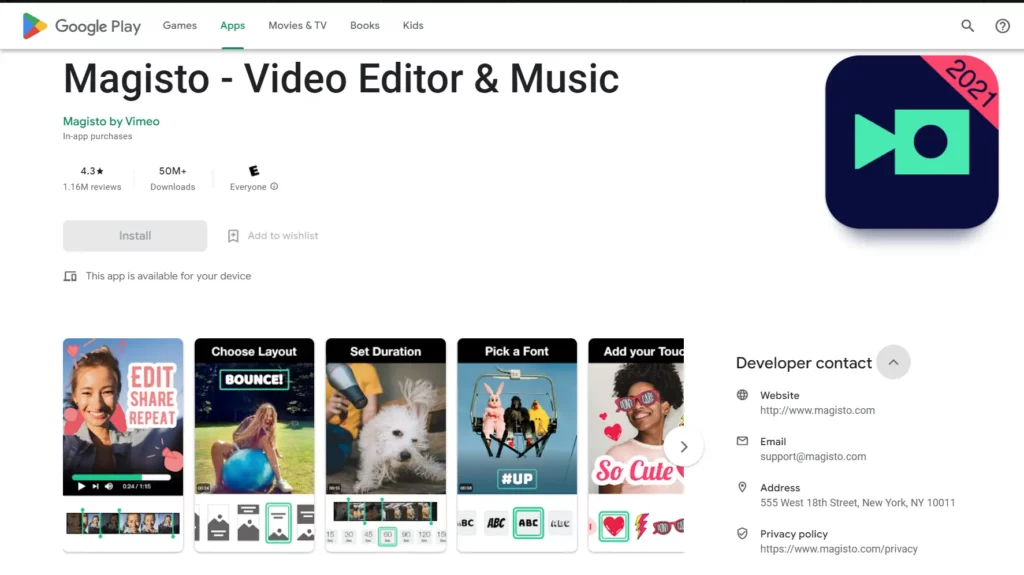 A powerful feature of Magisto is the 'Emotion Sense Technology', which analyzes the emotions conveyed in the video and chooses appropriate music and editing styles to match the mood.
Pricing: Free. Paid plans: $4.99 Premium, $9.99 Professional & $34.99 Business.
Available for: Web, Android, iOS
Latest update:
An improved B-roll feature,
50+ new custom fonts,
Custom trim tool.
7. Kinemaster: Super Resolution
KineMaster is a professional-grade TikTok video editing app with an extensive library of editing options, including multiple layers of video and audio, a complete music catalog that is royalty-free, and even color adjustments.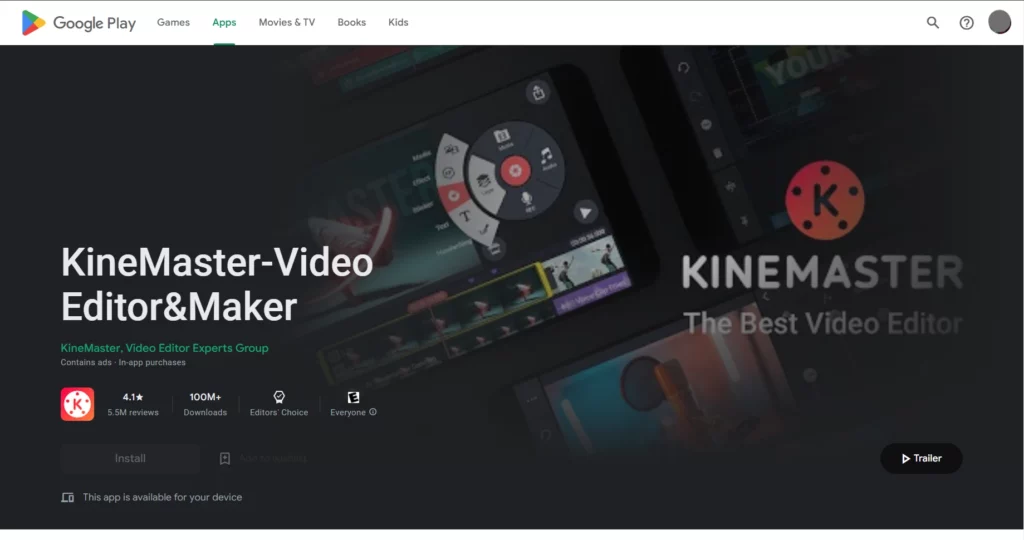 KineMaster is one of the Tik Tok editing apps that has the 'Chroma Key' feature, which allows users to replace a solid color background with an image or video. This feature can be used to create green-screen effects, that's what makes it a proper choice for content creators who prefer special effects on their videos.
Pricing: Free to use. Payments only to unlock some filters and stuff.
Available for: Android, iOS
Latest update:
3D transitions options volume control & LUT filters,
Trim-crop multiple layers of video clips.
8. Lomotif: A Home for Everyday Creators
The app offers a range of features and editing tools that are simple to navigate, making it a great option for both beginners and experienced users.
What is significant about this app, is the option to create video montages, allowing you to combine multiple clips into a single video.
Lomotif has its own social community, it's a social video community for editing nerds who want to share their creativity and build trends.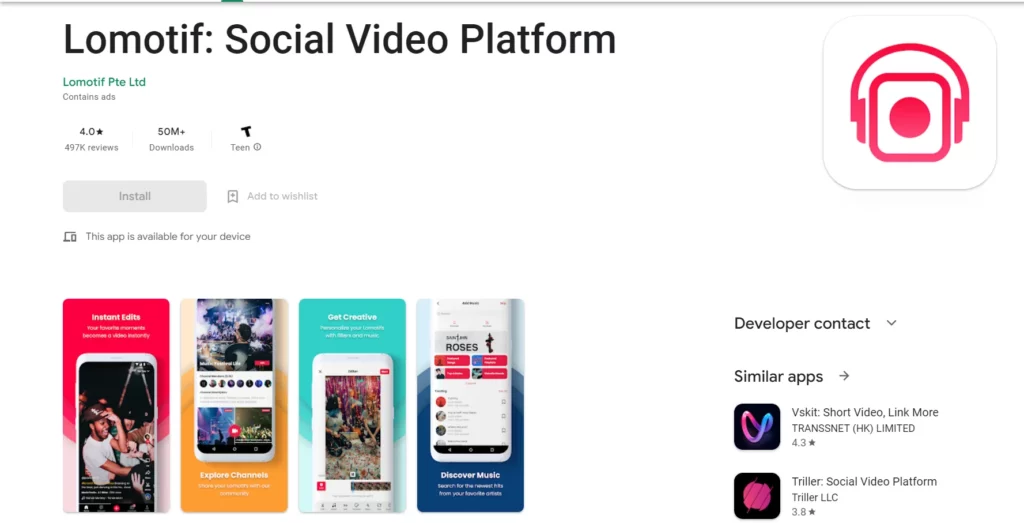 One of the biggest drawbacks is that the free version of the app includes a watermark on your videos, which can be a bit distracting. But don't worry, we have the solution in Hoothemes, here are TikTok watermark remover apps.
Pricing: Free, $4.99 to remove watermarks.
Available for: Android, iOS
Latest update: Backend Improvements.
9. iMovie: Free Editing App for Apple Users
Are you a beginner at editing with an iOS device? The best video editing app for amateur iPhone users is iMovie. One of the biggest advantages of iMovie is that it's a free app that comes pre-installed on your iPhone, so you don't have to worry about downloading and installing any additional software.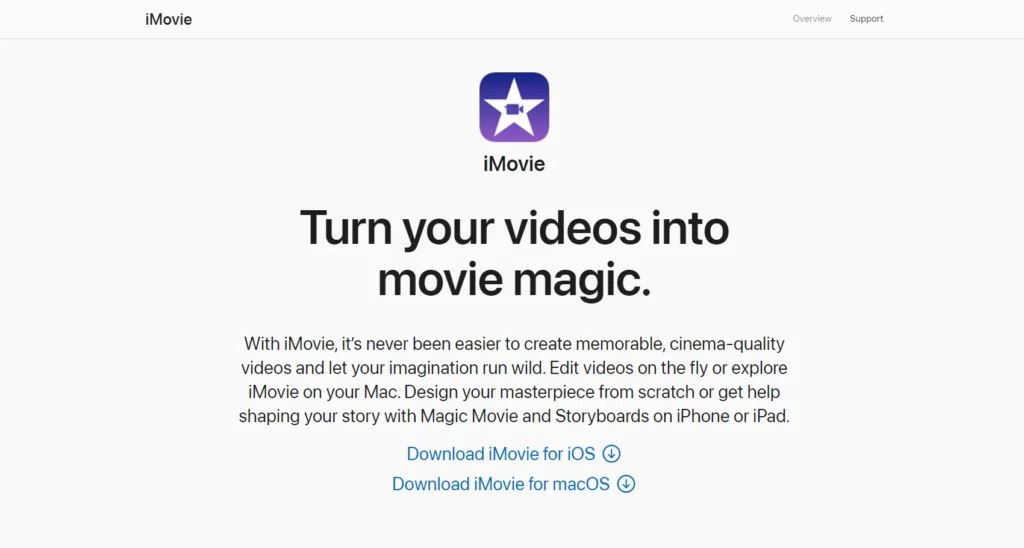 In order to have visually stunning videos you can use slow-motion speed ramping, J-cut & L-cuts, and green screen effects.
Pricing: Free
Available for: iOS & macOS
Latest update: Stability and Performance Improvements.
10. TikTok in-app Editor: Variety of Video Templates
TikTok has become a universe itself. If you get online in the morning you could immerse yourself in it till the afternoon without being exhausted. If you are a TikTok addict at least learn to make money on TikTok.
Anyways, the great advantage of using TikTok's in-app video editor is that it's a free and easy-to-use tool that comes built-in with the TikTok app. One of the issues of this Tik Tok editing app is that the editing tools are somewhat limited compared to other video editing apps, which can be frustrating for more experienced users.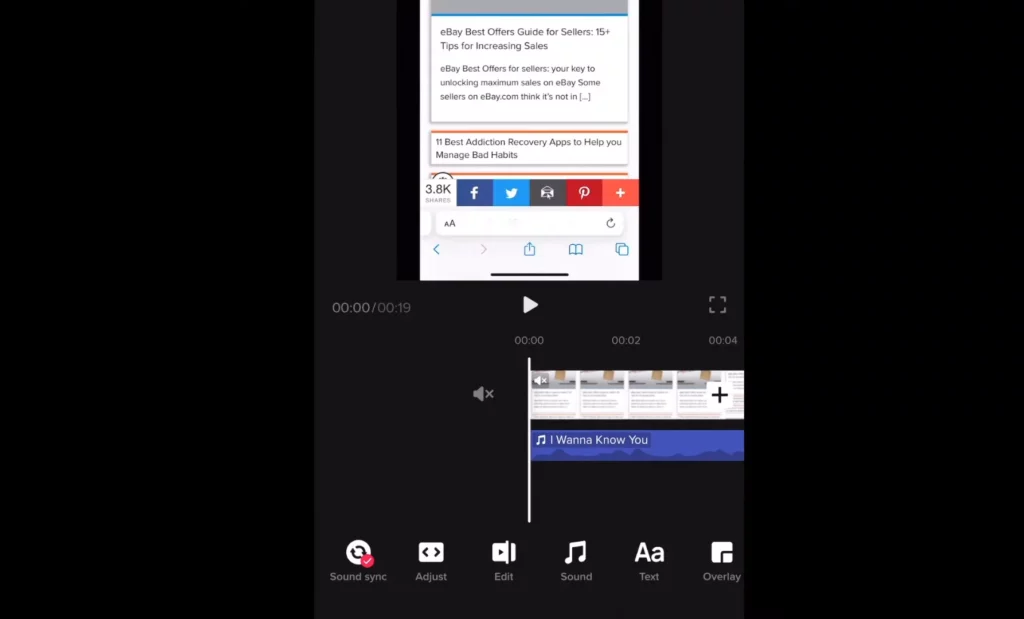 Once you've recorded your footage, the app is capable of applying any relevant templates and music to your video. You can also use TikTok's built-in voice changers and voice-over capabilities to add a unique touch to your content. Additionally, the app allows you to adjust the speed and duration of your clips, giving you greater control over the final product.
Just make sure to use the latest update available on Google Store in order to use all these features properly.
Pricing: Free
Available for: Android & iOS
Latest update:
GIPHY in Green Screen,
One-tap visual enhancement,
New musical and animal voice effects.
Read Also: How to Unfollow on TikTok: The Ultimate Guide in 2023
FAQs of TikTok Video Editing App
There are a variety of best tiktok video editors out there. In this article 10 of the Top video editors have been mentioned. Now it's time to answer the frequently asked questions by our fellows.
1. What Is The Best Video Editing App For TikTok?
We've already introduced the 10 best video editing apps for TikTok and Reels, but our editors' choice is PowerDirector since it's the most executive one due to the diversity of detailed options mentioned in this article.
2. How Do People Edit TikTok Videos?
Mostly, people choose TikTok's in-app video editor as the best tiktok video editing app since it's easily reachable for people and it's easy to work with even if you don't know anything about editing a video.
3. How Can I Edit TikTok Videos?
You can use TikTok exclusive editor but if it's not enough, The best solution is to use third-party apps after recording the video. Choose one from this article and become a professional.
Conclusion
When you have the right video editing app in your toolkit, the possibilities for viral TikToks are endless. From CapCut to Lomotif and iMovie, each app offers a range of features and editing tools that can help you create high-quality videos that stand out on TikTok.
A full package tiktok video editor is the one that helps you learn more about engaging content. although it's not only about the content you make. The ability to upgrade the video to something that gets everyone's attention is more important. Be creative when using different effects and trend editing features.