Have you ever been taught how to unfollow people on TikTok? It's quite common to follow users impulsively and end up with a feed that looks like a surreal painting! But worry not, it's time for a little housecleaning!
While there are plenty of Instagram unfollow apps, unfortunately, TikTok doesn't have such dedicated tools. But there is hope, the process of unfollowing is simple and consistent on both Android and iOS devices. Here are different answers to 'how to unfollow on TikTok'.
How To Unfollow on TikTok
TikTok gives its users the ability to control what they see and change the content they receive by following or unfollowing TikTokers. Further explanations regarding the unfollowing process, would work for iPhone devices the same as Android ones. Don't worry, it's easy peasy lemon squeezy!
#1. How To Unfollow Someone on TikTok: Profile Follow Icon
The process of unfollowing one individual person will be:
Open the TikTok app on your mobile device and log in to your account.
Go to the Profile of the user you want to unfollow.
Tap the 'Following' button just below the user's profile picture.
This will bring up a menu with two options: 'Unfollow' and 'Notifications' Tap on the 'Unfollow' option. A confirmation message will appear asking if you want to unfollow the user.
Tap 'Unfollow' again to confirm.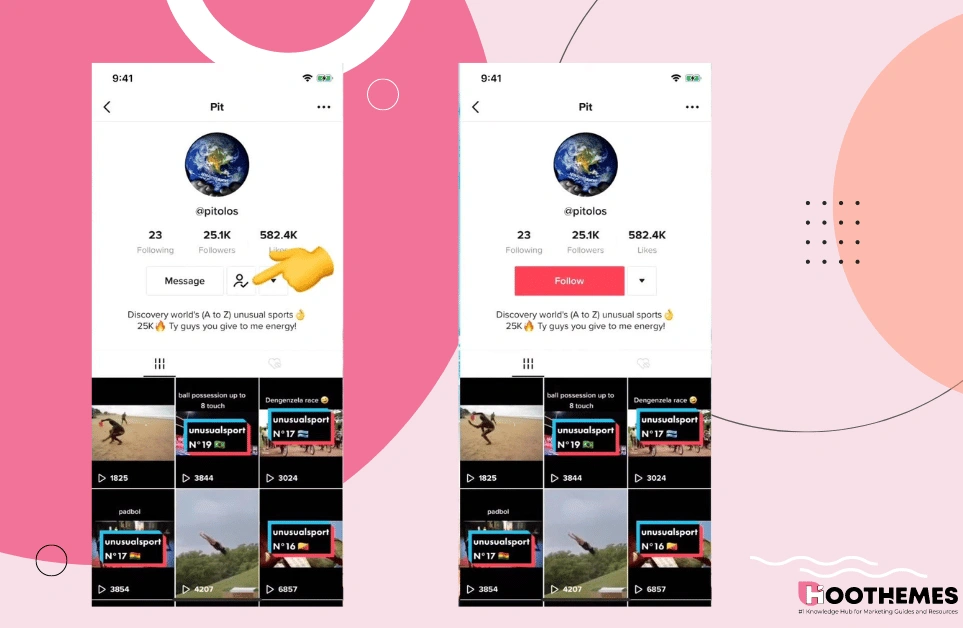 The user's profile will no longer appear on your Following list, and you will no longer receive notifications for their content.
#2. How To Unfollow People on TikTok: Blocking Them
Keep in mind that any user that you block will be unfollowed automatically.
If you decide to block someone on TikTok, it's a relatively straightforward process. Here's what you need to do:
Open the TikTok app and go to the user's profile you want to block.
Tap on the three dots in the upper right-hand corner of the screen.
Select 'Block' from the list of options.
Confirm that you want to block the user.
Once you've blocked someone on TikTok, they won't be able to view your profile, follow you, or send you messages. Additionally, any comments or videos they've posted on your profile will be removed.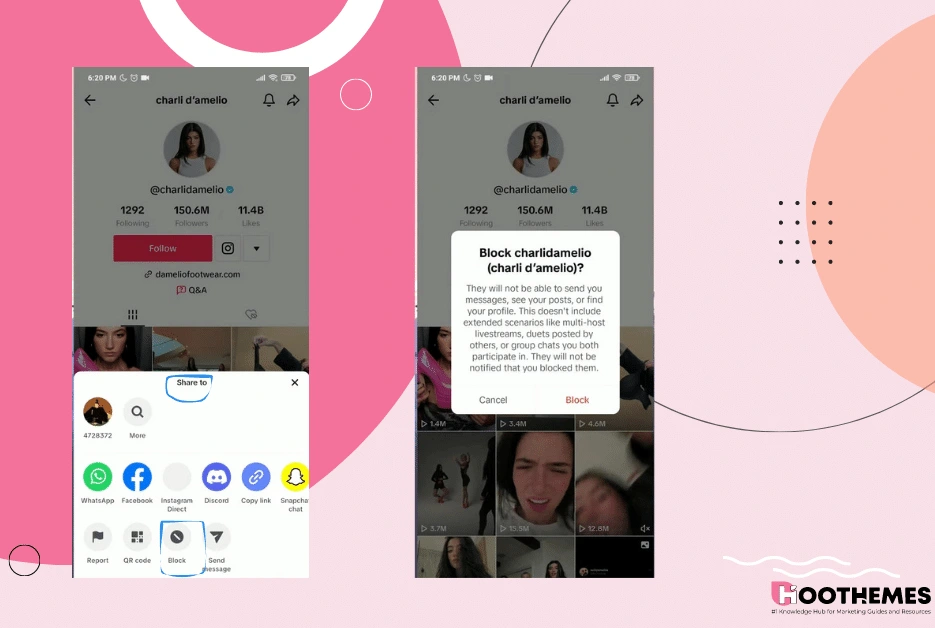 It's important to note that blocking someone is a serious step, and should only be taken if you're experiencing harassment or other harmful behavior. If you're simply looking to avoid certain types of content, you can use TikTok's 'Digital Wellbeing' feature to filter out certain types of videos.
How To Mass Unfollow on TikTok
There is a rule to unfollow everyone on TikTok: each day less than 200 unfollows are possible. If you are familiar with how to mass unfollow Instagram, the TikTok process would be easy for you. After going through this section, you'll become a pro at unfollowing on TikTok in no time! There are three simple methods, and we'll provide clear explanations for each one below:
#1 Report a Problem
Open TikTok on your device.
Tap on 'Me' from the bottom bar to open the Profile section.
Tap on Privacy and Settings. Report a Problem option under SUPPORT.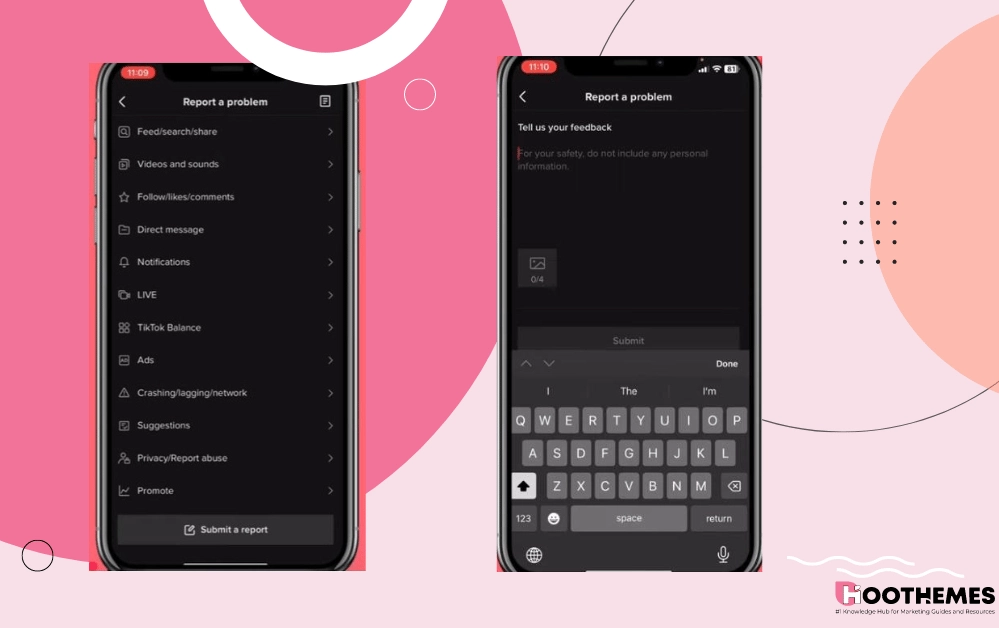 #2 Google Chrome Extension:
Open a Chrome browser window.
Find 'TikTok Unfollower' in the Google Chrome store. (No need, here it is! TikTok unfollower)
Click 'Add to Chrome'.
Add extension.
Open the TikTok website in a new tab and sign in.
Click 'Following'.
Next, select the TikTok Unfollower icon from your extensions.
To configure the unfollowing feature of the extension, you may set the minimum and maximum number of seconds you wish to leave between each account. The extension will then randomly unfollow accounts within this time frame.
Set the limit for accounts to unfollow.
It's time to start it!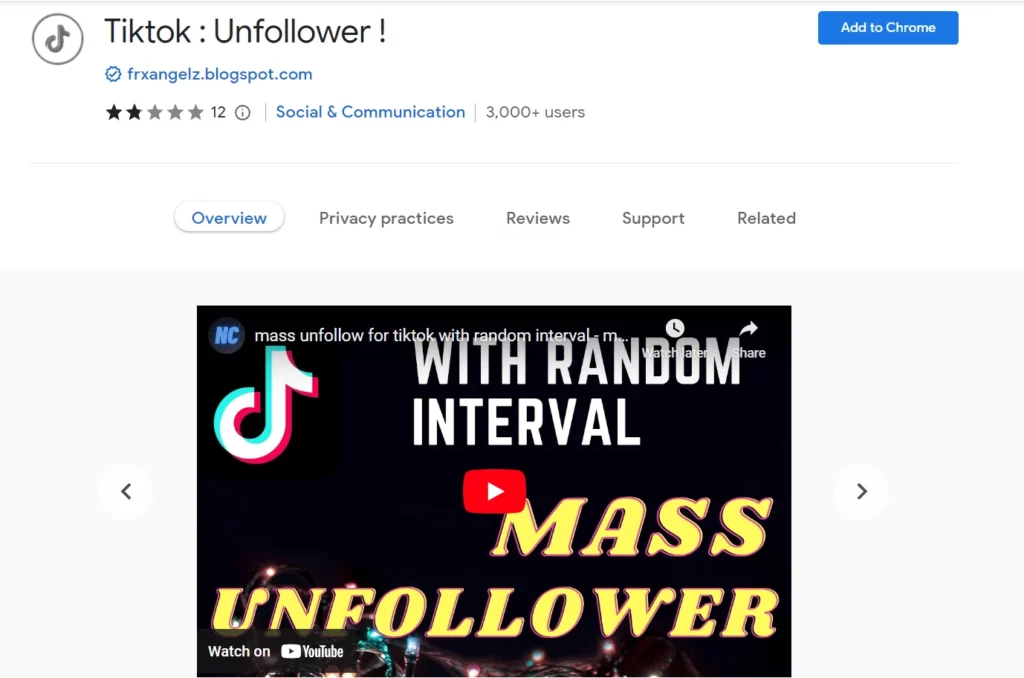 #3 Following List
This procedure is just like unfollowing one person, you should go to your following list and tab on the 'Following' icon. Only you do it for several people (again, less than 200 at once).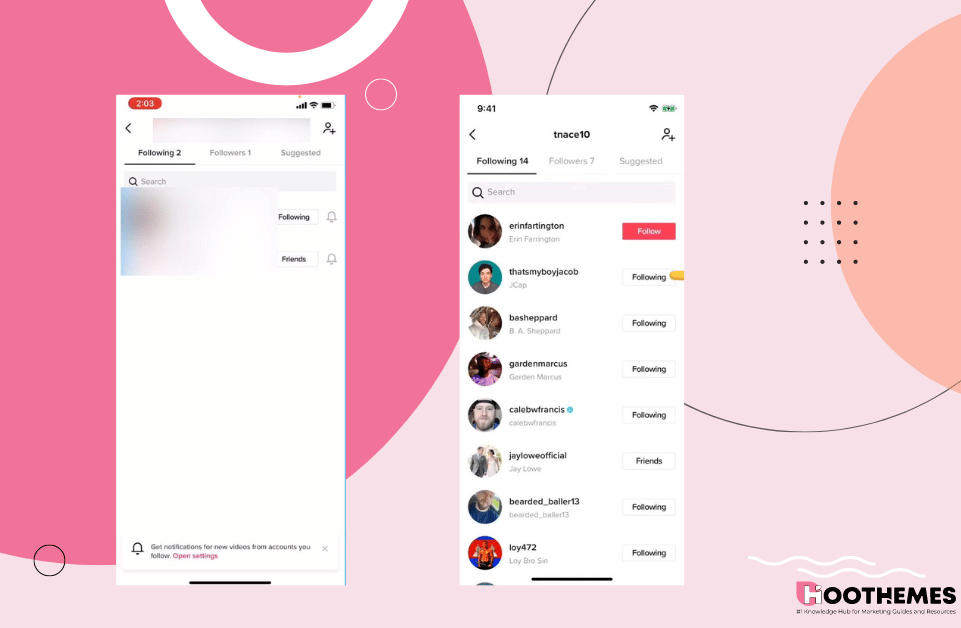 Now you have learned How to unfollow everyone on TikTok at once on iPhone and Android devices.
Does TikTok Notify If You Unfollow Someone
TikTok, like many other social media platforms, does not send notifications for unfollowing actions. This is to protect users' privacy and prevent negativity from spreading on the platform.
If a TikTok user chooses to distance themselves from someone's account, they can do so without the other person getting notified. Although the app doesn't send a notification to the person you unfollow, it's up to them to notice the change. Some people use TikTok viewers that show them who unfollowed them on TikTok, some apps like Tiktracker do that.
Why Should You Learn How To Unfollow on TikTok Fast
TikTok is home to a wide variety of content, and specific trends or creators may pique your interest. However, as these trends fade or the content becomes repetitive, it's important to declutter your feed by unfollowing those accounts. This can help ensure that you're seeing the content that's most relevant and enjoyable to you on the platform.
We strongly advise against the use of bots to manage unfollows on TikTok. This practice violates TikTok's policy and may result in removal from the platform.
Nonetheless, if you accidentally followed someone or no longer wish to follow them, you can easily unfollow them on TikTok just like any other platform.
Read Also: The Best Trending TikTok Hashtags
FAQs on How to Unfollow on TikTok
We provide you with different ways TikTok allows its users to unfollow other accounts so far. Now, let's discuss some of your frequently asked questions.
1. How To Unfollow Banned Accounts on TikTok?
If you're looking to unfollow banned TikTok accounts, it's a straightforward process. First, type 'TikToker' in the search bar. Banned accounts on your list won't have a profile picture and will have 'TikToker' displayed below their username. From there, click on 'Following' to unfollow any banned users on your list.
2. How Do I Delete Followers On TikTok Fast?
Tap on the 'Profile' icon located at the bottom right of your screen.
Tap on 'Followers' to access your list of followers.
Find the follower you would like to remove and tap on the three-dot icon located next to their name.
From the options that appear, select 'Remove this follower'
3. How To Unfollow Everyone on TikTok At Once?
Unfortunately, it is not currently possible to unfollow multiple TikTok accounts at a glance. In order to unfollow several accounts at once, the best way is the Google extension, called 'TikTok unfollower', for now.
To Wrap Things Up
Certainly! Unfollowing people on TikTok is a quick and easy process that allows you to curate your feed to suit your preferences. Whether you're looking to declutter your feed, or simply want to avoid certain types of content, unfollowing users who no longer interest you is a great way to do it. If you know better ways how to unfollow on TikTok feel free to share it with us in the comment section below.