Ready to maximize your video views on TikTok? Want to grow your followers? That's where trending TikTok Hashtags come to help you.
Understanding how to make amazing TikTok videos is only the start. To become popular on TikTok, you must learn how to effectively use hashtags. Believe me, these small but powerful words or phrases can greatly boost your content and help you become a TikTok star. So, if you are keen to learn how to make money on TikTok, keep reading because using trending hashtags on TikTok is one of the proven ways to boost your earnings!
Now, let's get into TikTok trending hashtags!
Why Use TikTok Hashtags
Using hashtags in your TikTok videos has many advantages, and this part will explain them to you.
By using trending hashtags on TikTok today, your posts can be discovered on the 'For You Page' and in searches.
More people seeing your posts can lead to increased engagement, followers, and account growth.
Using niche or location-specific hashtags helps build a strong TikTok community. It allows you to dialogue with your audience and potential customers and may attract other users to interact with your content.
Read Also: Best 7 TikTok Watermark Remover Apps in 2023
What Are the Trending Hashtags on TikTok
First, we thoroughly explored the interesting world of TikTok trends and discovered the most popular types of content. With this information, we carefully sorted a variety of hashtags into their appropriate categories, making it really easy for you to jump right into the section that interests you.
Read Also: Add a Link in Bio to Supercharge Your TikTok Profile in 2023
Most Popular Trending TikTok Hashtags Today
Now, let's explore the most popular trending TikTok hashtags right now together!
#Viral
#love
#instagram
#explorepage
#fashion
#like
#tiktok
#explore
#likeforlikes
#instagood
#followforfollowback
#trend
#style
#music
#memes
#india
#likes
#photography
#trendingnow
Read Also: How To Remove TikTok Filter: The Ultimate Guide In 2023
Trending TikTok Hashtags for Dancing Content
Think of this list as a helpful beginning, but remember that TikTok hashtag trends can become popular and change frequently. So, make sure to regularly check TikTok Hashtags.com to see what's currently trending before you post anything.
#music
#dancer
#love
#hiphop
#party
#dancers
#dancing
#dj
#fun
#ballet
#dancelife
#art
#like
#fitness
#choreography
#instagood
#explorepage
#follow
#photography
#instagram
Trending TikTok Hashtags for Educational Contents
Discover the top TikTok educational hashtags. This list helps you find information on popular educational hashtags and explore new or trending ones for your next TikTok video.
#education
#learning
#educationmatters
#knowledgeispower
#fun
#learn
#educationiskey
#kids
#facts
#school
#music
#children
#educationfirst
#educate
#educationispower
#educationaltoys
#travel
#success
#love
#educations
Trending TikTok Hashtags for Funny Contents
Put the following trending hashtags on the TikTok post as the first comment below your post.
#funny
#memes
#meme
#funnymemes
#lol
#dankmemes
#comedy
#fun
#love
#follow
#memesdaily
#like
#lmao
#humor
But the big question is:
How to Find the Trending Hashtags on TikTok for Your Videos
To find the right hashtags for your TikTok videos, it's important to do some research rather than guess. Here are some simple steps you can follow: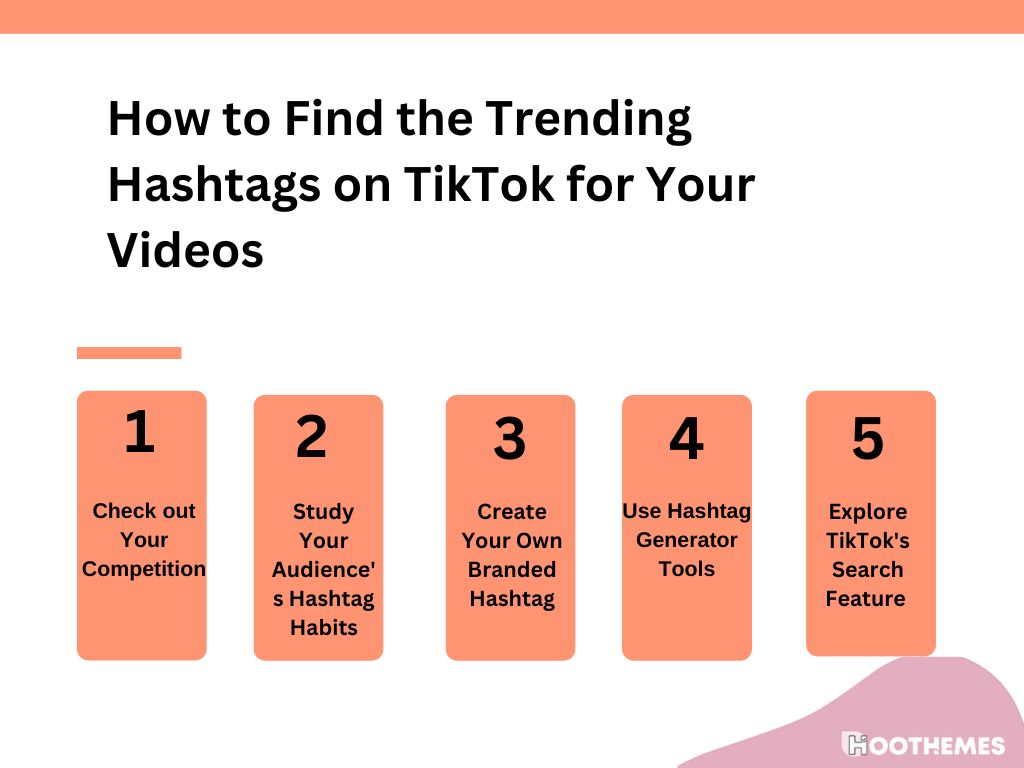 #1 Check out Your Competition
Take a look at what hashtags your competitors are using. This can give you ideas about what others are doing in your industry and help you reach new audiences. It can also help you avoid using the same hashtags as your rivals, so you're not competing directly with them.
#2 Study Your Audience's Hashtag Habits
Pay attention to the hashtags your target audience is already using. By looking at their videos, you can get inspiration and discover popular words or phrases that other creators like them are using. This allows you to tap into existing TikTok communities and expand your reach.
Take some time to explore the accounts your followers are following and the hashtags they use. This can provide valuable insights into your fan culture or industry and help you discover new hashtags to use.
#3 Create Your Own Branded Hashtag
In addition to using existing hashtags, you can create your own branded hashtag on TikTok. This is a hashtag that you invent to promote your brand, campaign, or product. By using a unique hashtag, you can encourage your fans and followers to use it as well, generating user-generated content and increasing your brand's visibility. You can even run a contest to make your branded hashtag more popular.
By following these steps, you can find the best hashtags for your TikTok videos and increase your chances of reaching a wider audience.
#4 Use Hashtag Generator Tools
Stop worrying about coming up with hashtags for your TikTok posts. We know the best tools that will improve your social media experience. No more wasting time and energy on researching or guessing the right hashtags.
Our article reveals the secret tools that make choosing hashtags easy, so you can get the attention you deserve. Don't miss out on this valuable information – click the article below to learn about the top hashtag generators!
Read also: 5 Best Instagram Hashtag Generators
#5 Explore TikTok's Search Feature
Instead of coming up with new hashtags, search for relevant keywords on TikTok and see which hashtags are currently trending in that particular category. These hashtags have already been used and proven to be effective.
Read Also: How to Go Live on TikTok? The Ultimate Guide in 2023
You may also consider:
How to Use Hashtags Effectively on TikTok
Once you have chosen the hashtags you want to use, follow these best practices to get the best out of your trending TikTok hashtags:
Match TikTok Hashtags with Your Business Niche
Pick hashtags that go well with the content and purpose of your videos or campaigns. It might be tempting to go for the most Trending TikTok hashtags but remember, your main aim is to reach your specific business goals effectively.
Select Related Hashtags to Both Your Content and Business
This will make your brand appear genuine, rather than just trying too hard to follow the latest TikTok trend.
Don't Go Overboard with Hashtags
Avoid overcrowding your caption with excessive hashtags (stick to a maximum of 3-5). You only have limited space in your TikTok caption (100 characters), so use it wisely by choosing a carefully curated list of hashtags. Your goal is to find the right audience for your TikTok videos, so focus on using hashtags that are likely to resonate with them.
Combine broad, popular, or trending hashtags with specific and branded hashtags for a better chance of reaching a more targeted audience (here's a tip: being popular doesn't always mean reaching more people). This way, your TikTok hashtag strategy will strike a balance between increasing your reach and staying relevant.
FAQs on Trending TikTok Hashtags
Now, it's time to take a look at some frequently asked questions regarding this matter, Let's go!
1. How Many Hashtags Should I Use on TikTok?
It's important to understand how many hashtags to use on TikTok. If you use too many hashtags, the TikTok algorithms won't know what your content is about, and your video won't reach the right people. So, it's recommended to use a maximum of 4 to 5 hashtags on TikTok. Before using any hashtags, it's a good idea to research which ones are most relevant to your content.
2. What Is the Most Used Hashtag on TikTok?
It's not surprising that the most popular hashtag on TikTok is #tiktok. The next two hashtags that are specific to TikTok are #foryoupage and #fyp. Just like these hashtags, which are used by people hoping for TikTok success, #viral is also used to try and make a video perform well.
After that, there are some more general hashtags that describe content, such as #love, #funny, and #memes. Another not-so-subtle hashtag is #followme, which people use to try and increase their number of followers.
To Wrap Things UP
Using trending TikTok hashtags is a must if you want to impress your target audience. Imagine this: You put your heart and soul into creating amazing videos that amaze, or entertain people. But it's all pointless if you don't connect with the right people, right? That's where relevant hashtags come in!
They act like magnets that attract your ideal community, strengthen your brand's loyalty, establish your expertise, introduce you to other successful small businesses, bring in new customers, and increase your profits.
Don't waste any more time—start using hashtags to your advantage today!