Are you tired of those annoying watermarks that ruin your TikTok videos? Curious to know how to remove the watermark from TikTok? We're here to introduce the best 8 TikTok Watermark Remover Apps to help you get rid of watermarks from your favorite TikTok videos.
If you want to use your TikTok videos on other social media platforms, you might not want the TikTok watermark to be visible. The good news is that there are several ways to remove those watermarks. In this article, we will discuss some of the best TikTok logo removers you can use to remove TikTok watermarks.
Download the app but not sure where to begin? Here you can learn how to make money on TikTok.
Let's get started!
What Are the Best TikTok Watermark Remover Apps
Although you can save your TikTok video to your device before sharing it, you might forget to do so. Alternatively, there may be a TikTok video created by someone else that you'd like to include in your own videos on TikTok and other social media platforms.
We've discovered some great TikTok video watermark remover apps that can give you a logo-free video!
Read Also: Add a Link in Bio to Supercharge Your TikTok Profile
1. Apowersoft: TikTok Watermark Remover App
It is a trustworthy tool that helps you get rid of TikTok watermarks. Apowersoft Watermark Remover works on Android devices and Windows computers.
Once you copy the link from the TikTok app, the tool quickly removes the watermark with just a few clicks. It can also remove watermarks from other platforms or tools, which is useful if you use a screen recorder that adds a watermark.
You can use Apowersoft to take off certain parts of a watermark logo in your video while keeping other parts. Additionally, Apowersoft works with all the major video formats, so you can easily add your TikTok videos by dragging and dropping them or selecting them from your computer.
Apowersoft Pros
It's easy to use.
It works with almost all video and image formats.
It maintains the original video quality while making the video file size smaller.
And, you can easily convert and edit videos with some simple techniques, even if you're not a professional.
Apowersoft Cons
The editing options are limited (The software can remove small watermarks more effectively than big ones).
The software isn't available for free.
Read Also: How To Remove TikTok Filter: The Ultimate Guide In 2023
2. SaveTok: TikTok Watermark Remover for Apple Devices
It is an app that helps you remove watermarks from TikTok videos on iPhones and other iOS devices. SaveTok allows you to download TikTok videos without any logos, save your favorite videos and profiles for later, and easily share them with your friends.
This app works on iPhones with iOS 10.0 or newer, macOS 11.0 or newer, iPod touch with iOS 10.0 or newer, and any Mac device with an Apple M1 chip.
SaveTok Pros
You can share TikTok bookmarked videos you saved with people who don't have the SaveTok app.
You can watch TikTok videos in slow motion.
SaveTok Cons
Ads can disrupt the process of saving downloaded TikTok videos.
It just only supports limited iOS and macOS versions.
Read Also: How to Go Live on TikTok?
3. Kapwing: Online TikTok Watermark Remover
It's a website where you can edit videos for free. Kapwing can help you get rid of TikTok watermarks in different ways. You can also change the speed and cut your video using Kapwing.
Here are a few ways to remove watermarks from your TikTok videos:
Cut out the watermark by cropping it.
Hide the watermark by placing your own image over it.
Blur the watermark to make it less noticeable.
Replace the watermarked part with a section that doesn't have a watermark.
Kapwing Pros
Easy to use and interface,
Offers a wide range of customizable video editing tools,
Supports various file formats like MP4, GIF, and JPEG,
Completely web-based, with no need for software downloads,
Allows importing of video files and clips for editing,
Ad-free experience, even in the free plan.
Kapwing Cons
Lacks advanced features like noise reduction and motion tracking,
Limited video resolution customization,
File size restrictions for large files.
Read Also: Youtube Audio Library: How To Access And Use It
4. MusicallyDown: Online TikTok Logo Remover
While the other apps we mentioned can do many video editing tasks, there are times when you simply want a video without any watermarks immediately.
MusicallyDown is a web app that you can use from anywhere to remove watermarks from TikTok videos. It's the simplest and most convenient way to download your TikTok videos without any watermarks.
Just Open TikTok and find the video you want to download. Then, tap the share icon on the right side of the screen and copy the video link.
Pretty straightforward!
MusicallyDown Pros
MusicallyDown site offers high-definition video quality for an improved experience.
It works on various devices such as PCs, iOS, and Android.
You can use it without signing in or creating an account for added convenience and protection.
MusicallyDown Cons
Ads on websites or apps can be annoying.
To download videos from TikTok or save them on your computer, you need a good and fast internet connection.
You can't download many videos quickly.
If you want to download a lot of videos, you need to be patient.
Read Also: Unlocking Success on TikTok: 4 Proven Strategies
5. Video Eraser: Free TikTok Watermark Remover App
Say goodbye to annoying logos and watermarks on your TikTok videos. This amazing tool is free to use, but if you want more cool features and no ads, you can upgrade to the pro version.
Using the Video Eraser app is super easy. Just import your TikTok video and choose to remove the watermark. It works on iPads and iPhones with iOS 8.0 or later, as well as macOS 11 and Mac devices with the Apple M1 chip.
Now, let's talk about its advantages and disadvantages:
Video Eraser Pros
It offers a free plan to remove watermarks from your TikTok videos on your iPhone.
It supports various video file formats, so you don't have to worry about compatibility issues.
Video Eraser Cons
After removing the watermark, you might still see a faint blurry mark where it used to be. It's not perfect, but it does a pretty good job.
6. Wondershare UniConverter: Watermark Remover App for TikTok
This watermark remover is a great way to easily get rid of TikTok watermarks. UniConverter lets you convert and edit multiple TikTok videos at once.
Removing the watermark is simple, and you can save your videos for offline use. The tool supports a wide range of video and audio formats, with over a thousand options available.
To use the watermark editor in Wondershare UniConverter, just open the software, select the video you want to edit from your computer and remove the watermark quickly.
UniConverter Pros
The Tiktok watermark remover maintains video quality, even when converting and compressing videos.
You can edit videos offline and save them or burn them to DVDs.
You can try the tool for free before deciding to purchase it.
UniConverter Con
Some of the best features are only available in the paid version of the tool.
7. Remove & Add Watermark: TikTok Remover App for Mobile
It is an Android app available for download on Google Playstore. It helps you remove watermarks from TikTok videos and also allows you to add your own watermark or logo. Remove & Add Watermark app can be used on Android devices with version 4.2 and above.
The app uses an interpolation method to remove watermarks by blending the surrounding pixels seamlessly with the area where the watermark was originally present.
This makes it appear as if there was no watermark in the first place. Additionally, if a watermark is located at the edges of a video, the app can crop it out.
Remove & Add Watermark Pros
The app has a user-friendly interface that is easy to navigate.
It offers reliable customer support to address any user inquiries or concerns.
Remove & Add Watermark Cons
The process of removing watermarks from videos may not be as quick compared to other apps on the market. Therefore, the app developers should focus on improving its speed.
Read Also: How to Make a YouTube Banner Like a Pro
8. SoftOrbits Remove Logo Now: TikTok Logo Remover App for Windows
Are you tired of the TikTok watermark ruining the aesthetics of your favorite videos? Do you want to remove it quickly and effortlessly?
Look no further than SoftOrbits Remove Logo Now, the ultimate Video Watermark Remover solution to rid your videos of those pesky watermarks.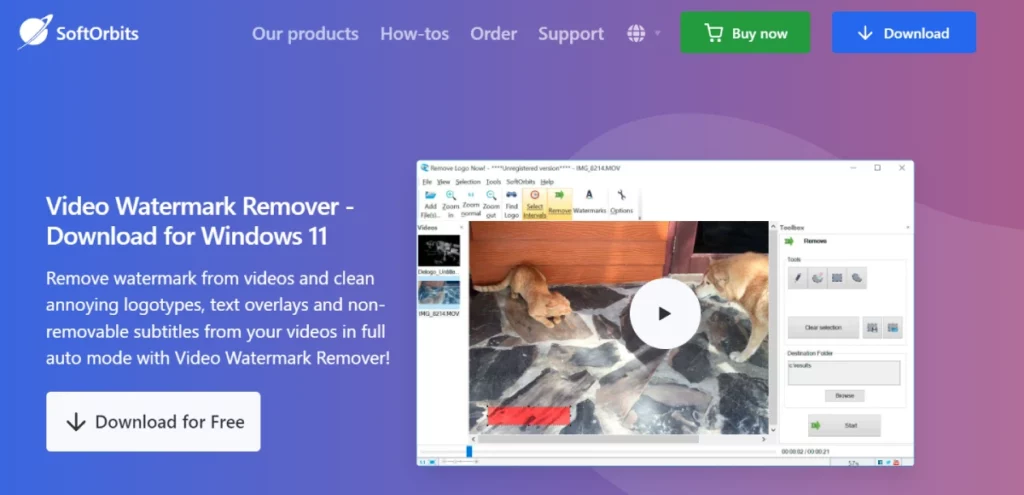 SoftOrbits Pros
Effortless Watermark Removal,
High-Quality Output,
User-Friendly Interface.
SoftOrbits Cons
Paid Software: Remove Logo Now is not a free solution.
Windows Compatibility: Currently, SoftOrbits Remove Logo Now is only available for Windows users.
Tip: The Professional Influencer Marketing Platform
Ainfluencer is a brand collaboration and influencer marketing tool. It's like an Instagram marketplace where brands and famous people can find each other and work together. With Ainfluencer, brands can create advertising campaigns for free, and many popular people can see them and offer to work on them.
If you're a famous person, you can also get the Ainfluencer app and look at different campaigns from lots of brands. You can choose which ones you want to work on and make your own offers.
Ainfluencer is free to use, and it's really smart. Why are you waiting then? Sign up today and take full of its advantages.
FAQs on TikTok Watermark Removers
Now, it's time to take a look at some frequently asked questions regarding TikTok logo removers. Let's go!
1. Can You Share TikTok Videos on Other Social Media?
Yes, you can. But keep in mind that, if you want to use your TikTok videos elsewhere, you should save the video to your device first, so it doesn't have the TikTok watermark. You can also use an app to remove the watermark. If you didn't make the video, you can still share it on other social media as long as you give credit to the person who created it.
2. What Is the Easiest Way to Remove a Watermark on a TikTok Video?
You can use web-based TikTok watermark removers like MusicallyDown. It's the easiest tool to use if you want to download your TikTok videos without any watermarks. It's a website that you can use from anywhere to remove TikTok watermarks. Just open TikTok, choose the video you want to download, tap the share icon, copy the video's link, paste the link into MusicallyDown's link field, and click the "Download" button.
To Wrap Things Up
This blog suggested some TikTok watermark remover apps that let you download TikTok videos without the watermark. By using these tools, you can easily reuse your TikTok videos on different social media platforms as fresh videos. Now, you won't have to worry about watermarks on your TikTok videos anymore.