TikTok with more than one billion active users in a month is one of the most popular social platforms among brands, businesses, and influencers. Almost every professional user is looking forward to knowing how to get verified on TikTok to establish themselves as authentic users.
If you are an influencer or brand owner who is looking to find out how to grow on TikTok, applying for a verification badge is an important step. In this article, we will show you how to get verified on TikTok for free by following some simple tips.
What Does Getting Verified Mean On TikTok
Similar to other social media platforms, TikTok marks professionals' and influencers' identities with a blue mark. In other words, getting verified on TikTok means that your account has been officially recognized by the platform as authentic and genuine.
When you are verified, you will receive a blue checkmark badge next to your username. Some might think they need a massive following to apply and get this badge. But the reality is no matter how many followers you have, you can always apply for this badge. In the next parts, we'll discuss how to get verified on TikTok easily with a few simple tips.
Why Is TikTok Verification Important
Having the blue badge on TikTok and other platforms that you use helps you stand out from the copycats. It can help you with:
Authenticity: For businesses and brands, TikTok verification enhances brand recognition and authenticity. It signals to potential customers that the account is official and trustworthy.
Exposure: Even though it's not confirmed yet, it seems that the TikTok algorithm benefits verified accounts by showing their posts on FYP. 
Credibility and Trust: Users are more likely to trust and engage with content from verified accounts.
How To Get Verified On TikTok
Many users might ask themselves how many followers on TikTok they need to get verified. But the truth is there is no definite answer. This platform hasn't cleared how many followers do you need to get verified on TikTok and how the process works? But some methods can increase your chance. Let's see how to get verified on TikTok as a business easily. 
1. Build a Strong Presence
Before applying for the verification badge on TikTok, you can follow some simple hacks to increase your chance. TikTok needs to know that your account is run by a real person and building a strong presence on TikTok is the best proof.
Find a niche that you are interested in and start posting videos regularly using trend audio and trending TikTok hashtags to increase your reach. You can also find the best times to post on TikTok for sharing your posts to get the highest reach and engagement.
2. Create A Viral Video
Almost all verified accounts on TikTik has at least one viral video before getting the blur badge. So, if you are wondering how to get verified on TikTok in 5 minutes, there is no solution. You need to spend time and effort to create content to increase its chance of reaching the "For You" page and becoming viral.
This way TikTok algorithm understands that users love the content you are making and also, you can get more followers and likes. TikTok trends and different challenges are the perfect opportunity to post something that generates likes.
3. Have A Verified Account On Other Platforms
Another important and effective step in how to get verified on TikTok is getting verified on other third-party platforms. This means if you have an Instagram, Twitter, or Facebook page, it's easier to start by applying for verification on those platforms first then move to TikTok.
If you already have a verified account on other platforms you have a higher chance of getting the status. TikTok will often look for your name on other platforms and having a large following can also be a green flag showing you are an active and trustworthy person.
4. Engage With Your Audience
Increasing the number of followers itself is not important for TikTok. You need to build relationships and trust with your audience. It can also make your current audience introduce you to their friends and increase your followers count. Try replying to their comments, pin the most like one, reply to them with a video, etc.
5. TikTok Requirements For Verification Badge
According to TikTok community guidelines, each account that wants to request verification must follow some requirements. Here are the requirements for how to get verified on Tiktok:
Active: Your account must have logged in within the past 6 months.
Authentic: Your account should represent a real person, business, or entity. Only one verification per business or person except for language-specific accounts.
Complete: Your account must currently be public and have a completed profile with a bio, name, profile photo, and at least one video.
Notable: TikTok will review accounts that are featured in multiple news sources, and they don't consider press releases and sponsored or paid media.
Secure: Your account must have multi-factor authentication with a verified email. This ensures that the authentic owner stays the authentic owner and is protected from malicious actors.
So, before applying for how to get verified on TikTok for free, make sure to read TikTok's terms of service and community guidelines. 
6. Submit A Request For Verification
Once you meet the eligibility requirements, it's time to submit a verification request to TikTok. Here is how to apply to get verified on TikTok
In the TikTok app, tap Profile at the bottom.
Tap the Menu button at the top.
Choose Settings and Privacy.
Tap Manage account, then tap Verification.
༚ If you're registered as a Business Account, then you can only apply for Business Verification.
༚ If you're registered as a Personal Account, then you can apply for Personal and Institutional Verifications
How To Earn Money On TikTok?
Once you have applied for the verification badge on TikTok, you can expect a response within a week. Whether you get approved or not, don't worry; you can still make money from your TikTok content. There are several ways to monetize your presence on the platform, and one of the most popular methods is through influencer marketing.
Influencer marketing is a collaboration between content creators (influencers) and brands to promote products or services to the influencer's audience. By creating sponsored content for brands, you not only earn money but also introduce your followers to products or services they might be interested in. But How to find brands to work with?
Ainfluencer is a leading influencer marketing platform that connects content creators like you with brands looking for partnerships. With Ainfluencer, you can access a wide range of brand campaigns and opportunities that match your content style and audience.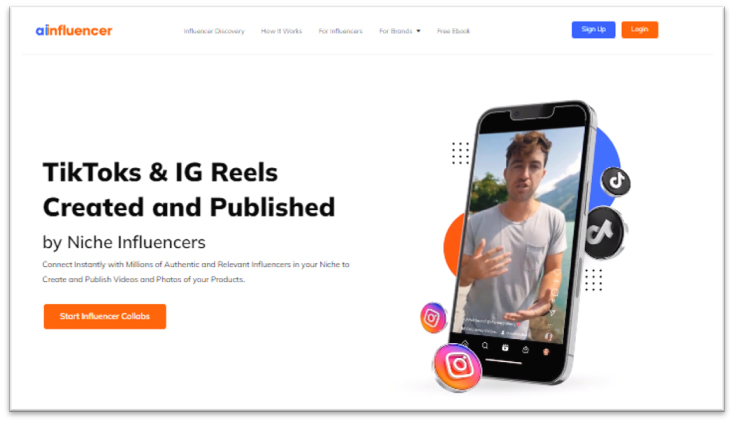 With a user-friendly interface, creators can design their influencer profiles and look for brands using powerful filters. The best part is Ainfluencer is completely free for both brands and influencers. 
So, don't waste a second and join Ainfluencer for FREE!
FAQs
Now that you everything about how to get verified on TikTok and apply for the badge, let's read some of the most frequently asked questions.
1. How Do I Know If I'm Eligible For Verification?
While TikTok doesn't disclose specific eligibility criteria, having a substantial following, producing high-quality content, and maintaining a positive presence on the platform are important factors.
2. Can Businesses And Organizations Get Verified on TikTok?
Yes, businesses and organizations can apply for verification if they meet the platform's criteria and have a significant presence and impact on TikTok.
3. Is The Verification Badge Permanent?
While the verification badge is not guaranteed to be permanent, it is generally retained as long as you continue to adhere to TikTok's guidelines and maintain a positive presence on the platform.
4. Can A Verified Account Lose Its Verification Badge?
Yes, TikTok may remove the verification badge if the account violates community guidelines, engages in spammy behavior, or loses its influence and impact on the platform.
Conclusion
Becoming a verified account on TikTok is the dream of many professionals and influencers. But, achieving it is not that hard! By following the simple methods mentioned in this article you can easily apply for a verification badge and increase your chance of approval. No matter how many followers you have, you can always follow these tips and submit your request.