Instagram is one of the most popular social media apps that business owners and influencers have turned to in recent years. The reason for this is that Instagram provides an equal opportunity for everyone to grow. Therefore, you might have come across the name AiGrow if you've been looking for a way to increase your followers on IG.
One of the most efficient and effective ways to get more followers on Instagram is to use an Instagram growth service. Since numerous platforms claim they're the best growth service for Instagram, it's difficult to choose the right one.
Based on our research on the subject, AiGrow is one of the tens and maybe hundreds of Instagram management and growth services users can rely on to generate high-quality followers.
And in this blog, we'll discuss all there is to this growth tool and provide you with a detailed AiGrow review. Let's dive right into it!
What is AiGrow?
AiGrow is a service for anyone looking for targeted followers on Instagram. And as its name indicates, it is a growth service. It also provides you with tools that help you increase your engagement with your followers and achieve your business objectives on Instagram.
Not only is AiGrow an Instagram tool, but also it offers management services. With this Instagram growth agency, you have access to a growth assistant to help you grow your account organically!
Now the question is: Is it safe to use AiGrow? In short, we must say that Yes, AiGrow is safe and grants you real organic followers. But we'll go deep into its features to ensure how it functions.
It is common knowledge that Instagram is against using bots and automated systems. How can we ensure we won't get banned while using AiGrow? Read on to find out about AiGrow's functions and safety precautions.
How Does AiGrow Work?
To understand how AiGrow works, one needs to know its features and services first. This growth tool offers a wide range of features to which we are going to dedicate a whole section later on. But for now, let's focus on AiGrow's growth service.
How Does AiGrow Attract Followers?
First and foremost, AiGrow provides you with completely organic followers. The followers are real and not found through bots since AiGrow's dedicated growth team does it manually based on the information you give them.
The only thing you need to do is to define your target audience for AiGrow, and the growth team will find the most relevant data through advanced AI technology in no time. However, AiGrow's advanced AI technology must not get mistaken for Instagram's cheap bots.
They only use automated systems to find and locate the best options for their users. Then, a virtual assistant on AiGrow will take control of your account and carry out the whole process manually.
The manager is a real and professional specialist familiar with Instagram algorithms and policies. So, that's exactly how AiGrow prevents you from getting banned by Instagram and leads to organic growth.
How to Sign Up on AiGrow
Now that we explained the functionality of the AiGrow. It's time to get into more detail on how to use the app.
The first step is obviously to sign-up. However, before signing up, make sure you read the terms of use precisely. Reading the terms and services may be dull. However, it is necessary as it avoids future inconveniences. After familiarizing yourself with the policies, take the following steps to sign up on AiGrow.
Go to the AiGrow website and read the front page carefully.
On the top right of your browser, click on the Start Free button, as in the picture below.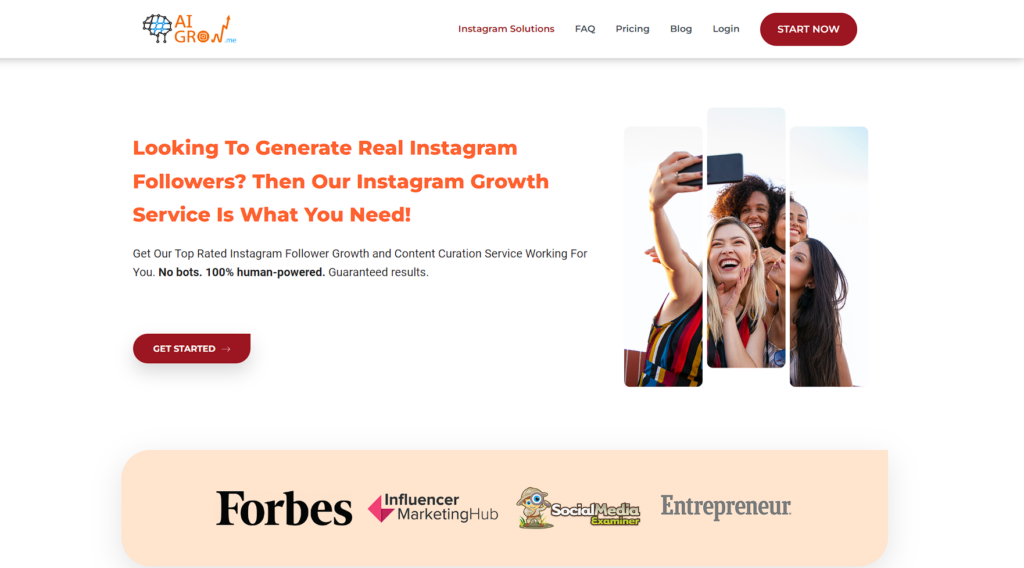 On the appeared window, fill in the required fields. Then click on the Register now.
After verifying your Email address, you can log in to your account.
On your AiGrow dashboard, you can add as many accounts as you want. As in the picture below. (Make sure you notice the videos about how to use the features)
Search for the Instagram account user name, and click the Next button. And then, follow the instructions to confirm the account.
Finally, by clicking on the Manage button related to each account on your dashboard, you can manage that account.
Pro tip: Please make sure that you don't forget to connect your Instagram account fully. Otherwise, you will not have permission to access the account from AiGrow.
AiGrow's Features and Services
In the previous section, we explained the login process to AiGrow. Now, it's time to talk about AiGrow's various features. To learn more about AiGrow's features, check out the following section.
#1 Targeted Followers on Instagram
As mentioned above, AiGrow helps you find your targeted followers in your niche. AiGrow's growth feature is probably the most important of all. In the following section, we explain step-by-step how to use the growth feature to grow your Instagram followers organically. AiGrow has certain filters that help users to find the targeted followers faster. So be careful to take the steps precisely as it affects the quality of your growth.
Sign up to AiGrow(If you have an account, log in to your account).
After connecting your IG account(s), go to the AiGrow dashboard.
Hit the Manage button related to your targeted IG account.
On the GROWTH tab, you can see your managed growth program.
Scroll down to the program, where you will find several fields. Each box is related to a filter. Please fill the required boxes accurately. This will help your personal manager to understand your goals better.
After filling in all required fields, select your activity's category. Do not escape any part. Fill in all of the information. And pay attention to the Activities. By turning each switch on, you permit the managers to take action on your behalf.
Hit Start Growth.
After taking all the steps, AiGrow will provide you with a list of your potential followers. That's where AiGrow's Ai system shows itself. The growth process is guaranteed to be manual. Check the list, make modifications if you feel it's necessary, and click on the Next button and start your journey. You need to upgrade your account to have access to the growth feature. We will dedicate a full section to AiGrow's pricing and different packages. But for now, let's get to the other AiGrow features.
#2 All-in-One Bio Link
Now let's go to the next tab. Bio links are important on Instagram as they are unique. AiGrow has seen to that. You don't have to choose between your different social media and website accounts to put in your bio. You can have it all together! AiGrow provides you with an elegant landing page via MyURLS. You can use different widgets and buttons to represent your social media accounts. After you built your all-in-one link, you can add your Myurls link to your Instagram bio. This is a completely safe and risk-free way to add all of your social media links to your IG bio. Take the following steps on AiGrow to create your all-in-one bio link.
Sign up to AiGrow(If you have an account, log in to your account).
After connecting your IG account(s), go to the AiGrow dashboard.
Hit the Manage button related to your targeted IG account.
Go to the BIO LINK tab.
Choose a personal URL and type it in the required field as in the picture below.
Add as many widgets, icons, and buttons as you want from the list on the right side of your screen. You can choose your theme and link aesthetic as well.
Add links to your widgets in the box at the center. You can add buttons for external links and CTAs as well.
Add music and story highlights if you want.
When you finished modifying, just copy your URL, and paste it to your IG Bio.
You can edit your landing page anytime in the same place on AiGrow.
#3 Direct Messages Management and Outreach
AiGrow also provides you with a complete Instagram direct management tool. You can send DMs from your desktop, send mass DMs on Instagram, and even more, connect your Instagram DM to your email using AiGrow, and set up auto-replies to your followers. However, you must ensure you don't reach Instagram's daily limits while using the latter. To have access to all these incredible features, take the following steps.
Sign up to AiGrow(Login to your Account if you already have one).
Connect your IG account(s) to your AiGrow.
On your dashboard, click on the Manage button related to your targeted account.
Go to the Direct Messages tab.
There you can find different DM management features in different tabs. Moreover, you can scroll down to reach detailed video guides on how to use each feature.
#4 Post Scheduler
One of the most important factors in account management is organization. Due to recent changes in Instagram algorithms, users who post regularly are more likely to get more followers. Consistency and regularity are the most important factors. However, it is hard for many influencers and business owners to keep to a plan. It is not usually practically possible to update our feed daily at a specific time. AiGrow has provided users with scheduling services to avoid inconsistency.

Using AiGrow, you can schedule your Instagram posts, IGTV, and stories from your desktop. Moreover, you can share YouTube videos on Instagram using AiGrow. Something which is not possible on the native app. Now let's talk about AiGrow's scheduler feature and social calendar.
#AiGrow Scheduler
As we stated before, you can make arrangements so that your IG posts follow a tight schedule. In AiGrow, It is possible to set separate scheduling plans for your Instagram posts, IGTV and stories. To have access to this feature on AiGrow, take the following steps:
Sign up on AiGrow(Login to your Account if you already have one).
Connect your IG account(s) to your AiGrow.
On Your dashboard, click on the Manage button related to your targeted account.
Go to the POSTS AND SCHEDULING tab.
Click on the SCHEDULER tab below.
Hit the green Schedule button.
You will be given three options: Feed, Story, and IGTV. Choose any of them.
On the appeared window, You can upload your file, write captions and add hashtags to your post.
Scroll down to reach the Schedule Dates box.
You can check the Post in Future option.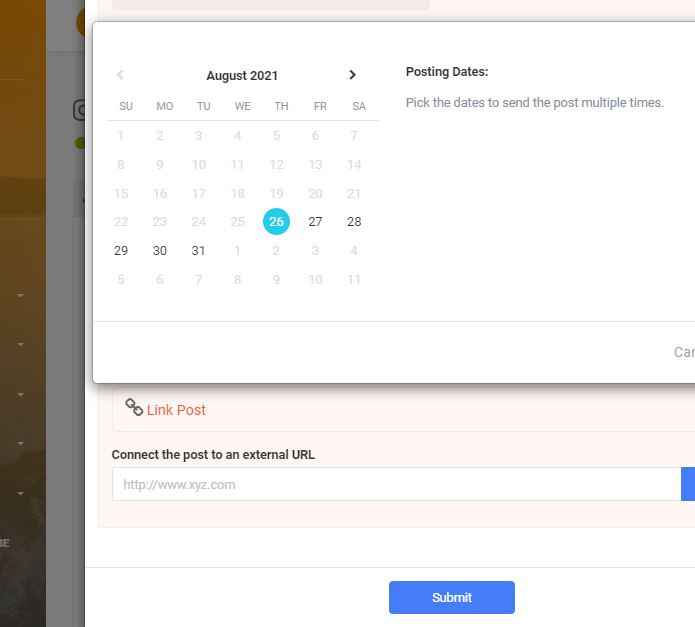 Mark your targetted date on the calendar and hit Save.
Click on the Submit button.
And that's it. Your post will be updated to your Instagram account directly without any further actions needed.
#Social Calendar
Social Calendar is one of the most important AiGrow features. What is a social calendar, and why is it so important? A social calendar is a content calendar for Instagram marked with special social events with an explanation. People celebrate many special dates online. That's why we have to take these days seriously. It is one of the essentials in social media and Instagram marketing to take special holidays and dates into account. Imagine you own an online shop, and you forget black Friday. Well, that's not likely, as everyone is accosted to black Friday.
However, not every event is so popular and obvious. We can easily take advantage of important dates for our business. For instance, we may want to post a relatable photo or caption. We may want to offer discount codes. AiGrow has made it easier for Instagram marketers to track special dates and make a plan for them. To access one of the most beneficial features of AiGrow, take the following steps.
How to Use Social Calendar
Sign up on AiGrow (or log in to your account if you already have one).
Connect your IG account(s) to your AiGrow.
On Your dashboard, click on the Manage button related to your targeted account.
Go to the POSTS AND SCHEDULING tab.
Go to the SOCIAL CALANDER tab under the posts and schedule.
There you can see the following month and its special social events. As in the image below.
Scroll down to see the whole month's plan and read the explanations carefully.
On each box related to the day's event, there is a Schedule Post button.
Use the Schedule Post button to schedule a post related to the event.
On the Scheduler window, you can search related hashtags and repost any posts to Instagram.
We also recommend that you schedule a post related to each event on your scheduler tab after learning about the event. But make sure to look at the trending posts that AiGrow suggests for those events. Researching trending events is important as it can bring sudden follower growth to your account if you do it wisely.
#5 Bulk Delete Posts
You can mass delete your Instagram posts using AiGrow. This feature is quite handy if you want to save time. To access this feature, you can take the following steps:
Sign up to AiGrow (Login to your Account if you already have one).
Connect your IG account(s) to your AiGrow.
On your dashboard, click on the Manage button related to your targeted account.
Go to the Bulk Posts Delete tab.
Select as many of your posts as you want.
Click the Delete Selected Photos button to start the bulk delete process.
AiGrow has many other incredibly useful features as well. Let's have a glance at them: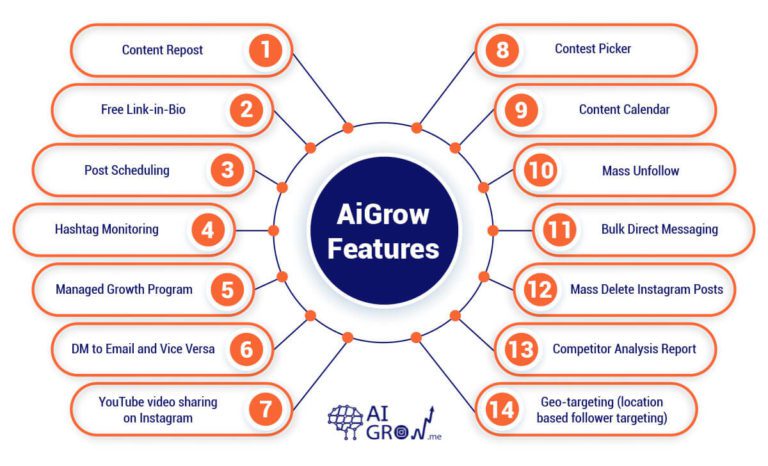 If you wish to know more about these features, you can simply find out about them in this detailed AiGrow review.
AiGrow Review: Pricing and Plans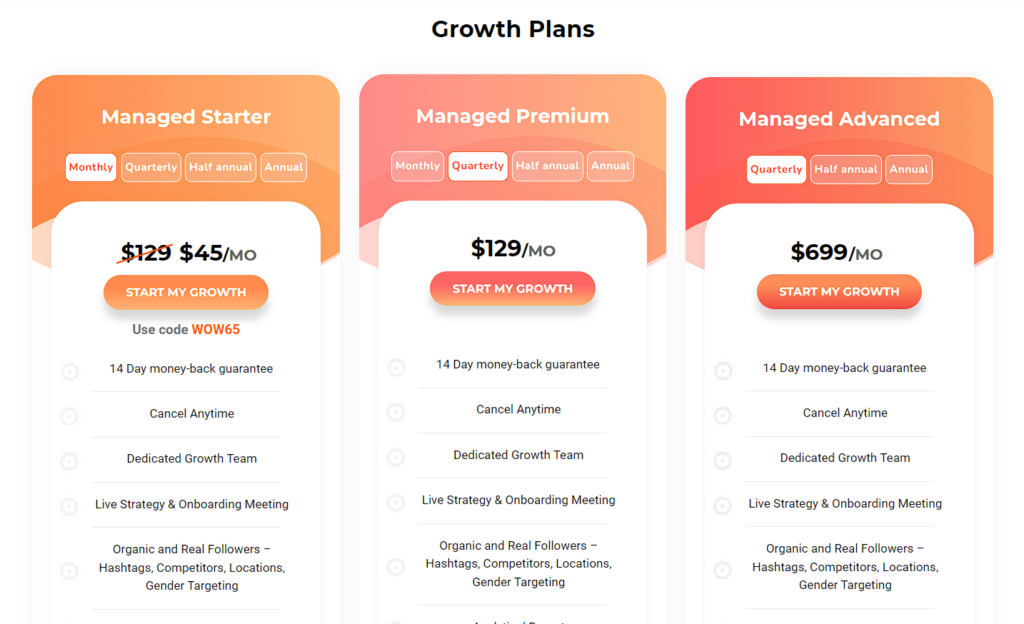 As you can see, AiGrow offers four different plans, each suitable for various purposes and budgets. All you need to do is to define your goal and choose the plan that best suits your needs.
AiGrow's plans are reasonably priced compared with other safe Instagram growth services in the market since it's an all-in-one tool for your success on this platform.
No matter your plan, you'll always have access to a dedicated account manager and a helpful support team who are responsive 24/7, in addition to options such as organic growth, automated DMs, bio link page, scheduler, and many more!
Therefore, we highly suggest you not waste even a second more, and sign up on AiGrow right now, to start your growth!
AiGrow Reviews
As you may notice, AiGrow offers its customers a variety of features to help them grow on Instagram. Yet, are these Ai Grow features valid? Let's hear it out from real customers who left reviews on multiple review websites such as Trustpilot and Reddit!
AiGrow Customer Reviews
AiGrow's Score on Trustpilot
Trustpilot has proven to be a reliable source of customer reviews. Normally, people check out this website in case they wish to hear about a certain product or service from real customers.
As shown in the picture below, 443 clients have left reviews for this Instagram growth company. Brilliantly, AiGrow has gained the heart of its customers and scored 4.6 on this review website.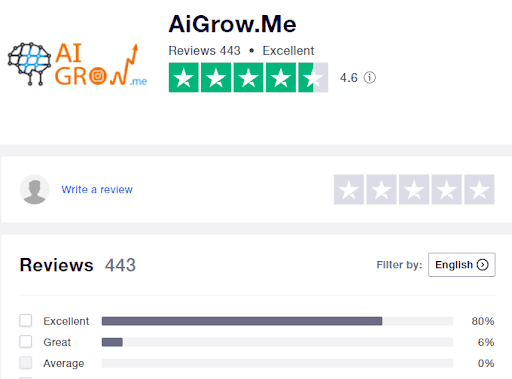 AiGrow Reviews on Trustpilot
Now, let's check out some customer reviews left on Trustpilot: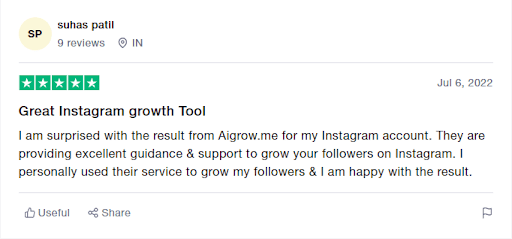 In this recent AiGrow review, for instance, a customer has expressed his satisfaction with the services this Instagram growth tool offers. He is very pleased by the results from Aigrow.me and its customer service.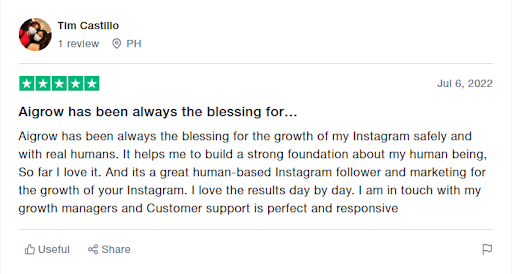 The above picture is yet another one of AiGrow reviews in which a client has verified that this tool offers a human-based agency for your growth on Instagram. Moreover, Tim is pleased by their excellent customer support and growth managers.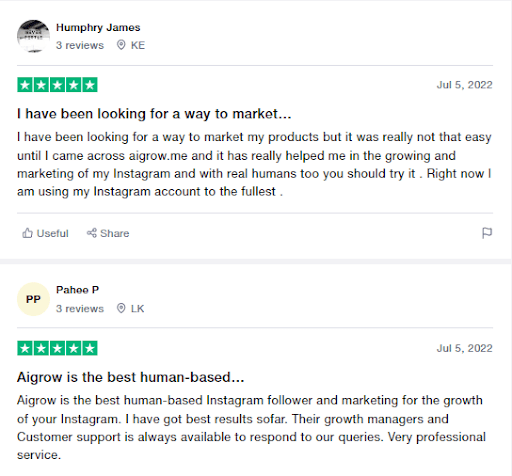 You can see how joyous these users are when after using AiGrow, their Instagram followers have increased! That's the kind of sense of accomplishment every single businessman or influencer wants to experience!
AiGrow Reviews on Reddit
Users on Reddit have also been satisfied with their services. Take this AiGrow review on Reddit as an instance:

As stated in the above Ai Grow review, a variety of features, and real accounts and followers are what this tool offers!
AiGrow FAQs
In this article, we provided you with a detailed and in-depth review of this incredible Instagram growth tool. Now, let's go over some of your most frequently asked questions regarding it to help you make an informed decision.
#1 Is AiGrow Legit?
Shortly, yes. They have been around for quite a few years and have succeeded in helping numerous business owners and influencers to gain a wider audience on Instagram and increase their sales.
Several users across different websites have confirmed that AiGrow is legit since it allows you to grow organically and gain genuine followers who will engage with your content.
#2 Is AiGrow Safe?
Unlike other growth services that use automation and bots to bring you, new followers, AiGrow offers a dedicated account manager who will take over your IG account once you sign up for it. This account manager carries out the whole process of getting you new followers manually. Therefore, there's no risk of getting banned on Instagram. AiGrow is 100% safe.
Final Words on AiGrow
AiGrow is one of the most professional Instagram growth services out there. Like any other service, it has its pros and cons. For one thing, it may be difficult for users to find their way once they logged in to their accounts. However, in this review, we explained AiGrow's various features and services, hopefully making it easier for everyone to benefit AiGrow's incredible features. AiGrow is an all-in-one tool. No one can manage an IG account single-handedly. So it can be useful to almost everyone wishing to grow their Instagram account fast and organic. Despite many growth tools using Instagram bots, AiGrow guarantees its organic functions. This will lower your chances of getting banned by Instagram up to zero while growing your account.