Oh, another 'not working' page? I know, sometimes TikTok stops working. Although for most of its users, TikTok is a pretty immersive app, these technical issues can stop people from enjoying the app. When this happens, you may start to wonder 'why my TikTok isn't working'. In this article, we'll provide you with a step-by-step guide on how to fix these issues.
Sometimes, the issue of TikTok not working can arise if you've deleted your TikTok account. However, if that's not the case and are still experiencing this problem, just keep calm and know that most of these problems can be resolved by a few simple steps. We hope that our blog on the not working issue will help you have a better experience.
Why Is My TikTok Not Working
Before, we've elaborated on why my YouTube is not working. The problems that cause such issues are mostly the same in every platform. Maybe TikTok doesn't play the videos, or it won't open at all; if you face these kinds of issues and are searching 'Why is tiktok not working on my phone,' follow the instructions below:
1. Check Internet Connection
This is the main answer to why is my tiktok not working? TikTok requires a high-speed connection to be loaded properly. Whether you're using WiFi or cellular connection, it is imperative to ensure that you are connected with the utmost ping. To enhance the speed, it is recommended to briefly switch to airplane mode for seconds.
2. Check If TikTok Server Is Down
It is a good idea to check the TikTok servers before making any changes to your device. The best way to find out if there are any technical bugs with TikTok is to use DownDetector which maps live outages in your area.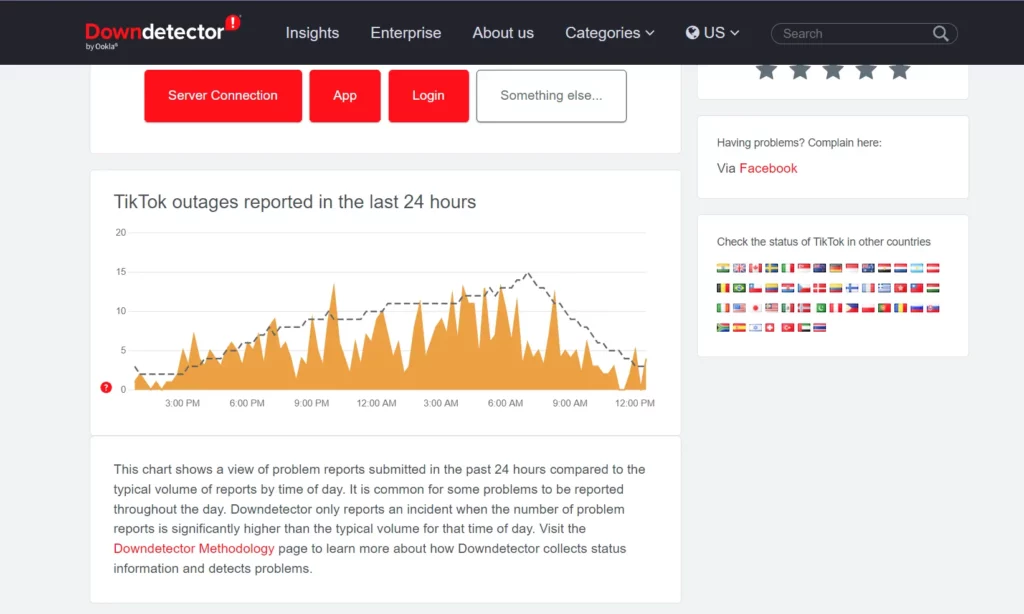 You can also check the TikTok website or Twitter. If there are any issues with TikTok's servers, the support team will definitely inform people right away.
3. Clear Cache
Too much cache or corrupted data may cause problems with TikTok on your mobile phone. You should clear your cache every now and then to avoid any issues.
This practice applies to both Android and iPhone platforms, as the procedure remains consistent across both operating systems: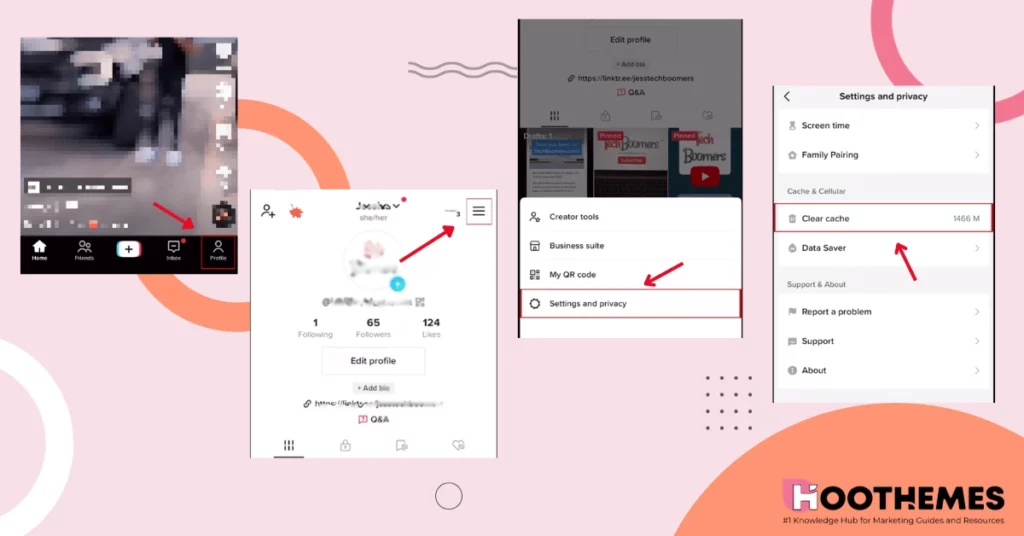 Clear TikTok Cache on Your Smartphone
1. Select Profile in the bottom right.
2. Tap the 3-line icon in the top right corner.
3. Choose Settings and Privacy.
4. Tap Clear cache.
And it's done!
4. Utilize VPN
Another reason why is TikTok not working could be TikTok's limitations regarding your region. To get around this problem, better to use VPNs that allow you to bypass your country's internet restrictions.
5. Make Sure about Restrictions
Do you know about the TikTok restrictions? Being under 13 years old, or living in countries like Bangladesh, India, and Indonesia that are not allowed to use this app will cause TikTok operation errors. By receiving a banner notification you will be noticed that you violated the app boundaries. Fixing restriction issues means talking to the TikTok support team and waiting for their help.
6. Update The App
Before committing any other action, check out your app store to see if new updates are available. With each update, many bugs are fixed. Hope this one will solve the problem.
You can also check other people's TikTok apps and see if they have the same issue or if it's just you. If it happened only for your TikTok app, then follow the next step:
7. Check out Device Issues
Smartphones are not always responding perfectly, some errors may occur now and then. Try reloading TikTok, if this proves unsuccessful, we recommend restarting your device. May the issue persists, we advise reinstalling the application as the next action. If TikTok continues to malfunction, then calmly reboot your phone.
8. Contact TikTok Helpline
If all the above-mentioned solutions didn't help you fix the TikTok not Working issue and your problem still persists, it's time to reach out to the TikTok helping center. All you need to do is to report the problem.
OK, these are all the ways to answer 'Why is my TikTok not working'. But maybe you have tiny issues with a specific feature not working for you. We're going to guess some of them:
Why Is My TikTok Sound Not Working
Various issues could happen in cyberspace. but every problem has its own solution. If your TikTok sound is not working, here is the solution:
Try the volume button as your first move. TikTok sometimes does that, the video sound will be back just by turning the volume up and down. If that doesn't work, keep calm and follow the next steps:

1. Check your mute switch.
2. Allow TikTok to access your microphone.
3. Test your device hardware.
4. Exit the app and reopen it.
That was the solution to 'Why is my tiktok audio not working'.
You may also like: TikTok video editing apps
Why Is My Following Page on TikTok Not Working
When the internet connection suddenly goes haywire or your app cache becomes overloaded with data, something like this will happen.
When such issues arise on TikTok, try closing the app and reopening it after a while. Mostly this will fix the problem. If nothing changes, search for a random guy and unfollow/ follow him then head over to your own profile and check the following page again.
Using the 'Force Stop' option is another way to fix issues on TikTok. This feature stops all the ongoing processes in the session or any corrupted data that still exists.
Are you a TikTok influencer looking for the perfect sponsorship?
If you are a TikTok influencer reading this article, we have a treasure for you to make the change you always wanted to happen in your career. Whether you're looking to increase your followers, drive sales, or expand your reach, here is a marvelous influencer marketplace to assist you.
Ainfluencer: The Best Influencer Marketing Platform
In this 100% free, Do-it-Yourself marketplace, influencers are capable of reaching out to an extensive database of campaigns to collaborate and earn money.
Moreover, whether you're an influencer or a brand, you must know that Ainfluencer focuses on concluding bilateral contracts. Ainfluencer has an Escrow system that safeguards your payments to influencers and guarantees influencers receive their payments. Enjoy this massive marketplace with one click.
Here is an alternative: If your TikTok suddenly stopped working, and you don't want to miss anything in the meantime, use TikTok viewers to see what is going on TikTok.
FAQs
Now that we've answered 'Why is my TikTok not working', let's answer your frequently asked questions as well.
1. Why My TikTok Live Is Not Working?
First things first, try restarting the app and your device, this can often do the trick! But if that doesn't work, it could be due to a weak data or Wi-Fi signal. Don't worry though, you can easily troubleshoot this by switching from Wi-Fi to mobile data. Give it a go and see if that solves the problem!
2. Why Is My TikTok Analytics Not Working?
There are several potential reasons for the failure of TikTok analytics.
One possibility is that the user's TikTok account may be under review by the TikTok team.
The algorithms employed by TikTok may have denied the upload of the user's video.
Another potential factor could be a disruption in the user's internet connection.
Outdated software on the user's TikTok account may also contribute to the issue.
It is possible that TikTok is experiencing a glitch that is preventing the proper functioning of its analytics system.
As we've mentioned in the article, force closing the app, checking the connection, and stuff like that will help you fix the problem.
3. How Do I Restart My TikTok App?
In order to restart TikTok you must fully close the app. Remove the app from running in the background. Now with taping on the app and opening it, you will face a restarted TikTok.
Conclusion
Working with TikTok is straightforward since the app is really user-friendly. But sometimes it happens that you are unable to use the app properly and it becomes frustrating when you can't even open the app. The solutions are easy to follow, let us know if you figure out a new road to this journey.